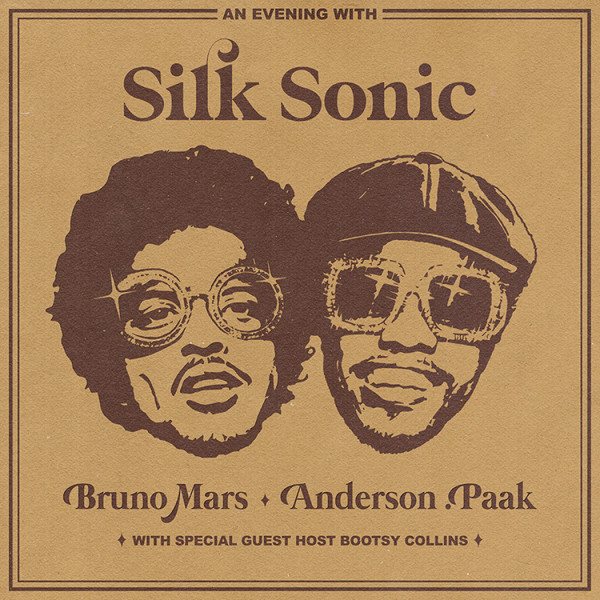 Silk Sonic
Atlantic/Aftermath Entertainment
Reviewed by: Sam Hollis
An Evening with Silk Sonic represents two artists who have made their mark letting go of any pressure and simply having fun. The album's short tracklist unashamedly salutes soul maestros of the 70s, an era that both Bruno Mars and Anderson .Paak clearly revere and deeply resonate with.
Silk Sonic is a supergroup pairing pop heavyweight Bruno Mars with soul and hip-hop savant Anderson .Paak. The newly formed combo surged onto the scene in March with the release of the album's lead single, Leave the Door Open, which quickly reached number one on the Billboard Hot 100 chart and the Official New Zealand Music Chart.
From the band's logo and cover art to their diamond-encrusted lenses and velvet-suit-dressed live performances, Silk Sonic is a wholehearted tribute to the Curtis Mayfields, Al Greens, Princes, and Parliament/Funkadelics of the world – how fitting it is that Bootsy Collins serves as narrator. Front to back, every song is glitzy and glamorous. Lush, layered arrangements, impeccable mixing, and tight instrumental performances saturate the background, all the while leaving enough room for Mars and .Paak to play in the foreground.
And play they do. While An Evening with Silk Sonic certainly has a lean tracklist, with eight songs and an intro adding up to barely 30 minutes, the chemistry between Mars and .Paak never fades. Listeners will be left wanting more, which I strongly suspect was a strategic move in the age of streaming, when sequencing and variety often come second to supplying as much content as possible. Together, these dudes are smooth… impossibly smooth, and they damn well know it. Songs like the slick Smokin' Out the Window and the funky Fly as Me will make anyone with headphones on feel like a boss. Leave the Door Open is as buttery as it gets, and, to put it bluntly, After Last Night – which features Collins' biggest contribution and an appearance from bassist extraordinaire Thundercat – is made for the bedroom.
Silk Sonic wears their influences on their sleeves, but thankfully, An Evening with Silk Sonic never grows stale. There is nothing groundbreaking or particularly meaningful here, but Mars and .Paak's good humour, shining personalities, and authentic musical abilities ensure it sounds fresh throughout. Songs like Skate and Smokin' Out the Window are almost guaranteed to become mainstays on your summer playlist, Put On a Smile will literally put a smile on your face with each listen, and of course, there is a treasure trove of songs for the lovers out there. An evening with Silk Sonic is one you won't forget.