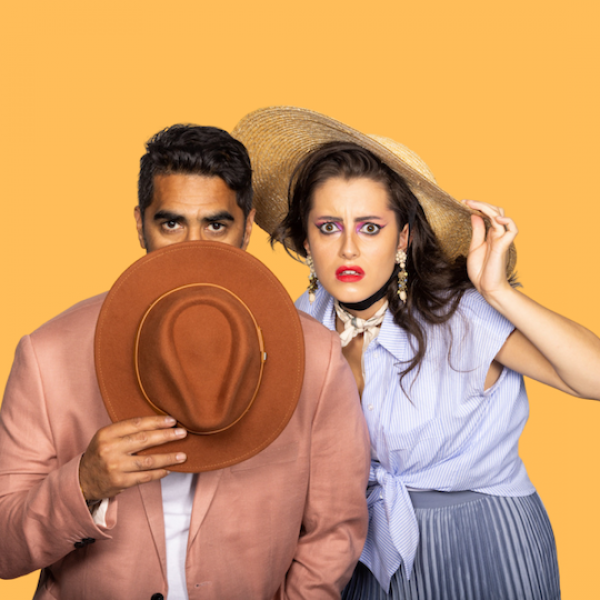 Written by: Hone Kouka
Directed by: Hone Kouka
Circa Theatre, 25th Jun 2022
Reviewed by: Madelaine Empson
"I want to make something that I've never seen before in Aotearoa." These are the words of celebrated playwright Hone Kouka (Bless the Child) who describes Ngā Rorirori as a culmination of three artforms that intrigue him: dance, farce, and theatre. I couldn't put it better myself: Ngā Rorirori is unlike anything I've ever seen before and I doubt I will ever see anything like it again.
Pillow (Regan Taylor) and Manuela (Mycah Keall) Rorirori stand to come into some moolah from their marae, which could become a cash cow if they impress the Chief Executive of the Department of 'Whenua, Whakapapa and Whatever' Ripeka Goldsmithworthy (Hahna Nichols). Newly heartbroken filmmaker Stacey Li Paul (Nomuna Amarbat) documents Pillow's life while he tries to dazzle Manuela's partner Rere Ahuahu (Sefa Tunupopo) instead in a classic case of mistaken identity with hilarious consequences.
I could tell you that you're in for a surprise when Ngā Rorirori segues from dance to theatre, but I don't think that would cover it. We open with contemporary choreography (Braedyn Togi) that aches and thrusts to measured, precise beats (compositions and karanga by Sheree Waitoa, compositions by Maarire Brunning Kouka and Reon Bell, who infuse a hip-hop and R&B flavour into the sound design). And then we're bowled over by an unrestrained tornado of colour, sound effects, physical theatre, and clowning in scenes where actors lip sync to dialogue performed by a separate vocal cast. Only the characters of Pillow and Stacey share the same actor both onstage and off it.
The dubbing is super jarring at first but ultimately serves to heighten the dialogue so it can thrive in the magical, elevated realm of Ngā Rorirori. Cohesion is achieved here because if naturalism was integrated at any point, it would stand in too stark a contrast with… well, everything else! One can't really interact with a surtitle machine come to life and act normal about it now, can they?
Elements of cinema come into play with said surtitles, which incorporate te reo translations (Hōhepa Waitoa) to great effect. Aspects of French farce and melodrama, Italian commedia dell'arte, Broadway musicals, children's TV shows, and more influences than I can count are woven into a work where te ao Māori beats fast, hard, and loud at the centre.
All the while, actors throw mammoth energy into delivering and honouring Ngā Rorirori. How big, how bizarre, how beautiful.