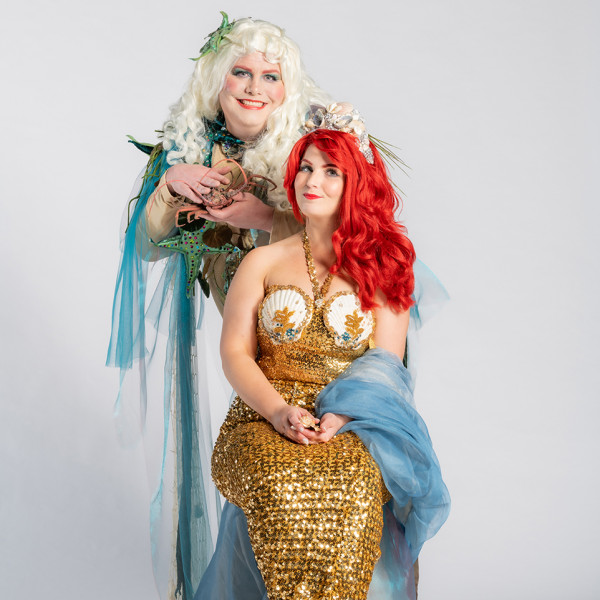 Written by: Simon Leary and Gavin Rutherford
Directed by: Susan Wilson
Running at Circa Theatre until 15th Jan
Reviewed by: Madelaine Empson
The Little Mermaid – The Pantomime is loosely based on Hans Christian Andersen's classic tale and by loosely I mean hardly at all. We have our Little Mermaid (here named Coral, played by Natasha McAllister), her handsome love interest Lyall (Jake McKay), and her crustacean friend Crabby (Trae Te Wiki), plus her voice-stealing, leg-bestowing aunty Bermuda (Kathleen Burns) and overbearing parent, the all-powerful Neptuna (Jthan Morgan). On the other hand, Morgan also plays a shag, assistant to the Land King Lando (Simon Leary), and Leary also plays a stingray. Then of course we have Gavin Rutherford, 12 years a Dame, as one Ms Shelly Bay. And did I mention the year is 3021?
If you can't tell from my intro, The Little Mermaid – The Pantomime is an absolute hoot.
The cast gives 110 percent, with Morgan's overenunciation as Neptuna a show highlight. McAllister is every bit the Disney princess while fizzing with feminist energy, and as her 'prince' Lyall, McKay is suitably clueless and wholesome… but never mean, which Disney sometimes forgets matters! Burns' villainous turn as Bermuda prompts many a hearty boo, which she hilariously relishes. Leary plays a king under her spell and it's so believable I'm quickly under his. As the energetic Crabby, Te Wiki's quest for a home is both adorable and exploited – by our Dame, whose attempt to cook the hermit crab is one of my favourite scenes. Actually, every scene Rutherford's in is my favourite!
The absolute fabulousness of Sheila Horton's costume design is accentuated by Marcus McShane's radiant lighting, which establishes whether the action is underwater or on land. Music director Michael Nicholas Williams' brilliant arrangements are show stealing, especially thanks to McAllister and Morgan's flashy choreography. With production design by Anna Lineham Robinson, it's all tied together in the biggest, brightest bow by the all-knowing hand of director Susan Wilson.
Overflowing with puns and incorporating an inspired use of Sign Language, The Little Mermaid – The Pantomime is a whirlwind of colour and joy, sparkles and pure, blissful escape. Boy did I need that!