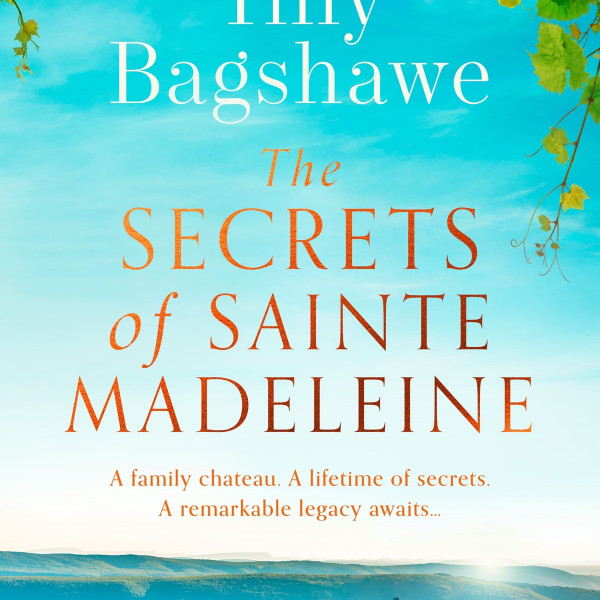 Written by: Tilly Bagshawe
HarperCollins
Reviewed by: Alessia Belsito-Riera
An epic novel perfect for your isolation blues, The Secrets of Sainte Madeleine will have you yearning for a time when France was just a plane flight away. But if you can't travel physically you may as well travel to a different world through a book, and there's no better book in which to lose yourself than The Secrets of Sainte Madeleine.
Spanning five decades from the early 20s through WWII and up to the 70s, The Secrets of Sainte Madeleine follows the trials and tribulations, the celebrations and the tragedies, the lives and the memories of the Salignac family. Owners of beautiful château Sainte Madeleine, the family have been wine growers of Burgundy and members of the French aristocracy for centuries, but nothing has prepared the Salignacs for the years that will come to pass. Their connection to the chateâu will be tested through the turbulence of both the world around them and of life itself.
Though each of the three children born to Louis and Therese Salignac have very different temperaments and lives, each one develops an essential bond to their home at Sainte Madeleine. Elise longs to inherit the chateâu and vineyard but loses herself in societal expectations; Alexandre, frustrated with his father's difficult temperament, escapes to Napa to start his own vineyard; Didier, always sensitive, must find his own way to reconcile the love and pain caused by Sainte Madeleine. Meanwhile distant cousin Laurent Senard must find a way through war and politics back to Elise and Sainte Madeleine.
In this sweeping historical romance, Tilly Bagshawe crafts a world of perfectly balanced escapism and historical reality. Though she confronts serious topics of war, sexism, classism, racism, and generational strife, she also weaves in romance and beauty. Just as in life the bad moments always have their counterpart; each low will also have its highs and vice versa. The Secrets of Sainte Madeleine is a dream, a saga, an escape, and everything in between.