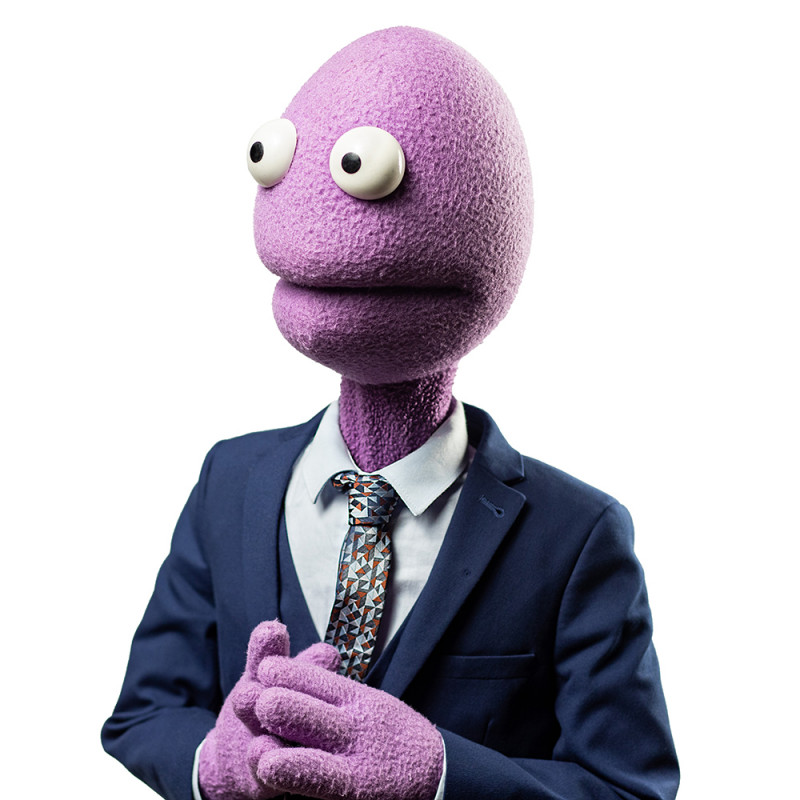 Pathos, punchlines, and one purple puppet by Madelaine Empson
In case it is unclear from the photo, Randy Feltface is a puppet.
Born in a tiny town in Victoria, Australia, Randy experienced what can only be described as your classic country childhood "climbing trees and getting bit by snakes". A self-professed "little dirt-covered ragamuffin from a very early age", he got into comedy quite by accident – on a dare, in fact – 18 years ago.
He remembers that first gig very well, and after dabbling in theatre and sketch comedy, found stand-up so fulfilling, he never stopped. Over the years of learning "how to find the balance between pathos and punchlines" and developing a style that's "a lot more entertaining and a lot less aggressive", Randy has puppeteered a colossal career in comedy.
Since starting off in Melbourne, Randy has written and performed 11 solo stand-up shows; released six comedy specials; appeared on Netflix, ABC, NBC, and his own TV show, co-created with Sammy J; picked up a slew of awards, including Most Outstanding Show at the Melbourne International Comedy Festival; and amassed a huge and devoted global fanbase, with over three million followers across platforms.
That's not to say he hasn't experienced his fair number of challenges. As a non-human performer who "looks pretty dinky on paper", Randy's first impression can work against him… or in his favour.
"I think often I don't get taken seriously in the beginning", he says. "I appreciate it when people see what I do and are pleasantly surprised that it's not what they think it's going to be."
On the other hand, having a feltface puts Randy at a slight advantage.
"People see me and they're a little bit put at ease, because maybe I get the first couple of minutes on stage where they lean in and go, 'Ooh, what's this gonna be?' rather than 'Who's this idiot?' because I look like their ex-boyfriend, or someone they went to school with. So sometimes I get the benefit of the doubt."
Regardless of what people think of Randy, he says he pretty much just does his own thing.
"I'm not too fazed with other people's perception as long as I'm having a nice time. Being a puppet amongst men, I have that ability to maybe see things from a slightly different perspective and point out some of the foibles of humanity from a bit more of a neutral place."
Although Wellington's weather is less than ideal right now, what with El Niño rolling in ("or maybe it's just the world dying", he laughs), Randy can't wait to perform his latest sell-out show Feltopia at Hannah Playhouse on the 11th of August at 7pm. A high-energy existential crisis full of biting observations, razor-sharp crowd work, and rapid arm movements, Feltopia has proven so popular that a second show has been added straight after the first at 9:30pm.
While in town, Randy's looking forward to dipping his toes in the water down at Oriental Bay, sampling some vegan treats, checking out San Fran, and busting out the binoculars for "a little bit of bird noticing".
"I've never performed solo in Wellington before. I don't know when I'm gonna get a chance to get back here. And I think this is a really interesting time on the planet where we have to take opportunities when they're in front of us. So I don't think anyone in Wellington has any excuse other than to come along to the show and have the best night of their lives."