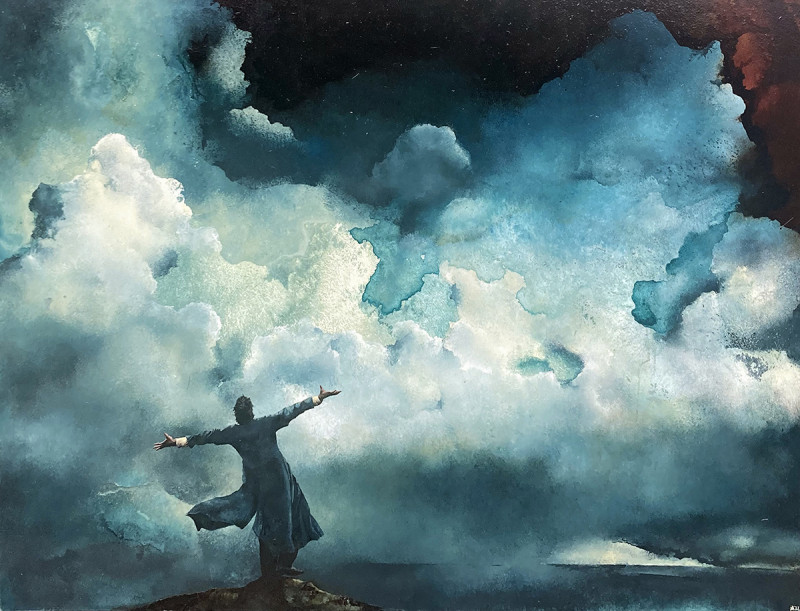 Life anew by Alessia Belsito-Riera
A deeply atmospheric and emotional exhibition by Job Klijn opens at the Exhibitions Gallery on January the 26th titled Mother said there would be days like this. Featuring brooding pieces simultaneously threatening and comforting, Klijn possesses a remarkable skill with light and textures.
"I sketch endlessly from collected images that show poses I like to achieve", Klijn explains. His works often feature agitated skies and a human form, the atmosphere reflecting the figure's internal reflections in what the artist calls "moodscapes". Klijn notes that he "starts his paintings by trying to create a 'background', a rough sky, a portrait of 'weather' that reflects a mood or sense of moodiness that eventually leads to a more specific idea in what direction to take it".
The artwork at Exhibitions Gallery is all mixed media on recycled board. "My work is the result of interest in and love for recycled materials – wood; fabric; metal; degraded paints – which I source from demolition sites, beaches, railway lines, and other places. Treasures can be found anywhere, really", Klijn continues. Recycled materials have a history and previous life that add a whole new layer of meaning to Klijn's work. He uses as much recycled material as he can, with a process that "involves a lot of adding and subtracting of layers, texture, soil, thinning, scraping, burning, swiping et cetera, until there is a feeling of emotive 'rightness'".
The results are deeply affecting pieces of life once lived, transformed into life anew.