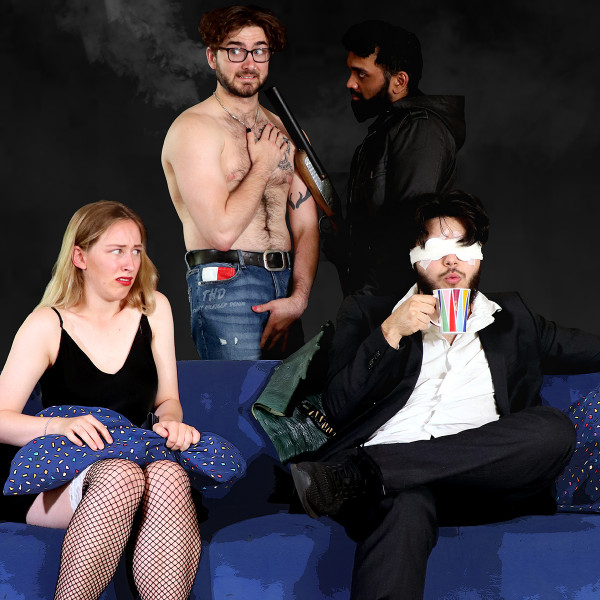 Written by: Finlay Langelaan
Directed by: Finlay Langelaan
Te Auaha, 16th Mar 2021
Reviewed by: Sam Hollis
Finlay Langelaan's riotous Cuffs, Stockings and Two Smokin' Barrels feels like theatre on adrenaline. Though it passes by quickly, the Tarantino-esque story is captivating, innately suspenseful, and funny throughout, despite some technical letdowns that occasionally force the actors into hammy territory.
Believing that her husband Roger (Esteban Jaramillo) will be spending the night in hospital following cataract surgery, BDSM-savvy Cathy (Anna Barker) takes the opportunity to invite her lover Peter (Caleb Hill) over for an evening of pleasure. Their plans go out the window when a determined thief, Damien (Jett Ranchhod), crashes the party, soon to be followed by a recovering Roger.
Langelaan's script wastes no time, taking us from zero to 100 the second the stage lights dim and Cathy and Peter burst into the living room with their lips locked. Our entire audience sit up in their seats, and this reaction does not subside for the next hour. Tonally, the dialogue is somewhat inconsistent, bouncing from natural to extreme at a moment's notice. What is not inconsistent though is the plot, which is tightknit, clear, and effortlessly entertaining.
The jazz score, composed by Ben Kelly and performed by Magic Monké and the Banana Boys, sets the mood with ease. It's seductive and intense, and paired with sharp lighting cues it helps to further define the simple stage design. The decision not to mic the cast unfortunately leaves many punchlines drowned out by the band. At times it feels like I am at a jazz gig rather than a play, and I am left jealous of the front row who appear to catch hilarious lines that are lost to the rest of us.
Barker deserves praise for her committed performance; sexy, smart, and slightly insane, Cathy is the show's greatest asset. Sadly, the sound issues lead to some overacting all-round as the cast fights to be heard.
While a little unpolished, Cuffs, Stockings and Two Smokin' Barrels is still an exhilarating ride from start to finish.