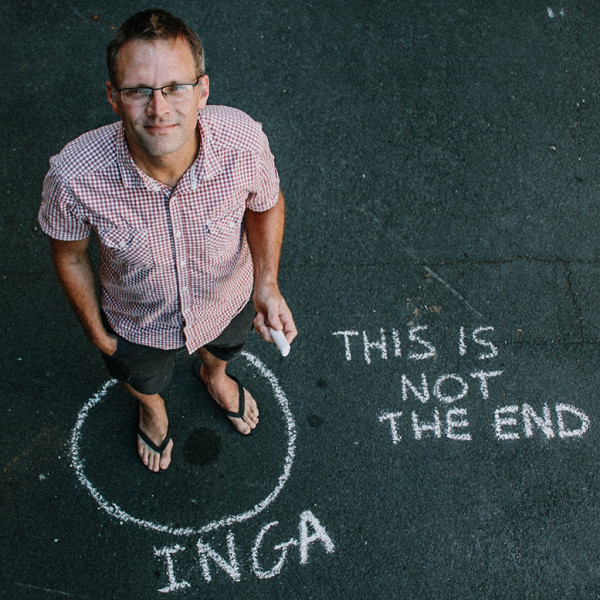 Written by: Anders Falstie-Jensen
Directed by: Anders Falstie-Jensen
Circa Theatre, 3rd Sep 2022
Reviewed by: Tanya Piejus
Part of the TAHI New Zealand Festival of Solo Performance, Back to Square One? is a reflective, personally engaging, and intimate view of the COVID-19 lockdown in April 2020 inspired by regular Skype conversations between the show's creator and his 95-year-old grandmother Inga in Denmark. The drawings his daughter and her friend made on their shared driveway during this time were the source of the highly flexible format of the show that consists only of some sort of floor and a big box of coloured chalk, meaning it can be performed pretty much anywhere.
As the audience enters, we're invited to pick a stick of chalk in our colour of choice and write our names along the edge of the 'stage', a simple dotted line. Falstie-Jensen then introduces himself and proceeds to sketch out Inga's living room where she spent much of her lockdown watching Game of Thrones and Skyping her distant relatives.
By switching characters between himself and Inga with a subtle change of bodily posture, drawing on Inga's bedtime stories of Danish mythology, and charmingly employing his box of chalk on the floor and walls of Circa Two, Falstie-Jensen weaves a beautiful tale of connectedness and renewal that overcomes the despair of isolation.
Falstie-Jensen also talks directly to the audience throughout and engages us in an exercise of shared connection and experience, so that when he finally poses the question of whether we have gone through all this pandemic-driven anxiety for nothing, we clearly understand the answer. The post-show offer of a delicious, buttery Danish cake and coffee is a lovely final touch.
So much discussion of the COVID-infested world focuses on the negative and it's refreshing and uplifting to be offered a different way of thinking about what we've all seen and felt for the past two-and-a-bit years. Congratulations to The Rebel Alliance for taking the road less travelled.