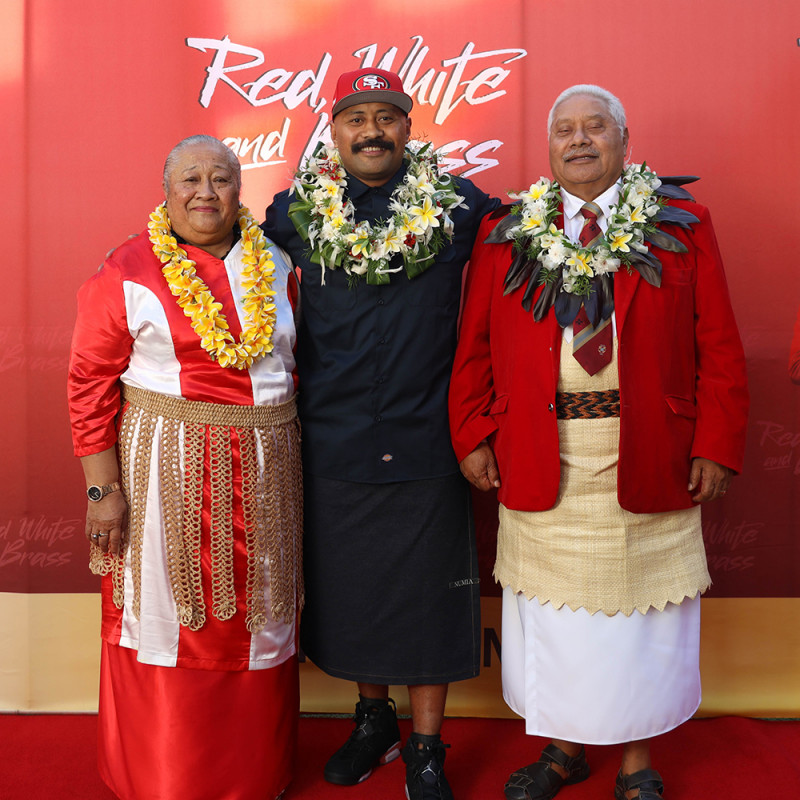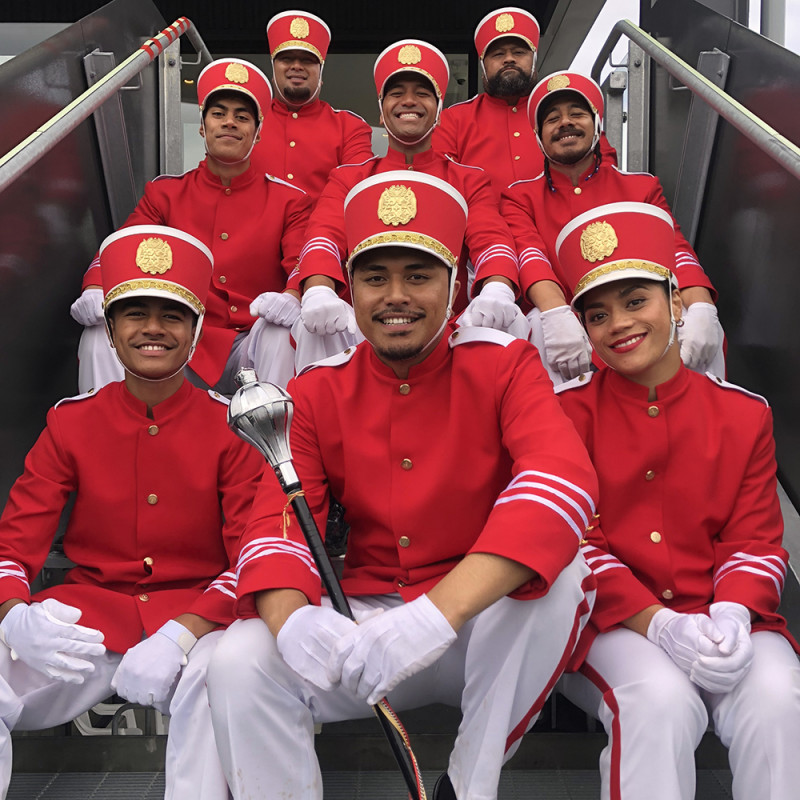 Wellington Silver Screeners: Halaifonua Finau by Alessia Belsito-Riera
In our Wellington Silver Screeners series, Alessia Belsito-Riera shines a spotlight on the movers and shakers working in the film capital of New Zealand. This time she chats with Halaifonua Finau, writer and producer of Red, White and Brass.
Back in 2011, Wellington-born Tongan Halaifonua 'Nua' Finau wanted nothing more than to get tickets to the Rugby World Cup to see Tonga play in his home city. He never imagined he would create a make-shift brass band that would play at the opening ceremony, or that he would make a movie based on the experience! Before embarking on his feature film Red, White & Brass, Nua was a writer for the Jonah Lomu tele-film JONAH and the TV show The Panthers. Red, White & Brass has just completed an 18-week run across New Zealand, Australia, and parts of the Pacific, and is currently screening in Hawai'i and select cities in the USA. I caught up with the now-writer and producer to chat about how it all began.
What sparked your interest in storytelling and filmmaking?
I don't think I was ever really interested in it to be honest. I didn't think that my story was worth telling or that the stories that I liked or wanted to tell would be wanted. It was kind of just through, I would say a godly chain of events, that I came to it.
I went to the Royal Edinburgh Military Tattoo. The Tongan military band came out and I was thinking 'what the hell are the Tongans doing at this international event?' I started writing on my phone and I just made up a story about a Tongan-Scottish band that performed at the Royal Edinburgh Military Tattoo. My friend Danny Mulheron asked where the idea came from and I explained it was like my church band that performed at the Rugby World Cup, but we didn't have any instruments, no one knew how to read music, and we only did it to get free tickets. He was like, 'well there's your story, why are you making up this fake Tongan-Scottish story, just tell the real thing'. So that was the catalyst for Red, White & Brass.
Once that fire was lit and I realised that it was a cool idea, I pretty much just did anything to improve my skills. I went into crewing as an AD [assistant director] so I could see what it was like on set and see how projects come together. I'd always introduce myself to the producers, the writers, and slowly went through that pathway of watching shows and movies be made in New Zealand from a crew perspective. I just kept moving forward and opportunities just presented themselves, fortuitously. Danny Mulheron was scouted to do the Jonah Lomu tele-film [JONAH] and the production company was looking for a Tongan writer. There weren't any and Danny told them I was doing a feature film and so they gave me the job. I went on to doing [the TV series] The Panthers because the producer of that show, who is now my business partner, was again looking for a Tongan writer and I was the only one with a credit thanks to JONAH.
All those lessons I was learning on the job I put into Red, White & Brass. It was definitely not a normal pathway for a writer to have never written anything and then the first thing you write is a TV film. And then the second thing is a TV series. And the third thing is a bloody feature film.
It seems like it was meant to be!
It's very much like the movie, like art imitating life a bit. Just a crazy, positive guy who has a dream and thinks, 'nah, I'm Tongan, I'll be able to do it'.
What was it like working on your own story versus the others?
The ones that I worked on before were cool because in the back of my mind I was doing professional development. So it was always learning how I could apply it to Red, White & Brass. But doing Red, White & Brass was a definite career highlight. Even if I win an Oscar or an Emmy Award, I don't think it would be the experience that I've had with this film because it's so personal and it's for my people, and my hood. I don't know many films that are based on a true story and have the real-life subjects so intimately involved in the whole process. I had my mum and dad acting, my aunty was consulting with the costume and art department, my church were the background extras, so it was a real family and community experience. It was definitely an emotional rollercoaster, like I can't believe that I did it.
Was it neat working with your family?
One hundred percent, but I've always been like Maka in the film, right? So for them to come on set and see this big operation and me as the producer was a big eye opener for them, and an amazing experience for my mum and dad to see what I've been doing for the last 18 years.
What was it like having your mum and dad in the cast?
It was definitely fun. I loved every minute. I don't think it's often that kids get to see their parents step that far out of their comfort zone. My mum and dad had never acted before, my dad is a minister and my mum is an educator. So to see them put themselves that far out of their comfort zone for their baby was pretty overwhelming. I don't know many parents that would go that far, make themselves that vulnerable, to support their kid's dream. It was amazing to have the opportunity to share that experience with them.
Was it strange seeing somebody play you?
It was cool man, and nuts to find someone like [John-Paul Foliaki] who just embodied the character so well. It's quite a fine line between being the lovable, cocky guy and just being an annoying, arrogant one. I think JP balanced it very well and I think he made the film what it was.
You mentioned many of the original band members were in the film. What was it like for you all to relive the experience?
It was cool because the experience in 2011 was a highlight in itself. The experience at the game was just like eight minutes, so we got to relive it over 10 weeks of rehearsals and shooting. A lot of my family migrated from Tonga to New Zealand, and they would have never in their wildest dreams thought that they'd be in a film. It's just a wicked thing to share that experience with my uncles and cousins and younger nephews and nieces. Like how cool is it for them to be involved in a big film with Taika Waititi attached to it and their cousin as the producer?
Why do you think representation in media is so important?
You can't be what you can't see and if all you're seeing is negative representations of your community and who you identify with, that's what shapes your subconscious, your view of yourself, and your community. Every community, every family, every culture has the light and the shade. That doesn't mean that we don't go down those dark routes and tell some of those darker stories, but I think, especially from a Pacific perspective, there have been a lot of the heavy drama and dark stories and there wasn't anything to [make you feel] proud of who you are and have a laugh.
As a born and bred Wellingtonian, did you enjoy telling your Wellington story and shooting it here?
Oh, hell yeah. Up there with making sure that it was authentically Tongan was making sure that you could tell you're in Wellington because all of the Polynesian movies are always set in Auckland and there are islanders that live beyond Auckland. I grew up in Tawa and Porirua, so to be able to shoot and take the movie to those places and for kids to walk around and go 'what are you guys doing here' and tell them that I'm from here is wicked.
You can tell that you really value your community and what they've done for you. Do you feel that with this film you've given back to them?
I don't know if I've given back. I think that it has reaffirmed for me the importance of community. I think community is something that's kind of lost now in New Zealand. We don't need to invest into our communities or stay engaged with them because we're so connected through devices. We're more connected than ever, but also not connected, and our strength is in our communities and in our families. It's pretty amazing what you can achieve when you bind together, you know? I think it's a good reminder for not only our Tongan community, but also just in general. When was the last time you caught up with your own family, or your church community, or whatever your community is that you belong to? It's the fabric of our country.
Red, White & Brass has the Tongan concept of māfana at its core. What does māfana mean to you?
Māfana means Tongan spirit. It's what makes us uniquely Tongan. It's unbridled, overwhelming, blind faith, and joy in who we are. It's what binds us together.
You're working on a new TV dramedy series as we speak. What else is next for you?
My main goal is just to make being Tongan mean. So whatever stories do that, that's where I go. With JONAH and The Panthers and now Red, White & Brass, they all highlight the uniqueness and special energy that we have as Tongans. So that's what will always be next for me: how can I carry on waving the flag and putting on for my little country?