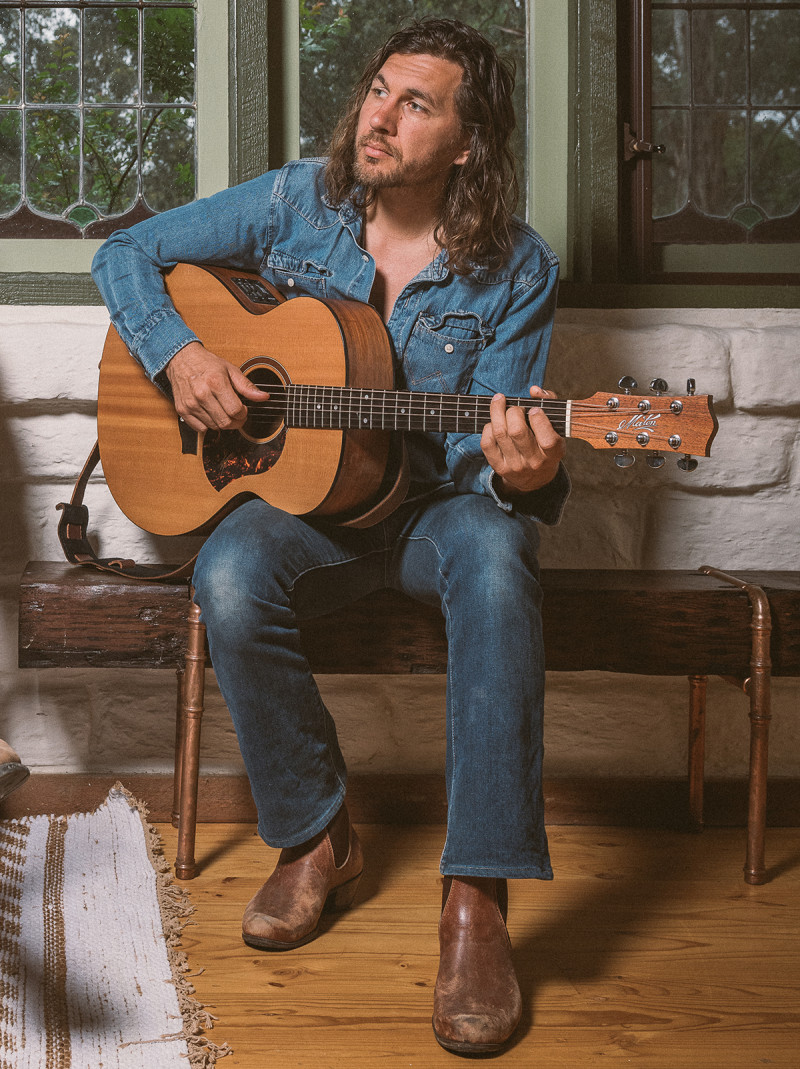 The winding road so far by Madelaine Empson
In June, Aussie soul-blues band the Teskey Brothers released The Winding Way. Led by vocalist Josh Teskey and his brother, guitarist and engineer Sam Teskey, their third studio album is their most expansive and adventurous yet. Soon to visit New Zealand, the four-time ARIA award winners and GRAMMY® nominees have been touring the record for most of the year… but not quite in the way you'd expect.
I spoke to Sam about the road so far as he was settling in for the evening over in Nashville, Tennessee.
You and Josh have been playing music together since you were kids. Do you remember any of those early jams and the moment you realised you clicked musically?
Josh was a little bit older than me when we first started, so he was already playing a bit. I was just learning the guitar, so I wasn't really in amongst it until – Josh would explain it better – the moment he noticed I was able to actually start playing and jamming along. It kind of happened overnight, something clicked into place. Josh was singing, I was playing guitar, finding space between the lines he was singing. It worked well and we were a good little team, went out to all sorts of places to busk and play. It was pretty constant from then on in.
It wasn't until – it must've been 15 years later – that we finally put together an album, Half Mile Harvest [2017]. We'd done little albums beforehand and played in other bands when we were quite young. The drummer who played with us in both our bands, Nick Lawrence, is now back and on the road touring with us. What, 20 years later?
That is so cool. What sort of music were you making back then? I've heard you described today as 'modest blues afficionados who make throwback soul'.
Probably back then it was more bluesy, early blues. We busked a lot of Robert Johnson, Josh played more slide. When we were working on the first album, there were a lot of songs that we were trying to make bluesy, because that's what we always did. Then things shifted. 'Oh, this song that we're trying to make into the blues, it's actually a soul song'. We'd always listened to a lot of great soul artists – Percy Sledge, Wilson Pickett, Aretha Franklin, Otis Redding. But there was a pivotal moment when we started playing that music. As soon as we shifted some grooves around to be a bit more souly, Josh's voice opened up and changed gear to allow all these influences in from the past.
That hit a thing with the public, that sound coming together. It spurred a bit of interest, which is something we hadn't really experienced before. We did have our little following back then – people would come and see us play in a café out in Healesville called The Bodhi Tree, other little places around there, local swimming pools, all sorts of odd gigs. We never turned gigs down, we always said yes. Good pocket money on the weekends! From those 10, 15 years of playing those cafés, we developed these tricks to draw the crowd in. There's all sorts of things that have come about from that progression, playing the trenches as we call it. We've done the hard gigs, now we're playing the cushy ones where everyone comes and listens and sings along [laughs], which is lovely.
The first album kicked things off for the band and the second, Run Home Slow (2019), was a smash success. How did you navigate the spanner in the works that came next – a global pandemic!
It was interesting because, from the release of the first album, it was kind of non-stop. Keep playing, keep riding the wave, don't stop. Just when the band broke out, I had my first child as well. So, [the pandemic] was actually a really refreshing time for us, even though it was a hard time for a lot of people. We were trying to keep up the demand of playing all across the world, selling out shows across America and the UK, but then we were just told to stop. It wasn't on us anymore – we had to take a break. During that time, Josh had his first baby, and then the lockdowns continued for much longer than we expected. Now we've both got two kids and, because we had that time to get our roots solid, we're breaking back out into the world in a much healthier way.
Even after COVID, people are still listening to our music, still buying tickets to our shows, and it's kept growing, which is awesome. We feel like we can be a bit more discerning now about how much we play. This whole year has been based around this last tour. We've just been in Europe for five months with whole families on board. We're only playing shows on the weekends, then having the weeks off. We're doing things on our own terms and we're really thriving now.
I'm guessing the slow, marathon tour is not the industry norm! But does it mean you'll have more free time to take the 'Winding Way' around New Zealand?
[Chuckles.] Exactly, yeah. We can make the most of this lifestyle that we're living. A few years ago, it felt like a real double-edged sword. We were in these amazing cities, but only for one night with maybe half an hour to wander around. I have a song where the first line is 'I've been everywhere, but I ain't seen anywhere'. That sums it up.
What memories are you looking forward to making in New Zealand?
Definitely a lot of travelling around there. We get to make a bit of a holiday out of it this time. New Zealand is so beautiful. I'd love to do some bush walks and really get immersed in the country.
What can Wellington audiences expect from the concerts on the 9th and 10th of December at Michael Fowler Centre?
Doing so many shows so regularly (rather than doing 21 shows then having a big break), we've really honed the set in a beautiful way. And having more space in between shows means that every time we play, we're fresh and ready to go. There's a lot of excitement for every gig now. There's no going through the motions. Every gig is different, has its own energy about it. Expect heaps of tracks from the new album, heaps of old tracks too. We're changing up the setlist a lot as well. We're very fluid and vibe off the crowd and their energy, so things will adapt and change as to what everyone's feeling on the night. It's going to be a lot of fun. We're doing all the testing out all around the world and we'll be at our best when we're back in Australia and New Zealand. So, we've saved the best till last!