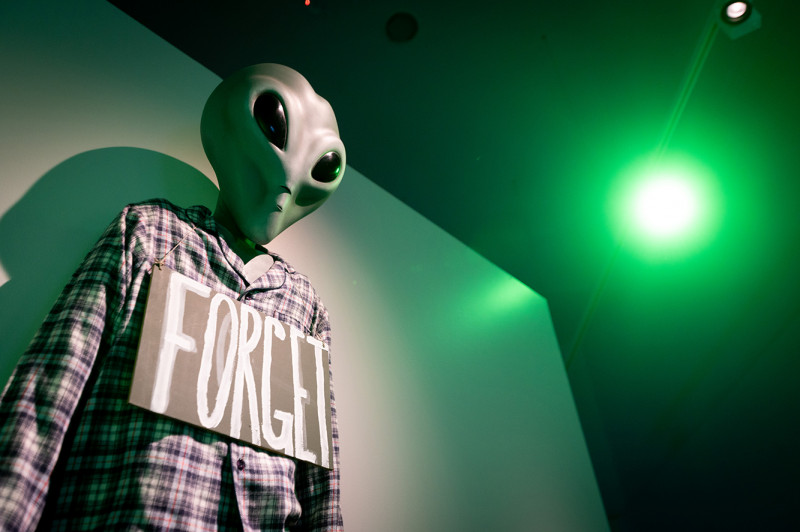 The truth is out there by Harry Bartle
Cosmic mysteries enter the limelight at The Dowse Art Museum as nine contemporary artists explore their fascinations with UFOs, alien abductions, and other unexplained phenomena in the exhibition The Truth Is Out There. On now until the 14th of August, curator Chelsea Nichols is excited to help showcase this interesting and unique experience.
"I think the topic of extraterrestrials and UFOs is inherently interesting to most people – it speaks to the biggest questions about the mysteries of the universe and humanity's place within it", Nichols says.
"We tend to expect that the answers will be found in science, but this exhibition excites me because I think these artists are delving more into our fascination with the paranormal and unexplained, and how we come to conclusions about the things we don't understand."
Hailing from all over the world including New Zealand, USA, and Egypt, the artists are Ronnie van Hout, Brett Graham, Rachael Rakena, Joe Merrell, Nayda Collazo-Llorens, Peter Stitchbury, Emil McAvoy, Hany Armanious, and Caryline Boreham.
Audiences will be taken on a journey to outer space, passing through mysterious places and events such as the hypnosis couch of abductees Betty and Barney Hill. Within the mixture of artwork on display viewers will also find aliens, hypnosis tapes, archival UFO documents, crop circles, unexplained lights, flying saucers, and even eerie phone calls.
But despite the focus on the extraterrestrial, Nichols hints The Truth Is Out There is about more than just aliens and spaceships, as it also grapples with larger questions surrounding human behaviour, conspiracy theories, paranoia, and misinformation.
"Underneath the glowing green lights and flying saucers, the heart of this exhibition is really about humans. It is about the way we understand and explain the forces beyond our planet, and how we decide what to believe."