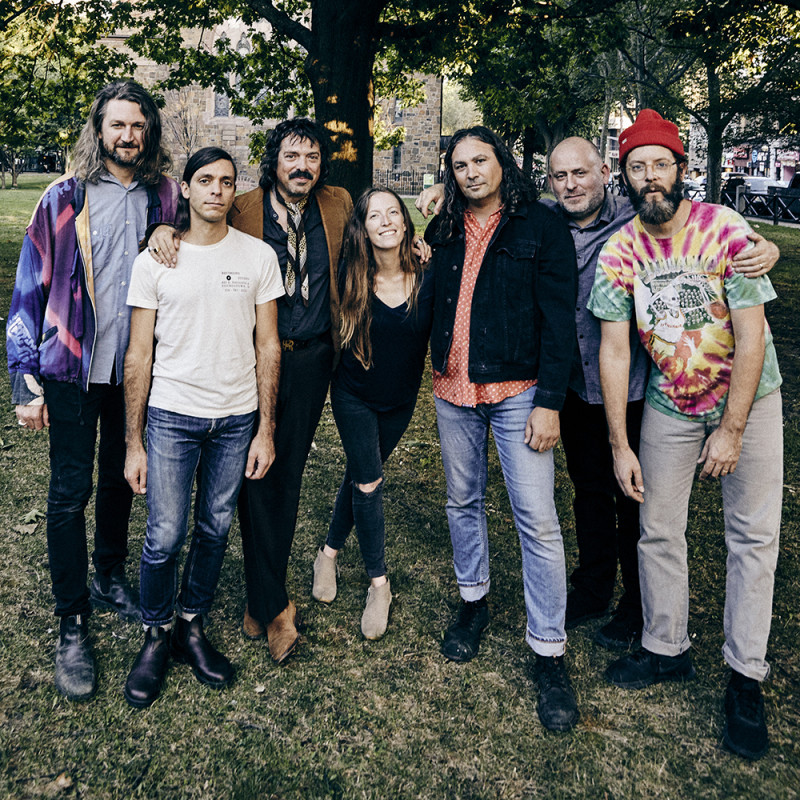 The great rock 'n' roll synthesiser by Madelaine Empson
Founded by lead singer Adam Granduciel and Kurt Vile in 2005, GRAMMY® Award-winning rockers The War on Drugs have been hailed as "One of the greatest American bands of their generation" (Stereogum). From 2008's debut album Wagonwheel Blues to 2021's fifth and latest record I Don't Live Here Anymore, the band has steadily emerged as one of this century's great rock 'n' roll synthesisers, bridging the gap between the underground and the mainstream, the obtuse and the anthemic, the fractured past and a unified, engrossing present.
I had the privilege of catching up with Granduciel ahead of their Wellington gig at Anderson Park, where they'll call in summer alongside Spoon and Indigo Sparkle on Friday the 1st of December as part of Live Nation's new On A Good Day outdoor music series.
How was music intwined through your upbringing and at what point did it become your primary focus?
Great question! I don't think that music was actually a huge part of my upbringing. My parents were very casual listeners of music, it wasn't like we sat around and strummed the guitar or the fiddle on the weekends. My dad was much older, born in the early 1930s, he was listening to mostly Harry Belafonte and some big band music. A lot of Cats! A Cats kinda guy. Driving to Boston every morning, Cats constantly. My mum, child of the 60s. Probably not much beyond a Roy Orbison tape in her car and lots of talk radio.
When I was like, five, I was obsessed with oldies. I remember getting a tape. And I loved Jimi Hendrix when I was 10. Like any 10 or 11-year-old, I found rock music on my own around the same time that I played the guitar for the first time. But because my family weren't huge fans of music, it wasn't embraced in the kind of way that – maybe that's a good thing, 20 or 30 years later – but it didn't really seem like it was important. You know, if you're an amazing painter in high school, maybe it's like, 'Oh, we should send this kid to art school or something'. But if you're super into music, it was just like, 'Oh, cool!' Where I grew up, I didn't feel like there was much in it for me, beyond being obsessed with it. I didn't know where else you could go with it. As I got older, with friends of mine, I remained in music, going to shows… Your whole life is music, and one day you're playing a show. It was just something that I kind of found and am still finding.
I'd love to know the story behind the band name The War on Drugs.
A long time ago, 21 years ago, me and my friend Julian used to sit around late at night writing this dictionary. We loved Gregory Corso, Henry Miller, and it became this whole thing: 4am, six people living in a house in Oakland, California, me and Julian in the living room, my friend from the restaurant over. We're at the typewriters writing a dictionary, drinking wine, smoking, playing The Jesus Lizard very loud. My roommates were probably like, why are these people still awake? We would define everything – the Pacific Ocean, the White House – and Julian was just like, 'The war on drugs' because it was a sort of pop culture thing we were going to write in the dictionary. I thought that it sounded like a cool, subversive band name.
This will be your first time in New Zealand since 2018. Have you played Wellington before?
No, and every band I know that's played there is like, 'You gotta play Wellington! It's the best place to play!' So we're gonna be there for the first time, and I feel like it's one of the musical capitals of the world that no one knows about.