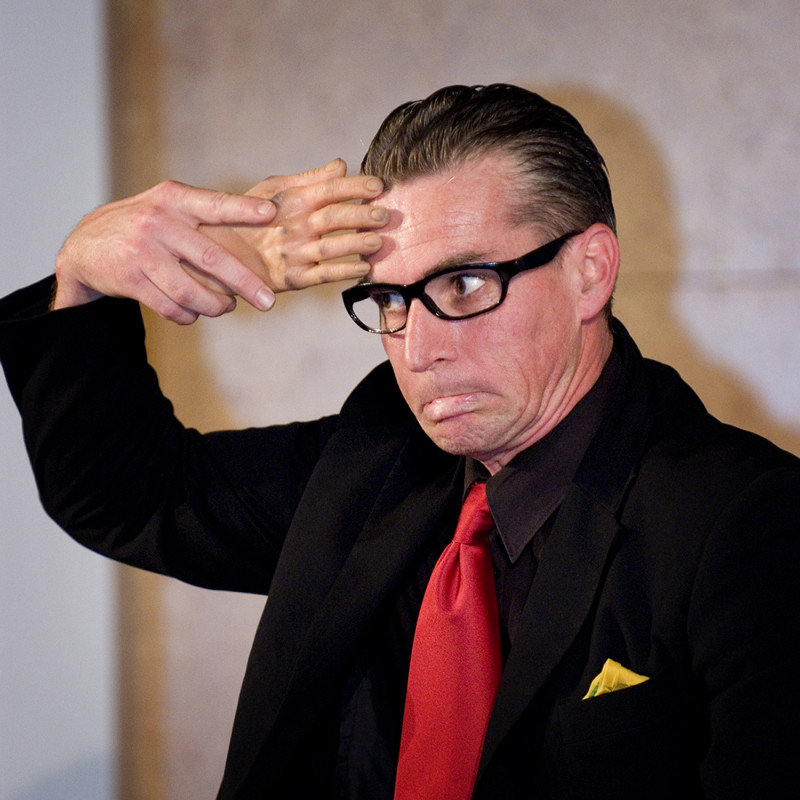 Street performers: Mr Fungus by Madelaine Empson
Tell me about how Mr Fungus was born.
I started with Robert Bennett's Mime International in 1984 as a whiteface mime. I was influenced by a number of people for the Mr Fungus look (the goofy guy with spectacles). Of course I've since found that tonnes and tonnes of people throughout time have looked like that [laughs].
What circus skills do you have?
Most of my training is more in physical theatre, mask, and clown. I've done basics in aerials and I've had some experience and workshops with improv. Juggling is something I do in street shows, and a lot of what I most enjoy doing is mimicry, interacting spontaneously with things and people off the cuff, imitating the people that are walking through the shows… which is very hit and miss!
What have been some of the highlights so far of your performing arts career?
You might know of Nina Nawalowalo? Her and I went to Moscow together and then Poland in 1985, it was the first overseas trip I'd ever been on. It was incredible when you think our director just wrote letters, there was no email, no cellphones, none of that... And it was the Iron Curtain. We were showcased in this big international clown-mime-theatre festival. I'd been studying these big books of famous clowns and half of them were there at that festival, which was quite remarkable.
There have been lots of other highlights. The Edinburgh Festival, being a street performer there. Edinburgh is where my mum's from. I lost my mum at a really early age and felt an affinity with her going there. I've had a few other experiences in Europe that were very cool, a sense that people understand clown and know what street shows are.
How are street shows in Wellington in comparison?
I did this huge street show in Amsterdam, and this is how cool the Dutch are, right – this official guy was waiting for me to finish and I caught his eye and went 'Are we alright?' And he said, 'Fungus, you can finish your show and pass out the hat, and then I need to ask you to move over there.' Whereas, in New Zealand, the police will come in – quite friendly – and say 'Mate you can't work here.' They were not necessarily as friendly in London. If you were in the wrong place you'd get stopped and potentially arrested… but that only happened to me once [laughs].
I had a time in Wellington where I realised street performing wasn't necessarily sustainable for me and not creatively where I want to be. I still really enjoy the right time and place – I do Newtown Festival every year, I do Island Bay Festival, and I've done A Very Welly Christmas, which is a wonderful event.
What did you learn performing on the streets and how has that translated to your work today?
Performing in the street is a really fantastic way to learn spontaneity. I think it's led me to more of an awareness of reading people, and just responding in the moment, being spontaneously creative. There are so many things beyond your control in the street that you have to be adaptable, and our ability to respond to change is so important.
Having shifted my focus away from being primarily a street performer, I do other characters, all kinds of acting and stand-up work, and anything from comedy clubs to work in schools to corporate events to festivals. So I get to have a really varied life. One of the very exciting things I have coming up in the October school holidays is a season of Mr Fungus, directed by Fraser Hooper at Circa Theatre, which is a family show for all ages, for kids from four to 94!
Why do you do what you do?
In Christchurch, I remember an older lady walking up to me – she won't be with us anymore, this was eight years ago – and she had tears in her eyes. She said 'that's the best laugh I've had for years and years.' A moment like that is honestly worth more than any money in the hat or any kind of accolades. If I have times where I think, 'ugh, what am I doing, how is this a career?' I think of moments like that. To enable people to feel happy? It's such a privilege. How do we put a price on that in our society? How can you put a price on a laugh?