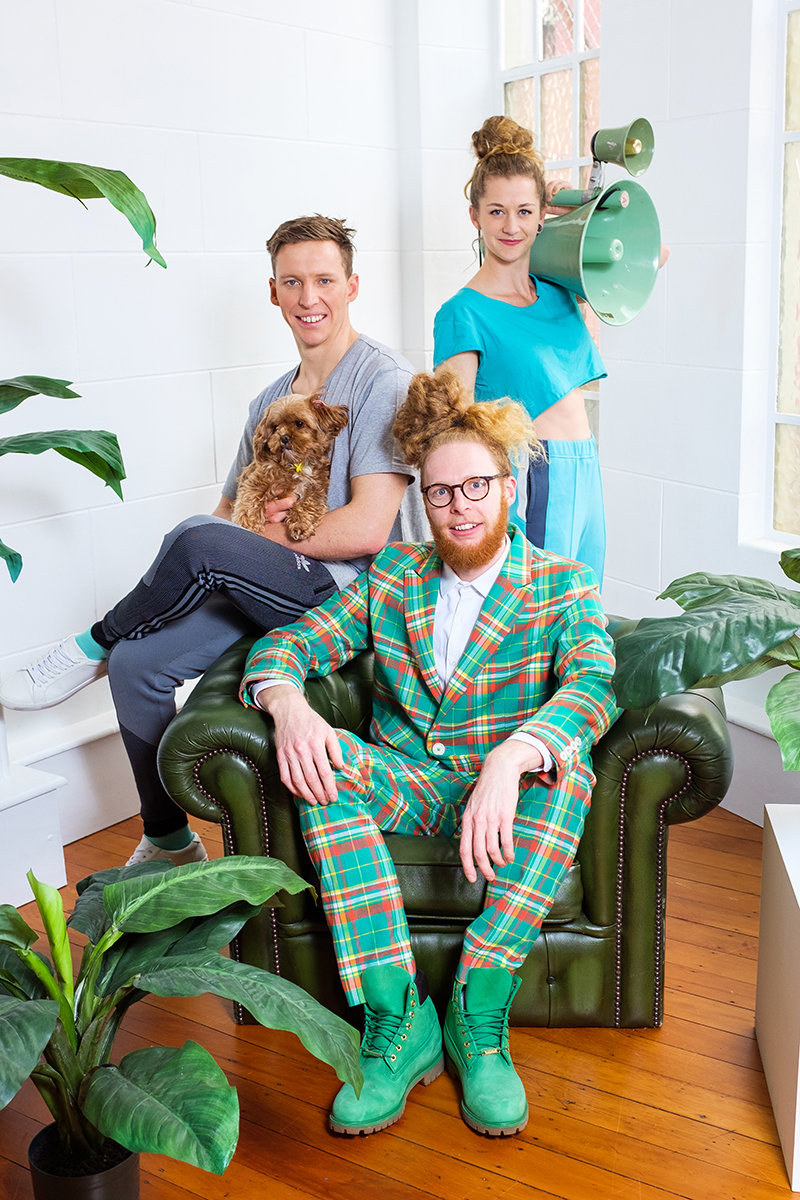 Street performers: Imogen Stone and Zane and Degge Jarvie by Madelaine Empson
Can you tell me about your backgrounds in circus and performance art?
Zane: Degge [my brother] and my journeys are pretty much the same. We grew up going to juggling festivals and we made our way onto renegade stages from a young age. I think we knew really early on that juggling and comedy were our jam. We both did the university thing and have degrees, me in architecture, Degge in industrial design… but realised pretty quickly that we'd rather make people smile.
Imogen: I grew up as a gymnastics and ballet kid, finding my way into the circus when I was about 11 years old – The Circus Hub in Newtown became my whole world. I was 17 when I kicked off my full-time circus journey, touring with Circus Aotearoa (Zane came on that tour too) and have been making it up ever since.
You started working together as a trio in 2014. Why have you found three heads to be better than one?
Z: There's a lot of trust in this trio, and we really enjoy the process of creating and performing together.
I: There are real highs and lows as a performer, and it's nice to be able to share them as a team. Keeps you grounded.
What does your street show the Biggest Little Circus involve?
Degge: It's got a high-energy, banging soundtrack. Super playful and loose. A balance of audience interaction and circus skills with lots of banter and comedy.
I: The aerial rig is very much the frame for the show… Our finale is all three of us standing on top of the structure. I do a handstand in the middle while Zane and Degge juggle fire around me. It's a bit bonkers.
You've toured the show through Aotearoa and even 13,000 kilometres through Canada! What are the biggest challenges of touring?
I: In larger festivals, within our 60-minute slot we'd put up the rig, gather the crowd, perform the show, hat the show (take donations), and take down the rig. Pretty gnarly for a show of this scale.
Z: With various shows and projects the three of us would normally be touring for six-ish months of the year (well, before COVID anyway), so we've had a fair amount of practice. Though... touring definitely improved when we realised that we work best as a team when our accommodation has the right number of bedrooms and a kitchen so we can feed ourselves properly.
D: When your accommodation doesn't have any cooking oil. That's a challenge.
What have been some of the most silly or special reactions or experiences you've had while performing Biggest Little Circus?
Z: There's a part in the show, just after an OTT costume change, where I frolic through the audience in my fluoro leopard-print leotard to I Am Beautiful by Christina Aguilera… I always look for the kindest-looking old lady (the older the better) and get a cheeky spank. This one time in Rotorua, the lady I ended up choosing was their mayor, and in her surprise at being presented with my bum, instead of a spank, I got a kiss… on my bum.
I: Thunderstorms in Canada were unlike anything we'd ever experienced before. We were 10 minutes away from finishing up the show when we noticed black dense clouds on the horizon. Being Kiwis we were like, 'Oh nah we got this, we've got time to finish'. Three minutes later the audience has run for the hills, monsoon-level rain, thunder and lightning. I was up the top of the rig trying to bring down the aerial gear before it got saturated while people sheltering under awnings were yelling I was about to be hit by lightning. That was hectic. Silver lining, at least our costumes are pretty much just togs.
Why have you chosen to dedicate yourselves to the arts – especially given the challenges, like the present pandemic?
Z: We like making people smile. It's definitely an unpredictable way to live... you can't take anything for granted but that's one of the things which makes it so special.
I: We're definitely still prone to panicking and questioning our life decisions. But then we figure everyone else does that too.
D: But we're also pretty far down this rabbit hole, and have gotten pretty good at it.