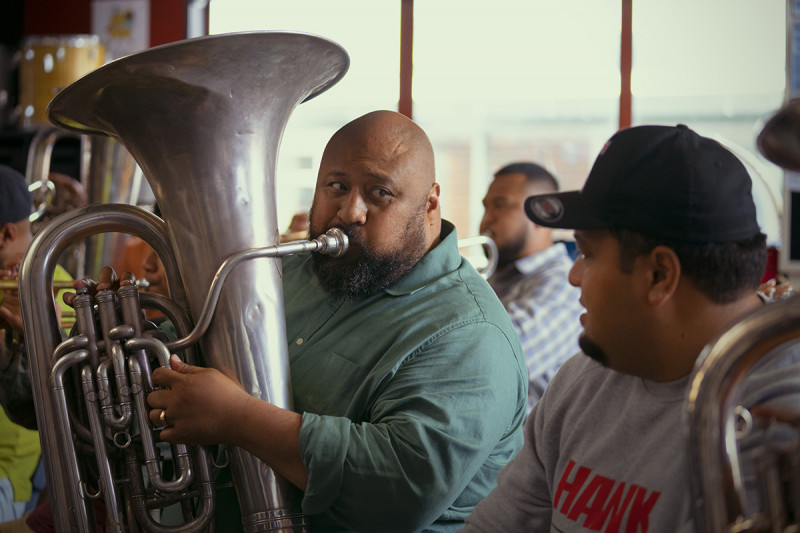 See what Tonga can do by Alessia Belsito-Riera
It's a beautiful day in 2011 and the sun is shining, the breeze is slipping softly around the hills, even the fountain on Oriental Parade is running. Maka (John-Paul Foliaki) couldn't be happier – but not because you can't beat Welly on a good day – because there are only six weeks left until Tonga takes on France at the Rugby World Cup in Wellington. However, his spirits take a nosedive when he arrives a day late and a dollar short for ticket sales. In a desperate attempt to get into the stadium, Maka signs his friends and family up to represent Tonga at the game as a brass band.
The only problem? The band doesn't exist, no one knows how to play an instrument, and there are only four weeks left until kickoff.
Red, White & Brass is a feel-good movie about Tongan ingenuity at its finest. Shot across iconic Wellington locations and brought to you by the producers of The Breaker Upperers, Cousins, and Hunt for the Wilderpeople, this is director Damon Fepulea'i's debut feature film. "The māfana energy in the film is infectious", says Damon.
Inspired by a true story – as Red, White & Brass will tell you itself – "straight up, this actually happened". Damon co-wrote the film with co-producer Halaifonua (Nua) Finau, who was a member of the original band back in 2011. Nua is excited to see the "Tongan community represented authentically on the big screen". Many original band members are in the movie; in fact Uncle Siale is played by Wellingtonian Lupeti Finau, Nua's brother. "I have never auditioned for anything before other than to my father-in-law to have the permission to date my wife", Lupeti jokes. "My wife thought I did a good job all those years ago, she thought I should give it a try".
Lupeti describes his character as the voice of reason and a bridge between the elders and the youth. "Because I was in the original band, I wanted to honour the various fathers that were a part of that band and tried to amalgamate characteristics from each one", Lupeti explains. He describes his experience shooting Red, White & Brass as an emotional journey. "Every day being on set and watching everything unfold brought back so many wonderful memories". Because so many original members were on set, Lupeti says that it felt like they "had gone through a time machine and returned to 2011". The story is so faithful to real life that at times Lupeti would chuckle about certain moments being put into a movie.
"It's an excellent watch that will make you both laugh and cry", Lupeti says. "For Tongans, they will come out beaming with pride. For non-Tongans they will come out with an appreciation of having an inside look into what makes us Tongans who we are".
In theatres on the 23rd of March, Red, White & Brass is about seeing what Tonga can do.