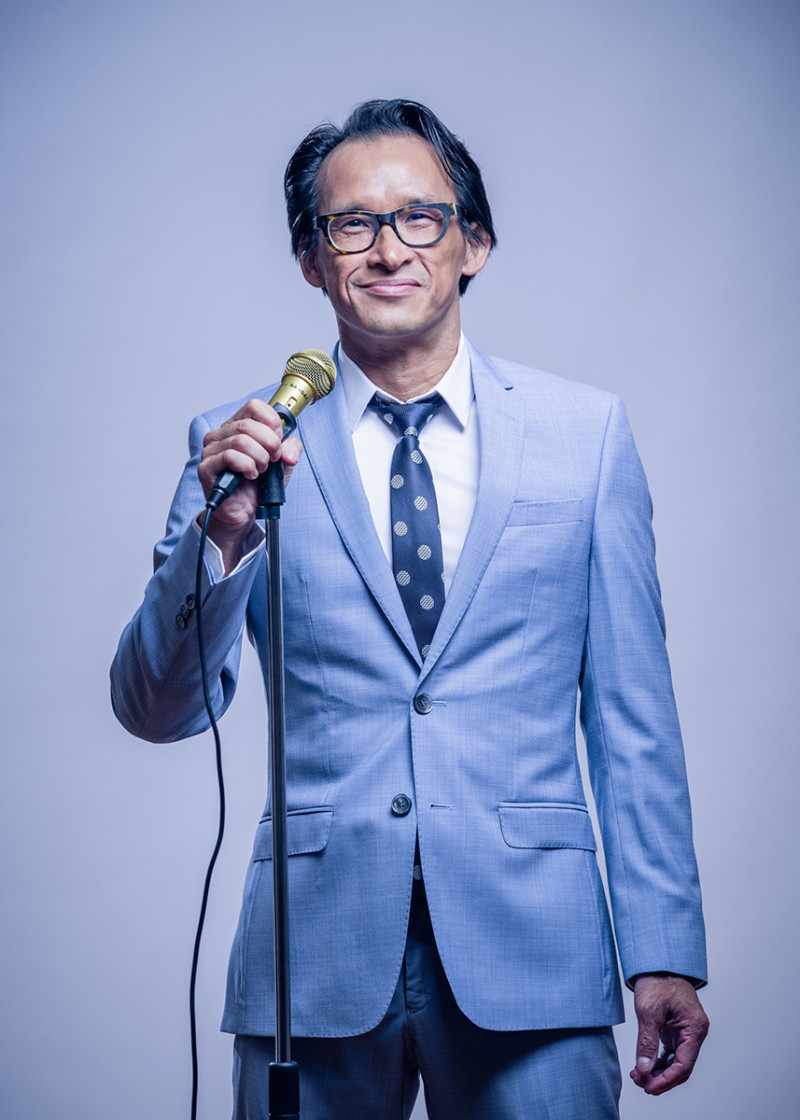 Raybon Kan and Raybon will touch this in latest show by Madelaine Empson
Raybon Kan first dipped his toes into stand-up in the 90s and has remained at the forefront of the New Zealand comedy scene ever since. When I ask him how the world of comedy has changed, he responds to the "huge question" with an equally huge, generous answer.
"Stage comedy is still the same as it was in 1995. Nobody's invented a new tempo or technique. I recall when a lot of people imitated Eddie Izzard, doing physical mime and narrating it, but he's the last one I recall inventing a technique and being imitated. I once saw him four nights in a row, in different cities, always sitting front row. Most comedians who stick out have broken barriers with their material, not their moves. And those edges move with the politics of the time. I got energised about comedy, like a second wind, when I discovered Chris Rock. I met him once and told him so."
"Initially my material about race got a lot of attention", Kan continues, "and now it's possible I don't address race as much as I should. I thought my jokes would have eliminated racism by now, that there's nothing more to say. But no. Racism continues. It's the things around stage stand-up that have changed – things like social media. And I don't know if I'm up with the play on things like that. I'm still in the time-suck, procrastination, addicted prisoner phase with social media. I have not used TikTok. The interesting thing now, with overseas travel not being possible, is that NZ comics are free to do material that doesn't have to be understood overseas."
Kan has performed in many places around the world, from Melbourne to Hong Kong, San Francisco to Edinburgh. Named Best Comedian by Metro and North and South magazines on repeated occasions, his renown extends beyond the stage to the screen and the page. He was a competitor on Wheel of Fortune in America, a three-time winner of TVNZ's Test the Nation (though he reckons he should have won The Great New Zealand Spelling Bee too), and a celebrated columnist and reviewer for such publications as Sunday Star Times, The Listener, and The Dominion Post.
Joanne Black of The Dominion Post says while all his columns are amusing, his best are masterpieces.
"Some of these pieces are so good that a reader will not only laugh out loud but also annoy anyone else around by reading extracts to them."
As a columnist and reviewer myself, I was curious as to what Kan defines as good examples of both.
"A piece of writing has to succeed by itself", he replies. "Reading is work, so you have to make someone crave the next sentence, or want to say the last sentence out loud to someone nearby. I'm not sure what the point of reviewing is, but I always used it as a launch point for jokes. If you're planning to review my show, I think a good review should be full of compliments and superlatives."
Kan is referring to his latest stand-up show Raybon… Kan Touch This, a turbo-charged (but environmentally friendly) six-centre tour running at Cavern Club from the 19th to the 21st of November. He says he feels oddly normal about touring again after COVID-19.
"I bailed out of some gigs just before lockdown, because there was going to be a certain number in the room and I didn't want to take the risk. And now the risk isn't even on my mind. Even though comedy is textbook blasting of droplets from the audience's belly, right at the performer's face, and I'm not behind Perspex."
After the double whammy of lockdown (Kan underwent a major shoulder operation the day we went into Level 3 and was incapacitated for six weeks), Raybon… Kan Touch This sees the comedian fresh, uncaged, and free range. Touchy subjects will be touched in this sledgehammer of nuance, lubricated with accelerant, striking the flint of common sense.
Kan says he'll take audiences to a lot of places, but he'll provide the map.
"You just bring you. It's ridiculous but I presume the audience to be exactly like me, in terms of politics, which is obviously not true, because it can't be. I'd say it's a show for everyone, of any age, of any taste, of any political persuasion. This is obviously not true. But – with comedy, it's truer than it would be for music or movies or TV."
While he understandably doesn't want to give away too much of his set ("it's where you take the topics that matters, and that's all about surprise"), he does say Raybon… Kan Touch This will be an easier, smoother ride than some of his previous shows.
"Somehow this year, after all these years, I've gotten better at it. I've levelled up. I've unlocked new features. But don't overthink it. Just come along."