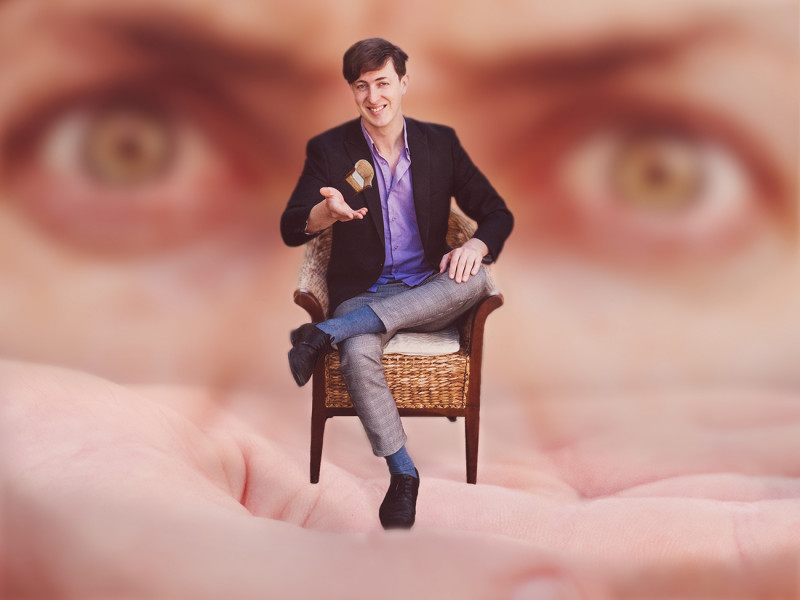 Pull up a chair by Madelaine Empson
Tired of lower back pain and no lumbar support? Want to learn a whole new way to sit? Need some chairs?
In Shift Your Paradigm – No Chairs Required, on at BATS Theatre from the 1st to the 3rd of March, Eric has got 20 chairs left to sell and it's his time to shine. Since joining Do Be Us – a totally normal, definitely-not-a-pyramid-scheme company – he's been thriving. It's true he's in a lot of debt from all the seminars he was by no means forced to attend. And yes, his apartment is filled with out-of-season products he's not allowed to sell anymore. But silver linings, there's a promotion on the cards. You can help him get it by buying his chairs.
But won't the audience members already be seated on chairs, I question Shift Your Paradigm co-creators David Bowers-Mason and Mitchell Botting.
"Yes, and they should be thankful", they respond.
In all seriousness, they don't want anyone to actually walk out of the theatre with the chairs (although it would make pack-out easier, Botting points out).
"We're trying to somewhat inform people about the dangers of MLMs and their charismatic leaders", Bowers-Mason says. "If they buy anything other than a ticket, then we've failed the assignment."
Shift Your Paradigm explores the ethics and hierarchies within multilevel marketing (MLM) schemes and interrogates how even if you've done everything right, everything that's asked of you, you can still fail. Pull up a chair this New Zealand Fringe Festival.