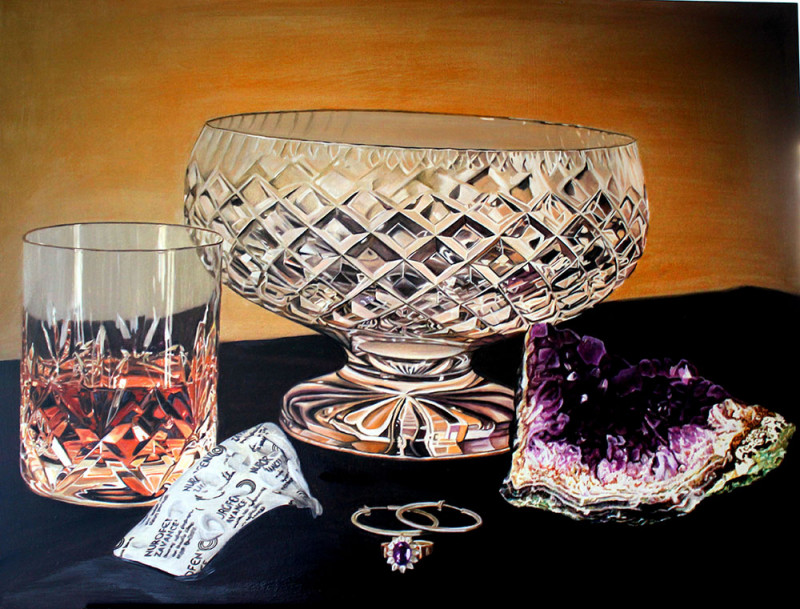 Meaningless possessions by Harry Bartle
Since graduating from Ilam School of Fine Arts in 2014 with a major in painting, Kate Beatty has built up a reputation for her ability to use colour harmony and colour saturation to create detailed and stunning paintings. Her latest body of work, Vanitas – A self-reflection, will be on display at the Exhibitions Gallery from the 24th of March.
The works, all of which depict a variety of items on a table, were created using oil paints. Each one is incredibly detailed, however, the real beauty is the deeper meaning behind them. Beatty explains that they highlight the fragility and transience of human life, while putting emphasis on the emptiness and meaninglessness of worldly possessions.
"This body of work has taken over a year to complete – from research, composing scenes, photoshoots, and then creating the painting itself. I wanted these paintings to be depicted glamorously and delicately to reflect the importance that we put on items that in the scheme of life are not important," Beatty tells me.
"My inspiration for this exhibition came from viewing one of Jacqueline Fahey's paintings at the Auckland Art Gallery a few years back. I was inspired as she captured her everyday life as a female and as a mother".
Because Beatty used the process of glazing, each painting is made up of distinct layers of pure colour, meaning that while they do force the audience to question what is actually important, they are simply beautiful as well.