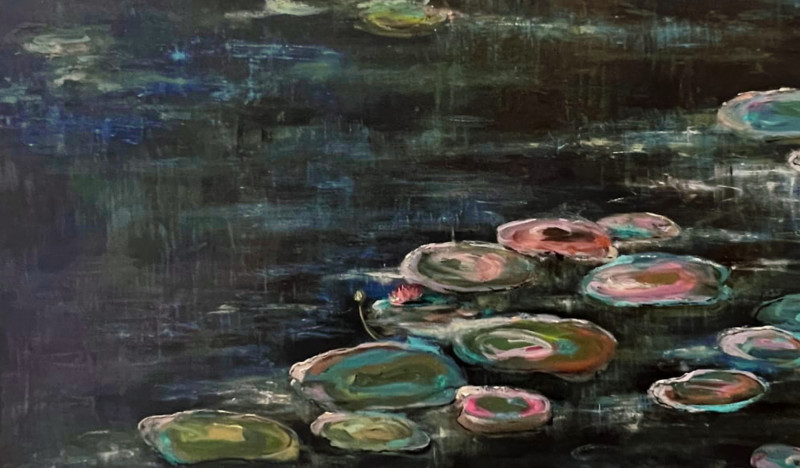 Me, Myself and Monet by Alessia Belsito-Riera
Claude Monet was fined by the council for planting too many flowers in his garden in Giverny, Tāmaki Makaurau artist Helen Keen tells me. Describing his Water Lilies series as "the illusion of an endless whole", the canvases have no border, horizon, or bank to enclose the waterscape and so extend endlessly.
Keen has always been inspired by Monet and nature, so her own paintings were born organically. Her floral works, now on display at Mitchell Studios until the 27th of May, are created using layers of pigmented encaustic wax – an ancient material that when molten is blended with both flame and brush. Monet's influence, complex layered strokes, boundless compositions, and refracting colour are defining features in her work. I caught up with her to learn more.
What inspired you and drew you to Monet's work?
Everything! I broke my ankle at the end of 2020. I had to rest for six weeks, and I couldn't do anything. Monet has been an artist who has inspired me for a long time, and I went instinctively and intuitively to something that I loved really deeply. It was like going to find the honey spot or the place where you feel most comfortable because a serious injury can make you feel very vulnerable. I love his expressionism; I love that his work is embedded in nature which is a really important part of who I am and my expression.
What do you hope visitors will take away from the exhibition?
I hope that they will feel and respond to the work. It has elements of nostalgia and the encaustic wax that I use and paint with is steeped in wisdom and ancient knowledge. It comes from beeswax and tree resin; the Egyptians still use it today. It's an ancient medium invented by boat builders in Greece to coat the hulls of ships that were damaged. They used it for carvings, or before ceramics were fired, they would coat them in encaustic resin to preserve it so they could put it in the flame and the wax would melt into the effigy or sculpture, and then it would harden and preserve. This is a medium that is thousands of years old. The pigment won't fade and the work will last forever.
The wax gets polished so you can see through it to the 50 to 70 layers underneath. It offers translucency but also this gorgeous sheen when it's polished. You can smell it, and it's textured so you can feel it. People who are visually impaired can read a painting because it has layers that build, so you can touch and read it like a braille.
So I'm using a medium in painting that is rare. I want people to engage with the work when they see it, which is why we are inviting them to touch it. It activates the senses that we arrive here with as a child. There's a lot to offer the viewer.