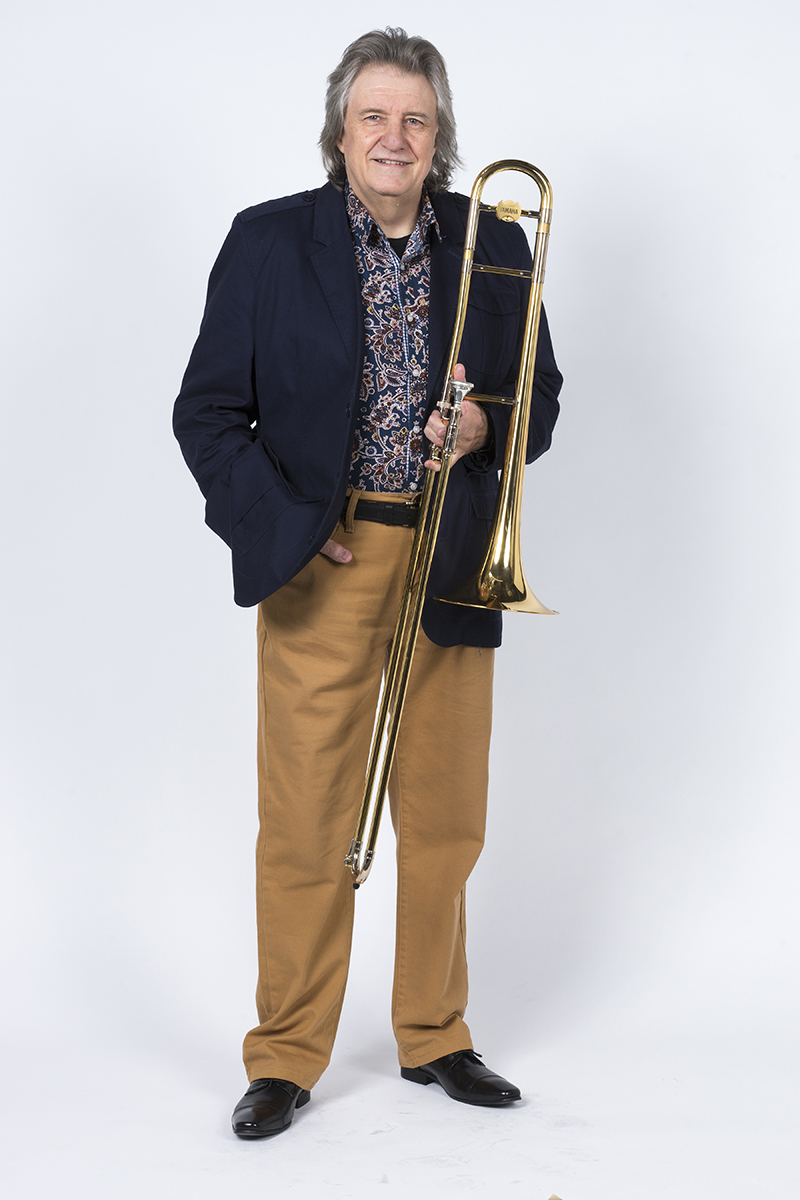 Marking a massive milestone by Madelaine Empson
This year, a trombone legend will make history by marking a massive milestone. The Rodger Fox Big Band will celebrate their 50th birthday with The Big Drum Off Concert Tour, where they'll share Wellington's Opera House stage with three of the world's greatest drummers – Dennis Chambers, Gregg Bissonette, and Peter Erskine – on the 8th of March. The five-date national tour also includes a Palmerston North date at The Globe Theatre on the 7th of March.
I was lucky enough to catch up with Rodger Fox CMNZ, who has led his band to become an institution, taken them around the world and back again to play with some of the biggest names in jazz and blues, and recorded what he estimates to be 48 albums – emphasis on the estimate. "I lost count at seven", he laughs.
When did you first pick up an instrument and what do you remember from the experience?
My first instrument funnily enough was the violin, which I managed to get out of playing because I 'developed' hiccups. We were living in Gore at that time, and I was sent to one of the sisters at the convent to learn violin. After three months of weekly hiccup bouts, my parents were summoned to the convent to be told they didn't think Rodger really wanted to learn the violin.
I then moved to trumpet, which I stayed on for about three years. By then we'd moved to Wellington and my father was the head of music at Mana College in Porirua. In the Christmas holidays before I was going to go off to Mana College, I was summoned to the kitchen and asked to bring my trumpet. My father took it off me and gave me a trombone. The reason being that most of his trombone players had left school that year, and he needed trombone players for the school concert band. So I was picked [laughs].
How does the Rodger Fox Big Band fit in?
When I was about 18, I was really looking at a career in classical music playing classical trombone, and back then the Symphony Orchestra (now the NZSO) had an apprenticeship scheme that I applied to and actually got accepted. But before I was meant to start, they decided to cut out the brass and woodwinds because the previous intake hadn't found any work. So basically, my classical career was shot!
I saw an ad in the paper, The Evening Post, that said 'brass players wanted'. It was a band called Quincy Conserve, which was a key band in Wellington at the time. I rang up and went in and got the job and off I went. At about the same time, I had a love of big band music because my parents used to play it at home on the stereo, and I bought an album by a famous American band called The Woody Herman Big Band. I would've been about 19. I went home, put it on, and it was life changing. It was hearing that record that turned me onto pursuing the jazz thing and the big band thing. I was with Quincy, and then I went looking for somewhere to play, but all the old fellas at the time wouldn't let any of the young ones play. Fortunately, I come from a family of people who, if they're told no they can't do it, the answer is 'yes we can'. I went home one day to Titahi Bay and proceeded to tell my parents I was going to form a big band. Three to six months later I had the band formed, using players from rock bands around town, a few brass band and classical mates. Off we went. Back then, being 20 years old, I wasn't thinking too much further into the following week really, but to think I've got to 50 years of running the band is a bit mind blowing.
Looking back over the last 50 years, what are the highlights and milestones that stand out in your mind?
There's many, but probably the very first big one was when we got the invite in 1980 (the band had only been going seven or eight years) to perform at the Montreux Jazz Festival in Switzerland. At the time, that was the biggest festival in Europe. Band from Wellington, run on a professional musical standing but still amateur, and all of a sudden there we were. We were from New Zealand and we were the very first band to do that.
After that, we kept going, did a lot of recordings, toured overseas. I think a key moment was when I managed to get Michael Brecker here in 2004. He was the greatest saxophone player alive at that time. There was nobody else. To get him would've been like the symphony orchestra getting Pavarotti.
From there, it's many, many milestones. Five years ago we managed to get Steve Gadd here, probably the most recorded drummer in history. He's on every pop album you've ever heard in your life. A lot of that just grew as the band's ability and recognition grew overseas.
If I was coming to a Rodger Fox Big Band concert, what would I be in for?
It's always powerful. The band never holds back. There's a cross-section of styles: there'll be some of the traditional big band material, some pop material, some New Zealand compositions. You might hear your great grandparents' dance music, but I've just done an album of Dave Dobbyn songs, one based on the poetry of Hone Tūwhare, and I'm in the process of recording an album with King Kapisi.
So, it's not old-fashioned, other than the fact it's called a big band. I've always tried to keep it accessible, keep it current, keep it fresh. Through that – and because I was so young when I started the band, and we were deeply rooted in the rock thing, the commercial thing – we have always had a very good connection with young people. I've kept my following going, I've put younger people in the band, plus some of the band has got older with me, so we've got a crowd! The whole thing is to always keep growing an audience.
You were made an Officer of the New Zealand Order of Merit for services to music in 2003 and last year were made a Companion of the New Zealand Order of Merit. How did that feel?
Any of these sorts of awards, quite frankly, I look at as more of a collective thing. Sure, I put in a lot of work and I've lost a lot of brain cells over the years trying to keep the band going and find funding and do all of the things we do. But without the other 18 people, there's no band. It's a band award; they give it to me because my name's on it. But I'm very appreciative that people think I'm worthy of getting that sort of recognition. Same with the honorary doctorate I got in music from Massey. It just shows that someone's actually listening! I'm not sure that they are sometimes because of funding issues. There's an imbalance between the funding allocation of different styles of music, which is something I've been looking at. A group of us have been trying for about seven or eight years to establish a New Zealand jazz orchestra that would be funded the same way as our national and regional orchestras, the ballet company, the opera company. People don't realise that jazz is really starting to dig into high schools. At the moment there's about 165 big bands like mine in the high school system throughout New Zealand. Each one of those bands has about 15, 20 members, so a lot of students are playing this music. There's more jazz bands in the high schools than there are orchestras. If you're a classical student, you've got a career pathway. You can maybe go to the symphony orchestra or one of the four regional ones. There's no career pathway for the jazz musicians, once they get their degree, they're left to their own devices.
Is that part of why you started the Rodger Fox Big Band 50 years ago?
I'm not going to be here forever, and I see something like starting a New Zealand jazz orchestra as a way of keeping the legacy going and for younger players to play on, keep the artform alive, and make a living from it. I'm going to use the 50th anniversary to keep pushing this.
Tell me about The Big Drum Off.
I've got three of the greatest drummers in one place. Most people think I'm mad. If we had one of these drummers playing on stage with the Rodger Fox Big Band, people would be ecstatic. But I've got three! Each of the drummers are playing within the style with my band and what they're known for. Dennis Chambers was with Parliament-Funkadelic and Santana for a long time. Peter Erskine was with Rickie Lee Jones, Joni Mitchell, Weather Report. Gregg Bissonette was with David Lee Roth and Ringo Starr's All Starr Band. So we're playing a lot of their material and this is the level of drummers that people are going to see. It's going to be a fabulous night celebrating 50 years of the Rodger Fox Big Band, which a lot of people in Wellington grew up with. Hopefully all those people will turn up and have a good time, relive a few memories!