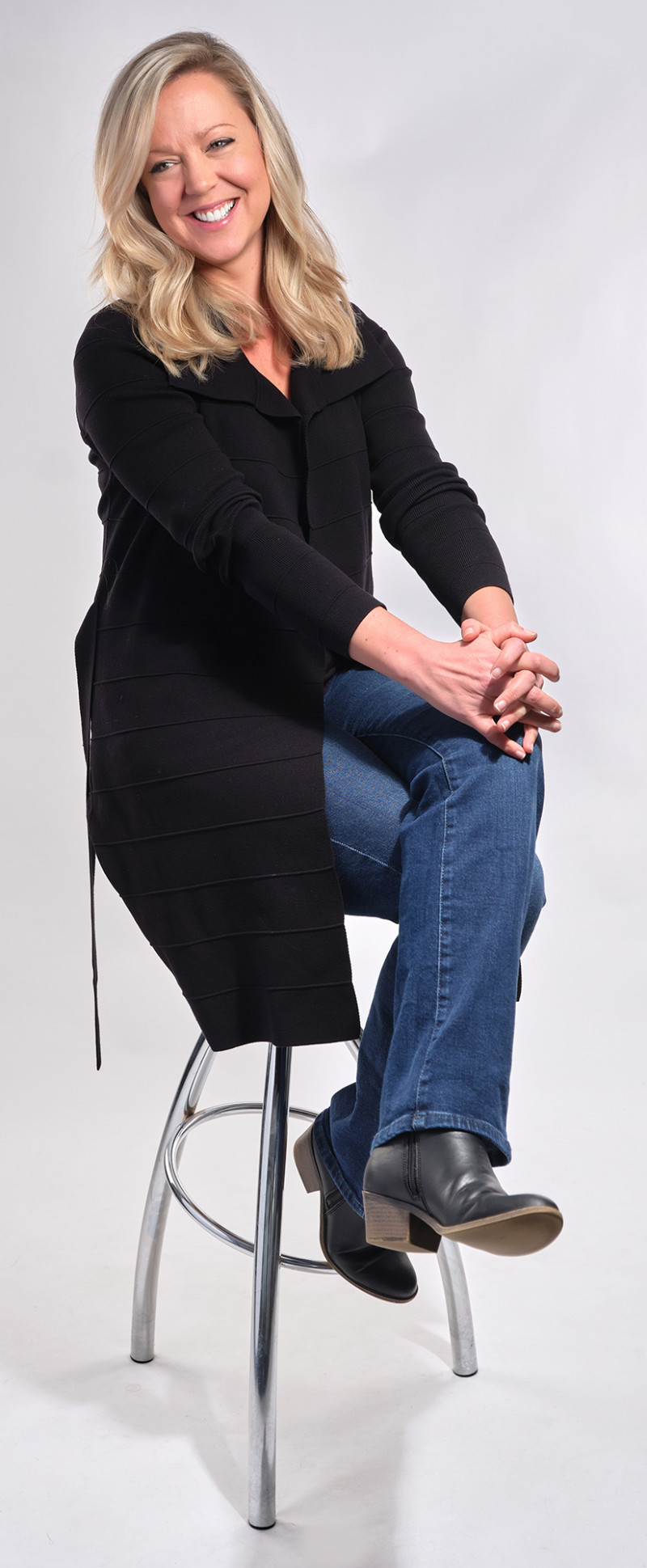 Literally living her dreams by Madelaine Empson
Jillian Webster was born in Michigan and raised as a Jehovah's Witness. At the age of 19, she left the church for good and was forbidden to speak to her mother, stepfather, and siblings ever again. Thus began her love affair with travelling, writing, and above all, searching for a place to call home. Jillian earned a degree in dental hygiene and at 26, put everything she owned in storage, quit her job, and travelled the world armed only with a backpack. She chronicled this journey in her first book, Scared to Life, a coming-of-age memoir self-published in 2015.
Now from her home in Pukerua Bay in our little corner of the world, Jillian has written a new trilogy called The Forgotten Ones, plunging her pen into the world of fiction. With her rescue dog Biggie and husband by her side, she released book one last year, with the second edition of The Weight of a Thousand Oceans just out in July. Book two, The Burn of a Thousand Suns, came out earlier this month and book three is due in 2022.
Despite staunch warnings otherwise, Jillian notes on her website www.jillianwebster.com, she has found the life she was always looking for.
Are you comfortable talking about your childhood?
Even with the book I never fully got into my childhood. Most of the memoir is about the life that I was searching for after I was told I would never find it. We all have bad things happen to us, but it's not about those bad things; it's about the choices that we make because of them.
Tell me about the choices that you made because of the things that happened.
My mum and other church members knew that I was a big dreamer. I wanted to go to university, I wanted to see the world and live in a big city, all of which is really discouraged within the religion. They provide sanctuary and safety and the outside world is dangerous and going to end at any time.
I left. I went to school right away and ended up graduating with honours. I moved from our small town to big-city Chicago, lived in a high-rise, started travelling around. I got my first passport when I graduated university. I had this big dream, I wanted to put everything I owned in storage, get a backpack, and go see the world.
What were some of the most memorable moments from that experience?
That whole time in my 20s I was really wanting to travel and feeling really different and scared. When I was 26, most people from small towns my age – and I come from the Midwest – don't travel that much. They buy a house, get married, and have children. I finally decided, 'I'm not going to go, everyone else is really settled, why can't I just be settled?'
I'd been to Rome a few years prior to that, to this old ruin, I think it was a Jewish ghetto. I had a dream that I was on one of those hop-on-hop-off buses, and I was doing it, I finally faced my fears and went back to that ruin in the dream. I felt so fulfilled, and when I woke up I was so heartbroken. From that point I was gone six months later. When I went on the trip I went back to that ruin just to say thank you. I wrote about it in the book; nothing special happened, there were no cherubs singing or anything, but I wrote 'Nothing special happened because it's already happening'. I thought, 'I'm finally living my dream'.
Literally! Where else did you go?
Dublin, I lost my appetite for a week – I was so freaked out! Then I went to Amsterdam, Paris, Nice, Cinque Terre (the five villages in Italy which are just magic), Rome, Athens, Berlin, Krakow, Auschwitz, the concentration camps. Egypt, just Cairo, that was exhilarating and scary. Then three months in Southeast Asia and then Australia. I came back thinking that I'd be settled and happy in Michigan.
But that wasn't the case?
It didn't feel right, it didn't really feel like I belonged.
How does moving to New Zealand fit into the timeline?
New Zealand offers the working holiday visa before you're 30. I was at this point 29 and was planning on going, and then I found out that a job I really loved in Chicago was going to have an opening in six months, so I had to make a choice. New Zealand was such a big question mark so I decided to stay [in Chicago] for the job. But I came to New Zealand for a short working holiday first and absolutely fell in love. And then the job in Chicago fell through. I came down to Wellington and everything fell into place. I got the job that I have and love now. The receptionist that I worked with fixed me up with one of her husband's friends… who's now my husband! Now we live in Pukerua Bay. So famous last words, when I left I told my family, 'I'll see you in six months'. That was eight years ago.
Did you ever think you would end up here?
I never thought I'd be writing fiction novels in New Zealand on the coast. When the idea [for The Forgotten Ones] came to me I ignored it for months. I'd written a memoir but I thought, 'This is a fiction idea and I don't really know what to do with it'. But I decided I was going to get up at 5am every morning and just secretly start working on it. I wasn't going to tell anyone. If I failed miserably, I wasn't going to tell anyone! As soon as my brain started doing it, I realised it's what I want to do with my whole life. It's better than living my wildest dreams.
What is The Forgotten Ones series about?
It's climate fiction. It's about a young woman who grows up in the mountains of the South Island, it's just her and her ailing grandfather and her dog. She's basically living in the world of our children's children after everything has happened that our current scientists are warning us about – their worst-case projections. It has a magical realism twist. She feels this very strong pull that there's something out there for her in the world and hears a rumour that people have been going to the Arctic Circle – which is called the Old Arctic Circle because it's no longer arctic – where there may or may not be one of the last human civilisations on Earth. So it's about that battle across a pretty deserted, forsaken planet to the other side of the world to find this life that's calling out to her.
How are you feeling now that book one and two are out?
So excited to see what will happen and what will come of it.
If you could go back and say anything to your 19-year-old self, what would it be?
I've always had a pretty strong intuition. There was always something beyond me saying 'You're doing the right thing'. As soon as I started going to university there was a voice saying 'Yes!' I can't imagine if I hadn't listened to that inner voice. I'd have a lot of regrets and I wouldn't be doing any of this, because the first book led to this and the first book was because I travelled. So, 'Just keep going'.
What advice would you give to an aspiring writer today?
Every single day, even if it's just for 15 minutes, make a date with yourself and your novel that is begging to be written. Don't let anyone or anything stand between you. Give yourself that small time each day. Before you know it, you'll have a novel in front of you. I promise. Just be creatively stubborn. Make it happen.