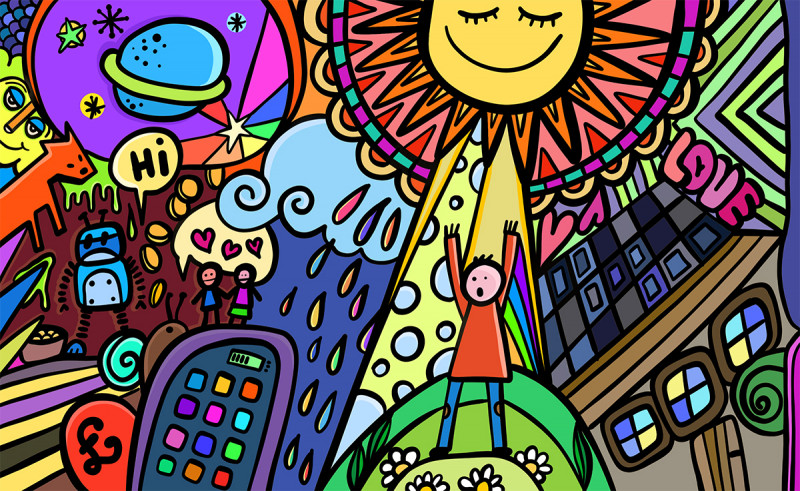 Leap fearlessly into the unknown
Anything can and will happen this New Zealand Improv Festival. From the 6th to the 14th of October, teachers, directors, and performers will flock to BATS Theatre from around the globe for a glorious nine days filled with 35 workshops, 25 shows, and infinite possibilities.
This year's festival returns to its full capacity for the first time since 2019, inviting Wellingtonians to push the boundaries of their creativity and explore the limits of their imagination with a dynamic programme of offers and offerings. "Yes, and!"
Practitioners can share and hone their craft in workshops led by experts from Toronto, New York City, Sydney, and beyond. Many of these workshops will result in a show that audiences can catch alongside a host of other improv goodies they'll never get the chance to see again. Each show is created live on the spot and can never be replicated – talk about a once-in-a-lifetime opportunity.
The dictionary definition of improvised theatre is "the playing of dramatic scenes without written dialogue and with minimal or no predetermined dramatic activity". But improv takes many names, shapes, and forms – you've seen Whose Line Is It Anyway?, of course, but have you decided who lives and who dies in an uproarious, on-the-spot murder mystery? No? Better catch Farce Onion: A Spoons Out Mystery then.
Two Canadian improvisers will do anything but sleep in No Sleep, while the Dream Team of Brendon Bennetts and Criss Grueber will use the full power of spontaneously created theatre to investigate, interpret, and – if needed – fix your dreams. You can experience Dungeons & Dragons without doing the maths in Can I Get an Underground Location and a Mythical Creature?, or enter a world where caring for the planet and caring for people is totally cool and normal in The Solarpunk Archives. You might get called to the stage to do a scene with a complete stranger in Grab Bag!... but only if you want to. How about a dose of Latin magical realism from La Catrina, which delves into life, death, and the mysterious in-between? Or, catch the gods' side of the story – from that apocalypse way back then to that creation of the universe way back when – in What Would the Gods. From spine-tingling horror to heartwarming tales of friendship, the New Zealand Improv Festival's got it all.
It's a new chapter for this Welly institution after a decade under the exceptional leadership of Jennifer O'Sullivan. Co-directors Jim Fishwick and Matt Powell are taking the reins and are ready to grow the festival bigger than it's ever been.
"The New Zealand Improv Festival is a creative environment like no other, and we're thrilled to be a part of it", Fishwick says. "The philosophy of improv is all about supporting other people and their ideas, and the sheer joy of performers leaping fearlessly into the unknown exudes from every inch of this festival."