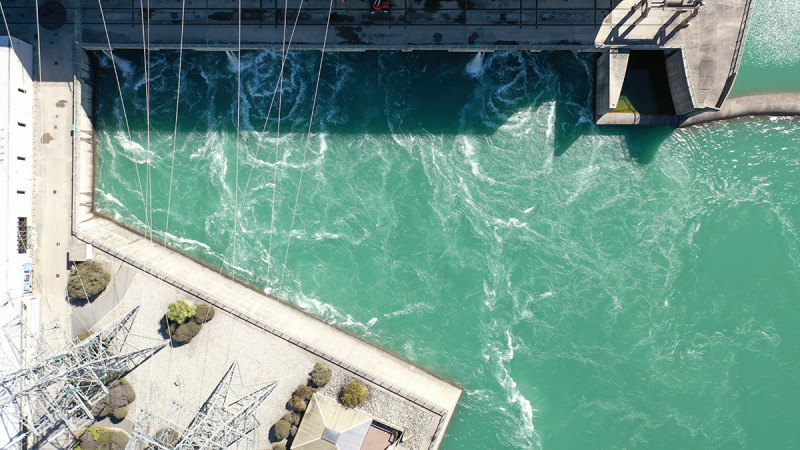 Exhibition asks us to embrace discomfort  by Sam Hollis
By definition, no one likes discomfort. We avoid it at all costs. And yet, Optimism and its afterlives, a new joint exhibition running at Enjoy Contemporary Art Space until the 5th of December, asks us to bask in the disarray of key transitional moments.
The exhibition includes newly commissioned projects by Matthew Galloway and Selina Ershadi alongside works by Jane Zusters and Naeem Mohaiemen. Their diverse works map disparate geographic and temporal terrains, taking us from the environmentalist scene of Auckland in the 1980s to the controversial Clyde Dam to an airport tarmac in 1970s Dhaka.
Galloway's project The power that flows through us features 4K drone footage of the Clyde Dam, reproduced political cartoons of the era when it was being proposed and constructed, and metal sculptures that recreate the safety rails on its viewing platforms.
"There's a complex history of protest, controversy, and political manoeuvring tied to the life of the dam, and I was interested in examining that history." Galloway says. "Through examining all these different aspects of the history and present state of the dam, I hope the show weaves a narrative of the complex interplay between political decision-making and it's legacy in our everyday lives."
Optimism and its afterlives evolved out of several months of research and conversations with the artists, curator Simon Gennard says.
"I was interested in thinking around moments of change, from political transformation to more personal stories… I think all of the artists encourage us to stay with what feels difficult and overwhelming – in political thought and in life – and propose that thinking through it with art might help us in doing so."