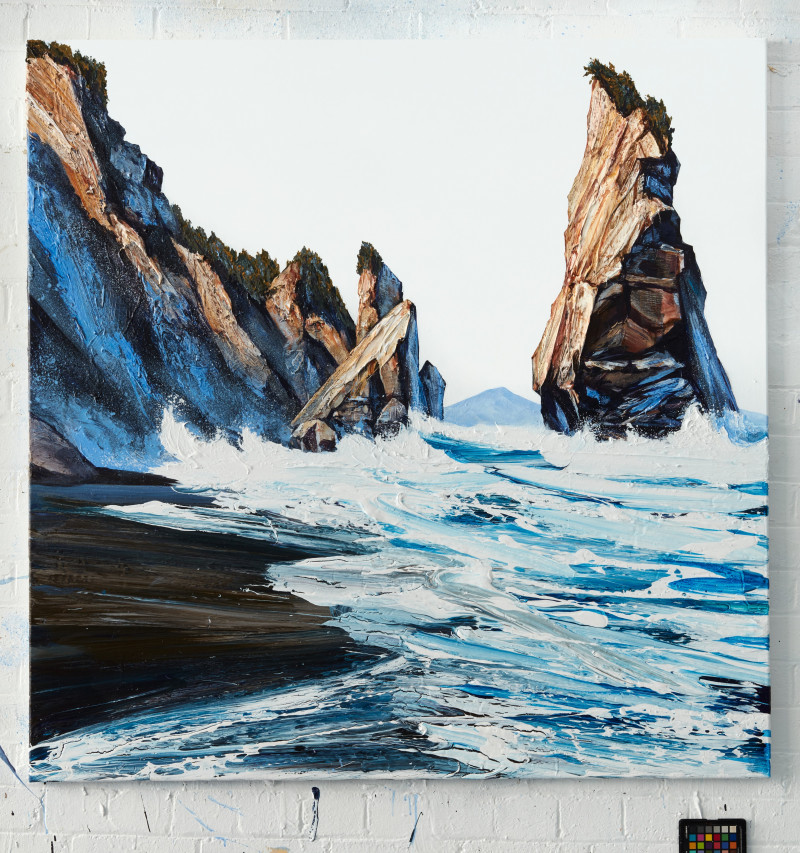 Eroding coastline captured on canvas by Sam Hollis
The Tongapōrutu coastline in North Taranaki has been called "one of the most spectacular and dynamic coastlines in the country" (New Zealand Geographic), eroding at a constant rate. The famous Elephant Rock has lost its trunk. Of the spiky inlets once known as the Three Sisters, just two now stand. This fluctuating environment is the subject of painter Neil Frazer's latest exhibition New Work, running at Bowen Galleries until the 29th of November.
Frazer's artworks strive to not only depict Tongapōrutu visually, but to relay the natural forces that are rapidly reshaping it. A strict oil painter for almost 20 years, these days the artist experiments with acrylics and a range of mark-making tools. The result is a three-dimensional canvas that captures power and movement.
"It is really important to me that the marks and their movements work to energise and activate the picture and search for a beauty that is not passive or quiet. I try to recreate the sensory experience of nature within the agitated paint. I am after the feeling of the sea rather than the image of it," Frazer says.
The dramatic tides of the Tasman Sea constantly chew at the soft rock of the layered cliffs, carving caves, tunnels, arches, and boulders that scatter the beach. For Frazer, this leaves an impression of total wilderness, of constant organic change.
"I paint themes and places that move me. I paint them without any evidence of human activity, any houses or roads are erased. This is a search for a real wilderness in the hope that somewhere it still exists."