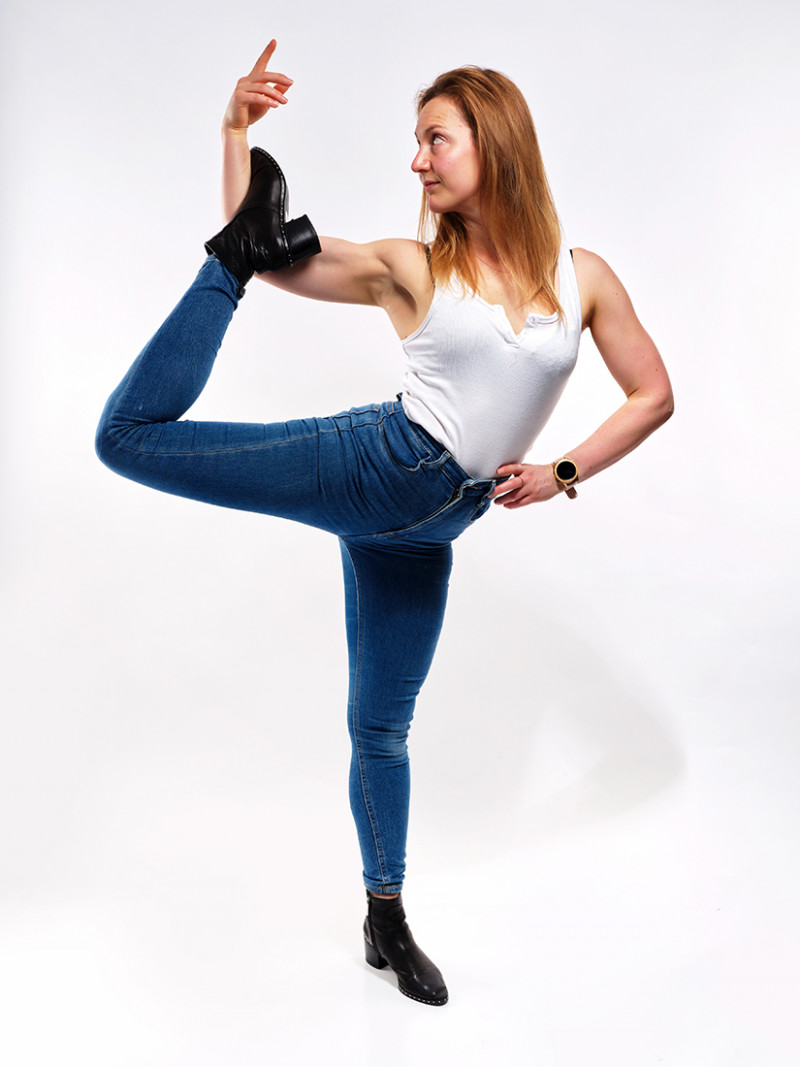 Emma Louise's journey of movement by Madelaine Empson
10 years ago, Emma Louise went to her first pole dance class thanks to her friend Vicky who dragged her there after seeing an ad on a noticeboard at her university hall. What began as a bit of a laugh turned not only into her passion, but a profession too. Fast forward a decade and Emma has danced in studios in Singapore, Vietnam, England, and Australia, competed both nationally and internationally in Melbourne and Sydney, and taught and performed pole across New Zealand, from Auckland to Queenstown, Whanganui to Christchurch.
This year in the midst of a global pandemic, Emma opened the Cuba Street pole studio Empire Aerial Arts, where she helps students (like me) discover the same all-consuming love she has for the artform.
Did you have a dance or fitness background before you found pole?
[Laughs] Absolutely not. I think I quit ballet at the age of five and I started ballet at the age of four. We did a lot of sport at school which I enjoyed, but I never found the fitness aspect fun. And being asthmatic, I hated running. So, no!
Vicky and I went along one day to Polaris down at the old Leeds Street address. I started going three times a week pretty much immediately, but I was terrified to go alone for the longest time.
What 'got you' about pole?
I was obsessed with how hard it was, but also achievable in small increments. It wasn't a number on a scale, a number of reps, or a heavier weight. It was constant instant feedback, constant instant reward. I was quite overweight and the most unfit I had been in my life – I was 20 and had done no sports, no fitness, lots of eating, lots of being a uni student. So getting a tiny fitness goal every time I went was [chef's kiss].
Can you tell me about your first pole competition and where to from there?
About a year into pole, New Zealand Amateur Pole Performer (NZAPP) came up on the radar. I've always been incredibly shy. I was a tree in my school play, by choice. I don't know where it came from but I'd built up a lot of enthusiasm in pole for putting together a routine and so I rang my parents and said 'I feel like doing something that really scares me, I kind of want to do this'. They helped me out with the $20 entry fee and I signed up for NZAPP right before it got big. I had to be pushed onto the stage! I was gluing diamantes onto my nails and ripping apart a denim jacket. I glued plastic flowers onto a white bikini. It was wholesome! Very DIY. I watched that performance back recently. It was flexed feet, I wiped my hand on my butt… it was amazing, true amateur. I'm really proud looking back on the girl that did that, because man, she took a real big chance!
Since then I've done NZAPP three times, then Pole Legends – which was my first professional-level performance – in 2016, 2017, and 2018. I did Pole Stars in Nelson in 2017 and came third place in the art category. It was a very small category! But according to Australia, that qualified me as placing in a national competition. So I then did Pole Theatre in Sydney in 2018 and had to do professional level internationally. They put me in the comedy category and I had eight weeks to prepare a professional-level comedy pole routine for Australia at the National Institute of Dramatic Art and ended up twerking on a stage in a fox costume to a Taylor Swift song, just being like, 'what is my life?' The next year I did my dream show at Pole Theatre Sydney in the art category to a song I'd been picturing dancing to since I did my first comp.
You've also competed in aerial hoop too?
I started competing in hoop in Miss Lyra New Zealand in 2018, where I won the amateur category. I did Miss Lyra NZ the following year and then in 2019 I competed in semi-professional in Melbourne at Rising Stars, Aerial Allstars.
Estelle [Stellar Stage Apparel] has made nine of my competing costumes across pole and hoop, and I will never do another show without that!
How has your dance style evolved from your first competition to your last?
I didn't even understand what a personal style meant because I had no dance history. I had to lean into freestyling my movement. I've always been focused on making something look like how the music sounds to me, and the type of music that I like has a floaty, dreamy style to it. One of my favourite performances was Hostage by Billie Eilish, and it was a very difficult song to choreograph because it's very one note. So being able to hit the moves I wanted and the shapes I wanted was a real trust thing. My confidence has evolved in trying a song choice that's a bit more difficult to represent visually, and really feeling that song. I had to relax into it, get out of this headspace of what does and doesn't look like dancing. The fact that I'm not professionally trained in most of those more traditional senses, that I could still get up there and be confident in my movement, was a journey of its own.
When did you start teaching and what gave you the bug for it?
Right after my first NZAPP, I must have been about two years into pole. I've been teaching for eight years. I didn't know that I had the confidence to do it, but I knew that I loved pole enough and that I was invested enough in what I was doing. I remember my first ever warm-up where I couldn't name any of my limbs because my brain was panicking so much. I had to cut past all of that shyness – sometimes you do say dumb things and it's okay.
It was as soon as I saw someone do something for the first time that I really got excited, but it's been watching someone feel differently for the first time that has got me hooked and kept me really hooked. It could be someone looking in the mirror and being excited because they can see this person moving in a way that they didn't think they could, or someone who has stopped looking in the mirror because they've stopped picking themselves apart, they're seeing their body for what it can do.
When and why did you open Empire Aerial Arts?
The energy for it came from me wanting to incorporate everything I'd learned from all the other studios I've been to and places I've taught, and join the experience from all of the workshops I've done and try to pull it all into a curriculum that I could curate for the students in a way that I've seen work.
When it should have been was April 2020, and that was a wee bit of heartbreak, but a pick-yourself-up-and-deal-with-it moment. I had a wonderful location, a space that had room for hoops as well as poles, and I was so ready. But then lockdown came and I had to give up the location.
And then in 2021, when Polaris was winding up, I was still looking for a space but not massively actively. That transition happened quite naturally. I'd been teaching at Polaris since I'd come back to Wellington and I was quite comfortable with the space.
What have been some of the joys and challenges of starting a pole studio during COVID-19?
The best moment, the first moment it stopped feeling terrifying was when I watched a bit of paint go on the wall. And having some wonderful students pitch in and help decorate the studio made the space come together.
The challenges have been many. It's been particularly hard not having my parents around [they live in Singapore]. I haven't seen them since Christmas 2019. It's little things like having to go to Bunnings 25 times in one day. Dad would have that screwdriver, that tape measure, that ladder!
We didn't know where this pandemic was going and what was going to happen. Do you keep going, what do you do? Being the one who has to drive this, to make every choice and every decision myself, has been the hardest part.
What sort of classes do you offer at Empire?
Such a range! Because of lockdown we delved into the online world to make things more accessible for people. There are pole dance classes from absolute beginner level to advanced level, pole choreography classes, leg and butt conditioning classes, flexibility classes, splits classes, a lovely foundational dance class with Helen [Loveridge] – who is giving me the foundation too that I never had. And there'll hopefully be private aerial classes coming soon.
How has New Zealand's pole landscape changed since you set out 10 years ago?
A lot! The hardest moves when I was first learning are now expected tricks at a certain point. I think that puts a lot of pressure on some of the newer students now, because 'back in my day' we didn't have Instagram to worry about. We weren't comparing ourselves to everyone as much, because we couldn't. If you're newer, you have more of these ideas about the crazy high-level tricks and the amazing things that are possible. It's awesome that all these things are possible, but it can be quite hard to remember that everyone's journey happens at its own pace. Particularly if you're starting something as an adult, your body needs time to get used to it.
In Wellington, the community has been awesome. It's grown, there's some beautiful boutique studios all around the city and in the suburbs as well, everyone's got their own style.
What are some of the common misconceptions people have about pole?
These days more people seem to have heard more about it or seen it on those Got Talent shows. It's something I don't come across as much now. Usually people say 'Wow, that's really hard!' which is not a misconception at all [laughs].
What would you say to someone who's thinking about trying pole?
Do it! It is a journey. It can be challenging if you want it to be, it can be a fun, social after-work activity, a way to get or keep fit, a way to get more comfortable with dance and movement. It can be whatever it is that you would like to get from it. Give it a go. You might still have no idea what you're walking into, but your teacher knows that. Your teacher was you once!