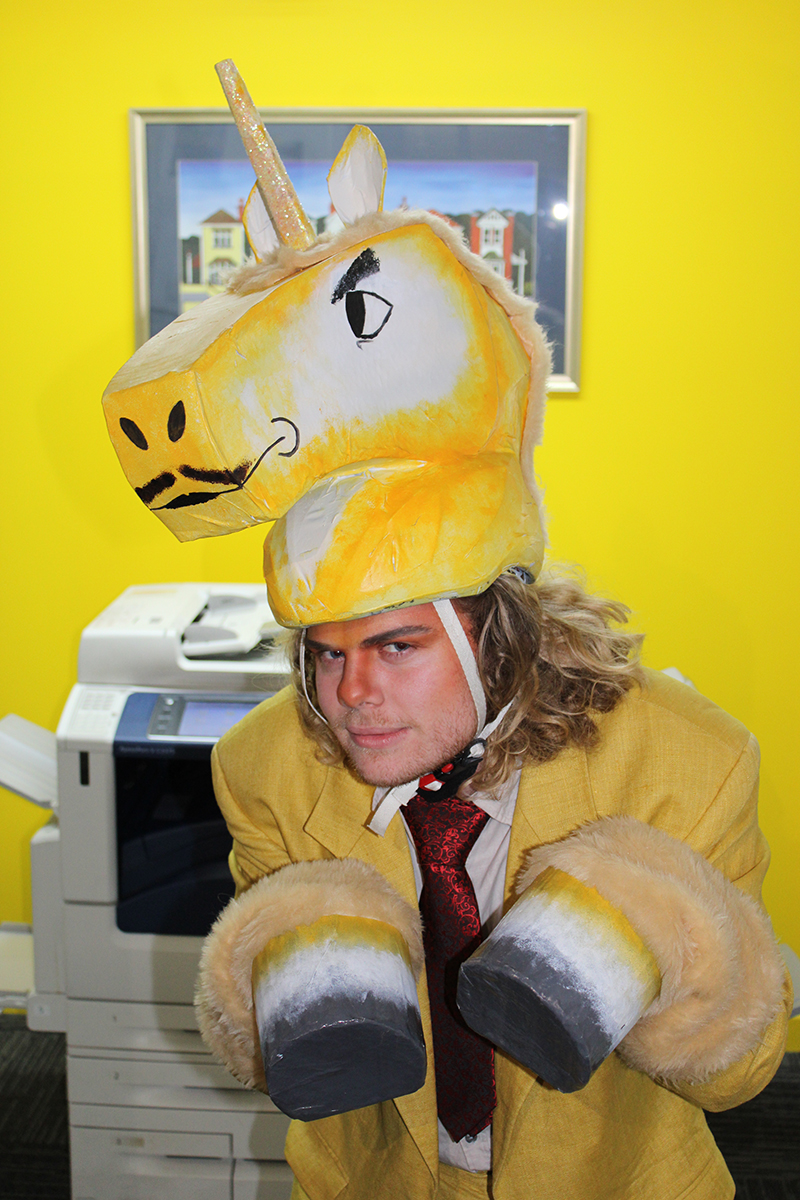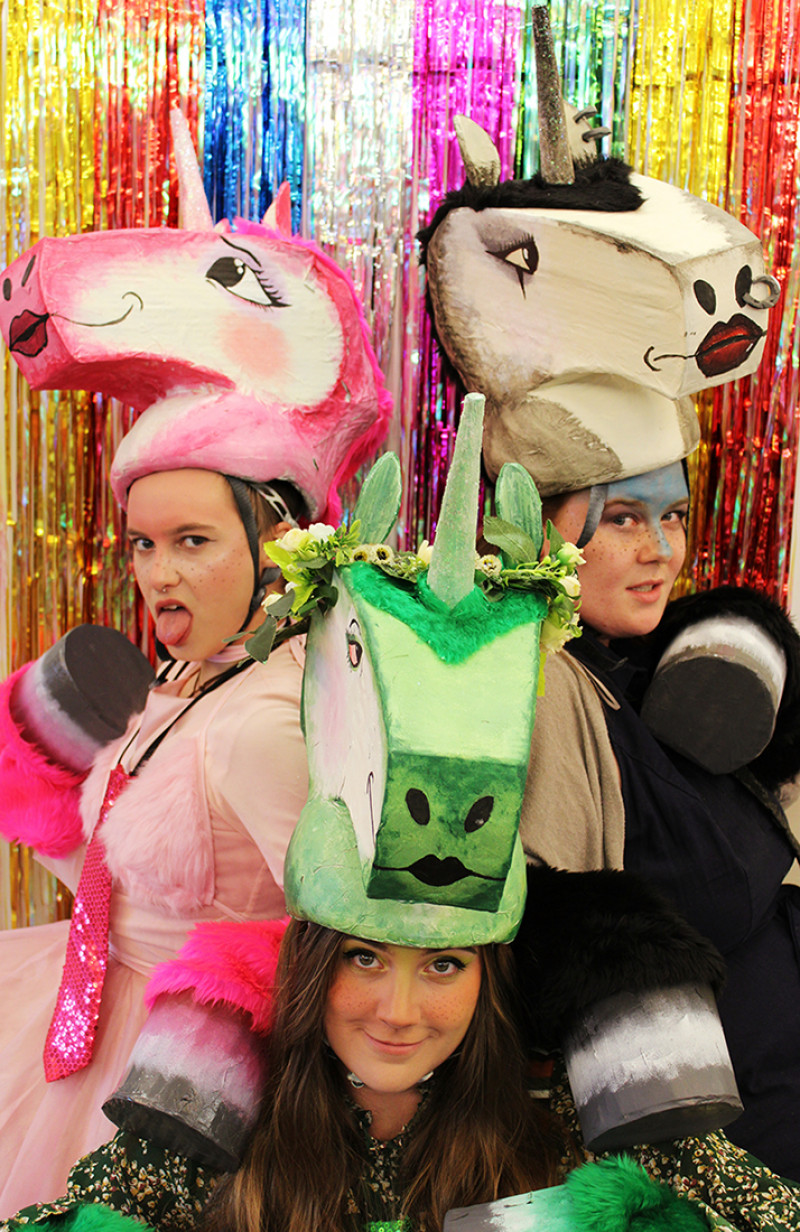 Emerging theatre companies of Wellington – Horse with No Name by Finlay Langelaan
Wellington is a melting pot of creatives. In our new emerging theatre companies of Wellington series, we explore what makes these passionate groups tick, and why they deserve your support. I caught up with amateur equestrians Catriona Tipene and Ryan Cundy, the masterminds behind Horse with No Name.
How did Horse with No Name first form?
C: When we first met, we just realised we made each other laugh. We noticed that we weren't seeing the jokes we wanted in the theatre. Ryan expressed that he was interested in writing, and I went 'Awesome, I want to read that'. So now we've started creating together.
R: The niche that we saw was a need for absurdist theatre that's just for the sake of enjoyment. It doesn't have to have heavier tones; it doesn't have to be deep and meaningful. If you compare theatre to a lot of TV shows that we watch, they're allowed to be light for the reason of just being light and entertaining. That's enough for TV, but for some reason we demand more from our theatre viewing experience, expecting it to teach us something. We wanted to toy with using lighter elements to portray deeper themes, while keeping things breezy.
Is Horse with No Name just you two?
R: We're the creative directors. We write the works and do production and marketing, but we work with the same creatives regularly. Katie Boyle has been in every show, so she starts to feel like a member of the company as well. We were excited when one of [our regular collaborators] said 'It's our theatre company'. We were like 'Yes! Collective ownership'. Once you start making something, it becomes owned by more than just the leaders.
I must ask, are you named after the song?
C: No! When Ryan and I were first talking about things that make us laugh, I'd make a horse head with my hand, put on a horse voice, and 'bite' him on the knee to zap him. He asked what the horse's name was, and I went 'I have no name'. So that's where Horse with No Name came from. In hindsight, it's so childish, I was definitely flirting with him a bit. It connects us, and we still find it funny. We always reference 'the horse that shall remain nameless' in our programmes, we just love a running joke. It's been so cool learning from Ryan, trusting one another and being able to fail as many times as we need before we get it right. We're also boyfriend and girlfriend, if that's not obvious.
Why does Horse with No Name create theatre?
R: Our primary thing is always entertainment; we are an entertainment company. At the moment, we also want to create quite Wellington-centric stories. It's theatre for Wellingtonians, by Wellingtonians. Beyond that, we want to support our local community of artists, as well as the connections we've made, so we often try to return to the same creators.
C: We regularly work with the same artists. My dad taught me one thing about business, which was 'People do business with people they like'. Therefore, I create art with artists I like. We choose to create mahi with people we enjoy working with, because the reality is that none of us are getting paid enough, so let's enjoy one another's company first and foremost, and create something cool in the process.
Since the birth of Horse with No Name, what have you achieved that you are most proud of?
C: We did a show in our bedroom. It was a puppet show called Luke Scott's Little Theatre of Big Dreams. We worked with Luke, who's a designer that loves shadow puppetry, same as us. We wrote and performed this show in our bedroom two weeks before the first lockdown. It was a weird time to be with people (nobody got COVID, it was amazing). We had 30 people huddled in our bedroom each night. Makeshift theatre is something I still really enjoy. It was charming, at the time things were quite scary, we weren't sure what this pandemic meant. It was lovely to spend condensed time with theatregoers and creatives before, boom, you're not seeing anyone.
R: I think what we really like is owning that homely feel. We're never going to compete on the same footing with big-budget productions, but we want to show that you can still create a spectacle on little to no budget. You can make everything at home!
What's on the horizon for Horse with No Name?
R: Okay, so, next year in the April school holidays, we're doing a children's theatre show called Land of the Long, Long Drive. It's a work we've been developing with assistance from Capital E. It's about three friends going on a road trip to a fourth friend's birthday party. The three travelling friends are a tuna (longfin eel), a kārearea (NZ falcon), and a wētā. They start off not liking each other, and by the end they discover there's connection and power in working together.
C: We also won a Playmarket Plays for the Young award in the three to eight-year-old category for that show. It's been the longest journey we've had with a piece before. Usually, we write something in a week, and we start putting it on the next week. We're used to working hard and fast, because unfortunately theatre isn't the only thing we do. We have to do big people jobs. Having said that, my real job is as a fairy, I'm a children's entertainer.
It's been nice to spend a long time with a play and let it percolate, which has obviously worked out well for us. They're all very different animals deliberately. Lots of different people, lots of different creatures, all have different strengths, and we want to celebrate that.
What's the best piece of theatre you've seen recently?
C: Trick of the Light's The Griegol. We love shadow theatre, we've played around with that before, but this wasn't shadow puppetry in your bedroom. And yet it still seemed so attainable: if you were on stage with them, you'd just become part of the machinery, another moving part in the performance. Trick of the Light is so cool, they do awesome work. We love an aesthetic: ours is bright and colourful, like unicorns have vomited over everything, but theirs was enchanting. There was live music, it was playful, it was just astonishing.
I feel like we don't see enough theatre. We're trying to change that. I'm trying to just sit down and enjoy it: I went through a real phase of watching and going 'What would I change? What would I do differently?' Moving on from that and just being able to appreciate other people doing things I can't is lovely.
What advice would you give to a new company at the start of this emerging journey?
R: I think I've got two big ones. One, don't wait for other people to ask you to be part of things, just make things yourself. I think that often people who go through school and then university being part of drama groups and classes, they're used to opportunities just cropping up for them. Going out there and finding it is its own challenge, but you need to push yourself to make the leap to creating. At some point, you need to recognise that you are becoming the expert. You've learned all the learning, and now you need to do the doing. We're all experts (in theory).
Second, make lots of friends. Friends and connections are vital. Having a strong core group of performers or creatives that you're able to go to and say 'Hey, you're fantastic at music, I know this, do you want to come and work on this thing with me?' It's vital.
Have you had any idols or mentors on this journey?
R: It's weird, at first you think on a big scale, like celebrities that you want to be or something. Mine actually started off on a really small scale. Back in high school, one of my teachers was Mrs Banks, who was mum of Hannah Banks and Erin Banks, who I knew were theatre practitioners in Wellington, and I was like 'Ooh, I want to be doing theatre stuff'. So, in the beginning, the idea of people from the Wairarapa, people from my hometown Masterton, doing theatre in the big city was just amazing.
And then of course Cat. I've learnt a lot from Cat. We now co-write pieces, I like doing fast quick dialogue, and then Cat's fantastic at writing these long, heartfelt monologues. We balance each other out well.
C: Idols for me are my friends. I see people doing cool stuff and I want to learn from them, do cool things with them, create with them. It's about collectivism at the end of the day. Together people can thrive.