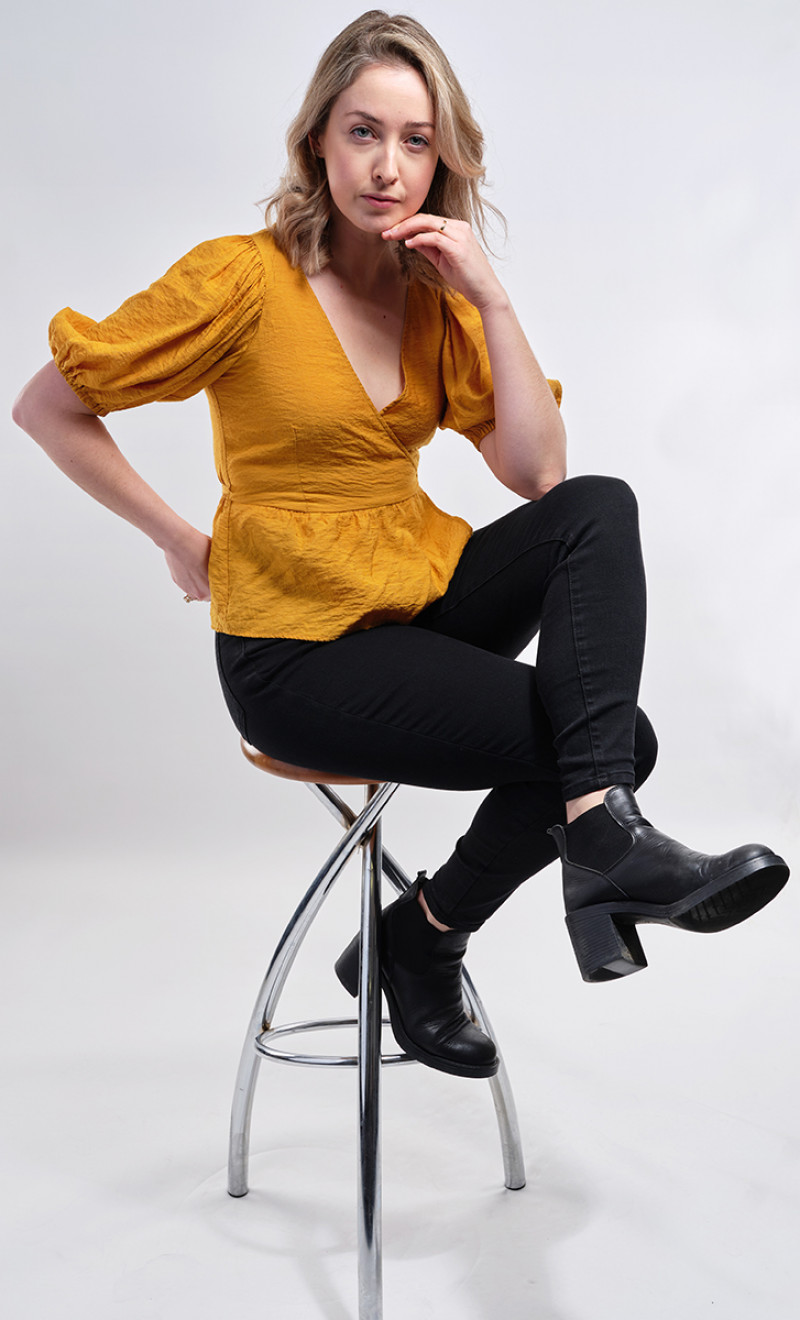 Comedy and community by Madelaine Empson
Comedian, improviser, and semi-professional-amateur-dance enthusiast Lesa MacLeod-Whiting did her first stand-up gig shortly after lockdown, thinking that life is short – what's six minutes onstage? The buzz of two more gigs led her to compete in the Raw Comedy Quest, for which she nabbed the runner-up spot. Later that year she went on to win Best Newcomer at the 2020 Wellington Comedy Awards and is now a regular on the Wellington pro circuit, celebrated for her fast-paced silliness (and smuttiness!).
By day, together with her co-founders Abby Damen and Clair Thomas, Lesa runs Shut Up & Dance, which aims to revolutionise the fitness industry through the power of community and dance. She also has a three-year-old daughter, so describes motherhood as the other of her day jobs.
"I've got to fit that in when I can", she jokes.
Do you think your comedy has evolved since your first gig in July 2020?
I still feel very new. I watched an interview with Sara Pascoe – one of my favourite UK comics – and she said, 'You need to give it eight years. You'll be crap for eight years, and then after that you'll know your voice'. Just six years to go! I'm still trying lots of different voices on, different styles. I think ultimately the common thread between my style is feminism, satire, and myself being the butt of a lot of my stories. They're just true stories that have happened to me, and often I try to extrapolate those experiences into a sort of political observation, which sounds really technical, but often it just ends up kind of rude [laughs]. When I first started I decided to try not to swear or be gross. But then in my first set I ended up talking about dick-pics and thrush. So, you know! This is who I am, let's not fight it.
You also do improvised comedy, performing regularly with Tiny Dog at BATS Theatre for instance. How does improv differ from stand-up?
I love improv, that was my first performing passion. I've done it for about six, seven years now. I'm counting that towards my eight years. But man, I've done some stinkers. I've done whole hour shows to a room of four people and they never laughed once. That's why I thought I could survive six minutes of stand-up!
The key difference is that improv is a team sport. With stand-up, you're trying to make the audience laugh but you're the only one there – it's solitary and the pressure is entirely on your shoulders to build this relationship with the audience. Whereas with improv, your mission is to make your teammates look as good as possible. I'm really lucky that with Tiny Dog, we're all friends, we can trust each other onstage, we can get each other out of tricky situations or take each other places that we never expected. It has been liberating, you just don't know what's going to happen. It's amazing, it's the biggest rush.
And when it doesn't work?
Oh it's soul crushing [laughs]. Absolutely soul crushing.
What led you to start Shut Up & Dance in 2016?
Abby and I met Clair [from the UK] and she was an incredible dancer and fitness instructor. We had been Googling Beyoncé dance classes and couldn't find one, and Clair said, 'Sure, I'll teach you the Single Ladies dance'. Then Abby whipped up a marketing plan because that's the kind of person that she is, and a brand and a logo and a whole marketing guide. We launched this class thinking some of our friends might come along, and we had 45 people. It just grew and grew and now we have 12 classes a week across Wellington, six instructors, and a really amazing community of what we call semi-professional amateurs – just people who have decided they want to dance for themselves. Dance should just be about joy and connecting with your body, not a punitive experience where you think, 'I'll never be as good as that person'. We don't care if you never get the moves. As long as you're sweating and smiling at the end of it, we've won.
Can you explain the concept to our readers who don't know about Shut Up & Dance yet?
A typical Shut Up & Dance class is a 45-minute nonstop sweaty experience where we teach routines inspired by music videos and musicals. Our peak is basically all the routines that we wanted to learn when we were 12. Britney Spears, Backstreet Boys, the peak millennium Y2K buzz, that's us. We keep it a surprise each week what the routine is. We learn one move at a time and keep building on it and then at the end we channel our inner Sasha Fierce and perform it. There's no pressure, and as our instructor Karli says, 'There are no mistakes, just moments'. Just committing and having fun and embracing your body – I feel like that's quite a strong feminist act. Allowing yourself to like yourself is quite revolutionary. Having a space where those rules don't apply is really special.
What's the coolest feedback you've received about a class?
A lot of the more recent stuff was from the lockdowns. After the initial meltdown thinking, 'How is this business going to survive?' we made quite a radical choice and decided to put classes online on Instagram Live for free because we thought that people really needed them. I think we did 150 free classes and had over 7000 people join us from around the world.
Did I hear right that Channing Tatum also joined in?
And Jessie J! He logged onto our Instagram Live when Clair was teaching Pony from Magic Mike. She was like, 'Oh no he's going to sue us!' But he was commenting going, 'Yeah, love this!' It was incredible to be validated by him [laughs], ironically validated by a man.
We got amazing feedback from people at the time saying that our classes were the mental health boost they needed. One of the most beautiful moments was one of our customers, who was from the UK, couldn't get home to see her family and didn't know when she was going to see them again. Her mum – who had to get up at about 6am – joined her from London and they danced together online and that was how they could stay connected. Recently she was able to get home and they finally did a class together online.
How do motherhood, comedy, and Shut Up & Dance all fit into your life and tie in together?
It's really important to me that my daughter sees me fulfilled and pursuing things that I love, and she gives me [comedy] material because she's hilarious. Comedy has been huge, I feel like I've found the thing that I was meant to do. Abby and Clair have been fundamental in supporting that, and I think Shut Up & Dance gave me the confidence to go onstage. It's the confidence I get from going onstage, being fulfilled, being creative, that helps me with Shut Up & Dance as well. I can't default to my old patterns of 'You're not enough'. You have to keep going, life is too short. I have to show my daughter that I might fail but that's okay. So they all feed each other in really unusual and unexpected ways but they all keep me going.