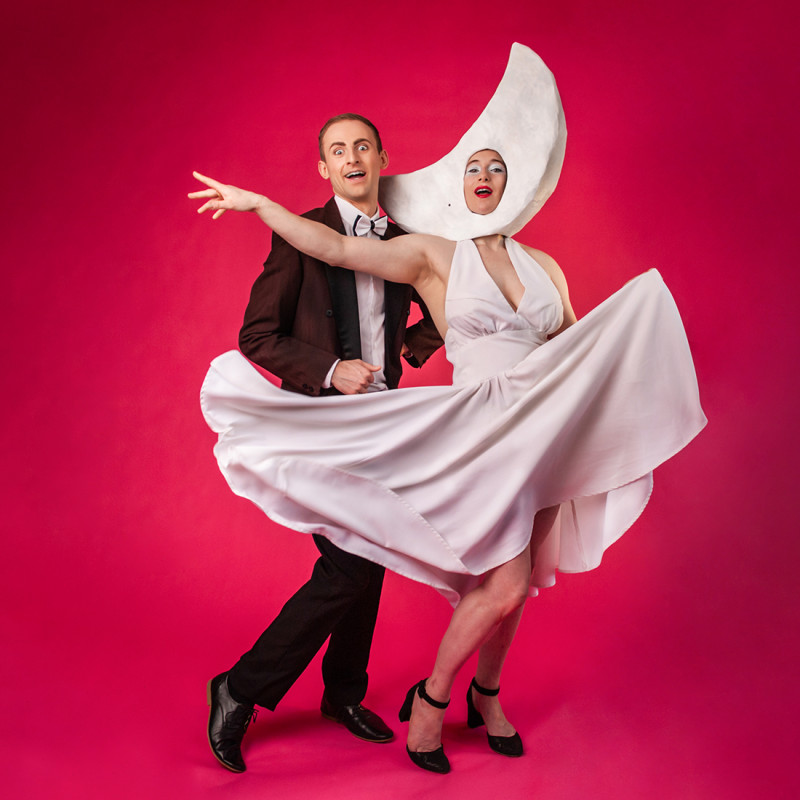 Cheek, charm, chaos by Madelaine Empson
Slap on your glad rags and get ready for the debut of a dazzling new variety show at Te Auaha from the 7th to the 11th of March this New Zealand Fringe Festival. Moonroe's Happy Hour puts Kath & Kim, Country Calendar, and old-world Hollywood film stars through a blender of burlesque, circus, and cabaret for a wild and whimsical hour you'll not forget anytime soon.
Moonroe's Happy Hour is presented by the award-winning contemporary circus theatre company Inverted Citizens and features variety acts from an eccentric cast of characters, all played by Jackson Cordery and Laura Oakley.
"You can expect everything from a pomegranate playing a ukulele to breathtaking aerial acrobatics, and you may even see the back side of the moon", the pair say.
And speaking of the moon…
"Laura plays Marilyn Moonroe, who is a cabaret icon with a moon for a head."
Jackson, meanwhile, "plays Sonny, Marilyn's long-suffering pianist".
"Marilyn and Sonny's story is of self-made artists who are determined to persist with their craft despite adversity – it hasn't always been glitz and glamour dear! Art imitates life."
As if playing every single character and the hosts ("the glue that holds it all together") wasn't enough, Laura and Jackson will perform their signature circus acts as themselves, and even come to life as two fabulous fruits. They might appear polished onstage, but it's pure chaos in the wings as they wade through a mess of costumes and props.
"But don't worry; Marilyn and Sonny are professionals – they'll give their all and won't hold back", Jackson and Laura exclaim. "All in all the main ingredient is fun, so hop aboard the SS Marilyn; we're going to the moon!"