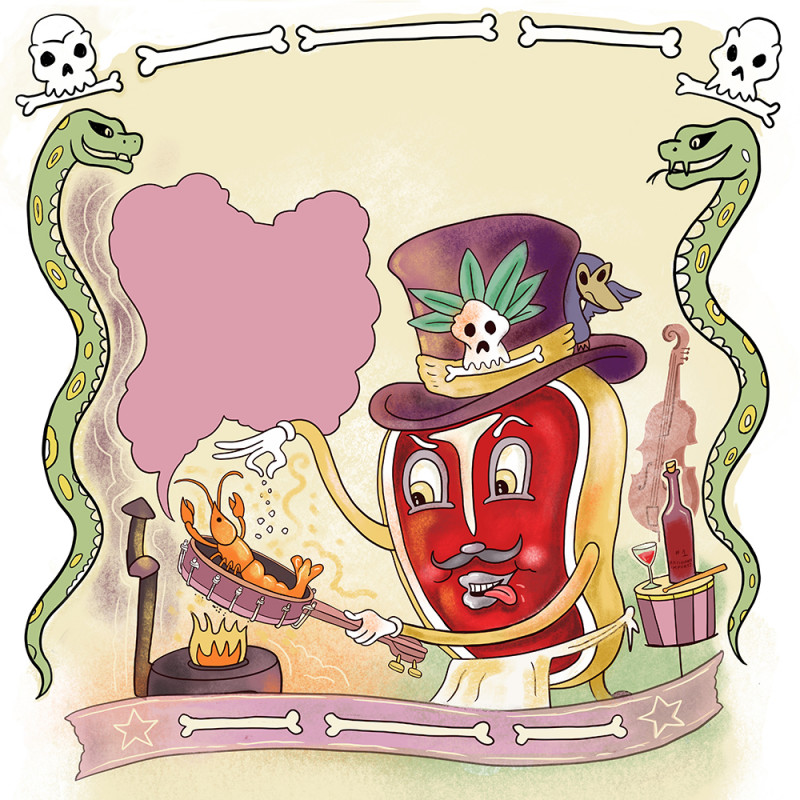 Bistecca alla Fiorentina – T-Bone y'all by Madelaine Empson
T-Bone is "excited, elated, and extremely happy" for the June 17th release of their debut album Good 'N Greasy, a fitting title for a band named after a steak.
With members as eclectic as their influences, T-Bone comprises a Dublin-born spearfishing songwriter, an ex-chef mandolin player from the Far North, a guitar-slinging lab assistant from Taranaki, a gardening double bassist from Karori, and a fiddle-playing wine importer from New Jersey. Gerry Paul and Richard Klein came together through a love of Americana music, good wine, and great food, collecting Cameron 'Dusty' Burnell soon after. Aaron Stewart then joined before Michael Muggeridge was recruited in Dusty's place while he was away on tour in Europe.
"The boy was so good that when Dusty returned, we said – you're going nowhere", Klein says, and the five-piece you see today was complete.
T-Bone rehearsed nearly every Monday night in a basement flat in Brooklyn, building a following through gigs steeped in Cajun spice and a hint of Celtic charm. Their debut album captures that live magnetism, reflecting "the excitement of youth, the raw energy of the teen years, and some relative maturity given that we've been eating, drinking, and playing together as a band for seven years now", Klein says.
It's their love of food and wine that prompts me to ask for an entrée, main, and dessert that would best sum up Good 'n Greasy, which they'll serve to San Fran audiences on the 30th of June. The specialist Italian wine importer counters this with an alternative menu format.
"I'd say that for the Primo (pasta course) we'd offer The T-Bone Rag. This is the first original written collaboratively by the boys one Monday night, which with Mike Muggeridge's superb vocals really captures the raw spirit and energy of the band. It leaves you wanting more, so I'd match it with a bone-dry Lambrusco di Sorbara, from Modena."
"For Secondo (main course), which will most obviously be Bistecca alla Fiorentina – that's Italian for T-Bone y'all – my pick would be You Didn't Write Me Letters Back, Gerry's epic song of unrequited love. It recounts that timeless story of someone being head over heels in love with someone else and then – boom – dumped like a log. Notwithstanding that the final verse is en français, the wine match will not be Burgundy (aka pinot noir) but a Chianti Classico Riserva, preferably from an older vintage."
"Il Dolce requires both seduction as well as satisfaction, so the choice falls on Come Play Me, another Gerry Paul original in which a guitar reminisces on a lifetime of being played. Read into that metaphor what you will! Regardless, it is a sweet and gorgeous song featuring the stunningly true voice of Dusty Burnell. Italian dessert wines usually aren't 'sticky' and have a lot of citrusy zing to cut through the sugar. This song deserves the very best: Rose Moscato from the high mountains of the South Tryol."