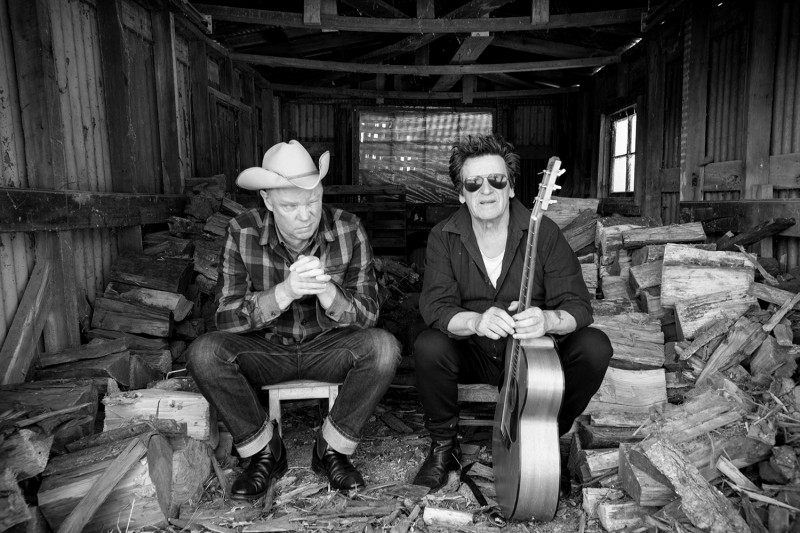 Barry Saunders and Delaney Davidson's blood deal gets thicker by Madelaine Empson
When Barry Saunders and Delaney Davidson first met, in a church, they joked about making a deal in blood. One album and a few national tours later, the deal still stands.
"Barry came to play at my father's funeral and I gave him a guitar strap to remember his father so the blood deals have become thicker", Davidson says. "We went for a walk round the railway tracks of Greytown and I helped him find his car keys once too."
The highlight of their collaborative journey so far, Saunders says, has been "exploring and playing the different takes on all sorts of roots music."
For Davidson it's the ongoing songwriting.
"The songs we have been working on for our latest album have some beautiful exploration of the strange territory that we share as musicians. Finding a balance between our styles."
Recorded in Davidson's living room, the new album – which he says is quite folky and really has a vibe – is set for release sometime this year. Maybe the two will tour it on their lonesome, but for now, it's full band in tow to reignite the runaway success of their collaborative debut, Word Gets Around. "Live, loud, and in your town", Davidson exclaims enthusiastically. In this case, that's Meow on Friday the 12th of February.
Saunders says it'll be so good to get together to play songs from Word Gets Around, which earned them the 2020 Tui for Recorded Music NZ's Best Country Artist, in a spirited, rock 'n' roll way.
"The upbeat tempos, the volume, the rockin' beats and songs…" Davidson adds. "It's a fun show."