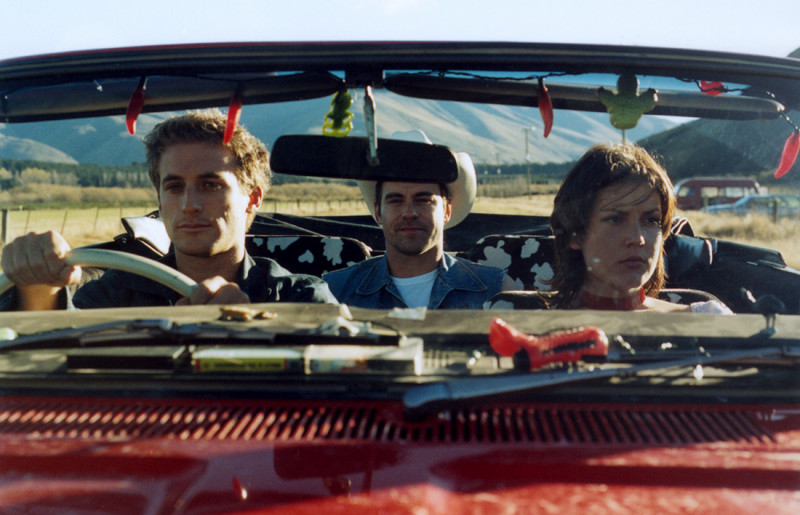 Aotearoa at the movies: Snakeskin by Sam Hollis
Writer-director Gillian Ashurst was fresh out of film school when she received the call. Venus Blue, her debut short, had been selected for the 1999 Sundance Film Festival. It was 5am – hungover and woozy, Ashurst simply assumed one of her actor friends had finally nailed an American accent, but it was true. She entered a new world when she arrived in Utah with producer Vanessa Sheldrick to screen their little film, and soon, what was real had twisted into its own kind of fantasy, one with Playboy parties, A-list celebrities, and producers asking, "So, what's next?"
Luckily, Ashurst already knew. Melding her experiences cruising Route 66 with her girlfriends, her studies in philosophy and literature, and her coming-of-age journey in Christchurch, she had penned an early draft of what would be her debut feature, Snakeskin.
Snakeskin stars Melanie Lynskey as Alice, a severely bored small-town girl who lives and breathes Americana. New Zealand is just too safe, so Alice, along with her infatuated friend Johnny (Dean O'Gorman), hits the road in search of the shootouts, car chases, excess, and wildness the TV had promised. They soon meet Seth (Boyd Kestner), the personification of Alice's desires – an all-American cowboy equipped with snakeskin boots and a few spare tabs of acid. Finally, Alice can live her fantasy, but soon, the line between liberation and danger becomes impossibly blurred.
Under the influence of indie directors like David Lynch, Terrence Malick, Alejandro Jodorowsky, and Quentin Tarantino, Ashurst wanted to interpret the road-trip fantasy through Kiwi eyes.
"When I got to places like America, because we'd grown up on American TV and film, it felt a little bit like you knew the place, but you didn't really. You knew the cartoon version of it, which is what I play with a little bit in Snakeskin – the influences, but not the reality," Ashurst says.
Casting Alice was, at first, a challenge. Ashurst knew what she didn't want – "someone who had that traditional American blonde sort of look". She instead needed an actress who could typify the Kiwi girl, someone who would naturally juxtapose the character's American ideals. With funding pending, time was of the essence, until lightning struck during a meeting between Sheldrick, Ashurst, and the New Zealand Film Commission.
"We looked up and we saw this poster of Heavenly Creatures right in front of us… It was just one of those lightbulb moments where we were like, 'Oh my God, she was great in that role, she must be about the right age now, what is she doing?'"
As for Seth, "I wanted someone who was American and who would bring a sense of otherness to the cast and work a little bit differently and be genuinely different". Kestner brought just that to the film and the set, which became apparent after his winning streak at the cast and crew's weekly poker nights where per diems were at stake.
"Boyd kept winning all the time, he would wipe me out of my per diems regularly. Later, towards the end of the shoot, he admitted that before he became an actor, he had been a hustler in New York, he used to play poker and hustle people. So he ended up taking me out for dinner a couple of times to pay me back."
Supporting roles were filled by Kiwi actors, some known, some soon-to-be. Oliver Driver played Speed, the leader of a gang of skinheads out for blood, and a young Taika Waititi played Nelson, one half of a hippie couple living out of an abandoned Mr Whippy van (retitled 'Mr Trippy') whom Seth robbed for his drug supply.
"That role, when I first wrote it, was probably a little bit more of a caricatured dreadlocked white-hippy kind of guy. But I'm always very open with my casting, and Taika just did an amazing audition that really kicked out the caricature and made it a little bit more real and a little bit more fitting for the times… It was obvious that he was going places. Exactly what form that would take was still to be seen."
Snakeskin, on the surface, is an openly psychedelic road-trip movie, an aspect once again torn straight from Ashurst's own life.
"The 90s were fairly psychedelic," she says. "It was very much the second summer of love… that's when Screamadelica hit, ecstasy was out there for the first time, there was quite a bit of acid on the scene. That was just what was going on and it fed into the script. It's always been there in New Zealand culture, but I guess it hadn't come through in our films at that point."
That time was also laced with darkness, contrary to the evergreen perfection that New Zealand was sold as. This compelled Ashurst to delve into the violence, racism, sexism, and homophobia that was too often concealed in our society.
"That was the reality of what we grew up with here in Christchurch in the 90s. We had a great time, but also, our parties would regularly get raided by skinheads who would beat the s**t out of people… The reality of New Zealand at that time, and today, is that there is racism, there is sexism, there is violence. It's out there. I wanted to challenge that idea of this beautiful, perfect society, the little lambs and the daffodils – actually, those lambs are heading to the abattoir."
The film was shot entirely on-location, utilising the vast landscapes surrounding Methven as a Route 66-like desert. A moment of notable ingenuity came towards the end of the shoot. The climactic scene involved a shootout at a petrol station, however, an executive producer had made the decision to axe it fearing it would push the film into R18 territory. But the moment in question was, in Ashurst and the cast's opinion, crucial to the narrative. So, on a drunken Friday night before Easter weekend, the director, cinematographer Donald Duncan, an armourer, and the cast decided to go ahead with the shoot, until an overseas producer pulled the plug owing to the fact that, as Ashurst admits, "it was illegal". The small group remaining soon noticed four security cameras in each upper corner of the station, so they improvised.
"We ran it a few times, everyone was really highly charged and emotional, so sound-wise we had really good performances, and then I took this little VHS tape and we never said anything about it. We all decided to not say a word," Ashurst says.
The choppy, black-and-white sequence that resulted stands as one of the film's most memorable and stylistically intricate moments, lending the shootout a sense of abstract intensity that might not have been achieved with the more conventional framing Ashurst originally intended it to have.
Following Snakeskin, filmmaking took a backseat to parenting for Ashurst – "it wasn't really a deliberate decision, but I have a wee girl that has special needs, so parenting was a little bit trickier than I had thought". It remains her sole feature, but she never stopped writing and currently has three features in development including an adaptation of Craig Marriner's award-winning novel Stonedogs, with a script written by Glenn Standring that is "pretty close to a shooting draft".
Snakeskin wasn't a breakout smash when it was released in 2001, but it had fans in the right places. One of those was Bill Gosden, former director of the New Zealand International Film Festival, who championed the film and selected it for the 2001 festival, describing it as "bold, funny, sexy, and macabre" in his programme notes. In honour of Gosden and the film's 20th anniversary, it was again screened at the 2021 festival.
The film holds fond memories for Ashurst, though the self-critical artist remembers its release as a "bittersweet experience".
"I absolutely loved making it. I had a ball. But the final product? I guess because it was my first film, when I looked at it, all I could see were the things that I didn't get and the things that didn't quite work. I was very judgemental of my own work in it," she says, "but then there's another part of me 20 years on that can now look at it and go, 'Oh my God, look at what we achieved'. Given it was a first film, given we had a low budget, the amount of time we had to do it in, and everything that we threw at it, it was incredibly ambitious, and we did make something that was intense and beautiful and crazy. It wasn't necessarily perfect, but it was a ride, and I'm grateful to have a chance now to actually show it to audiences again."