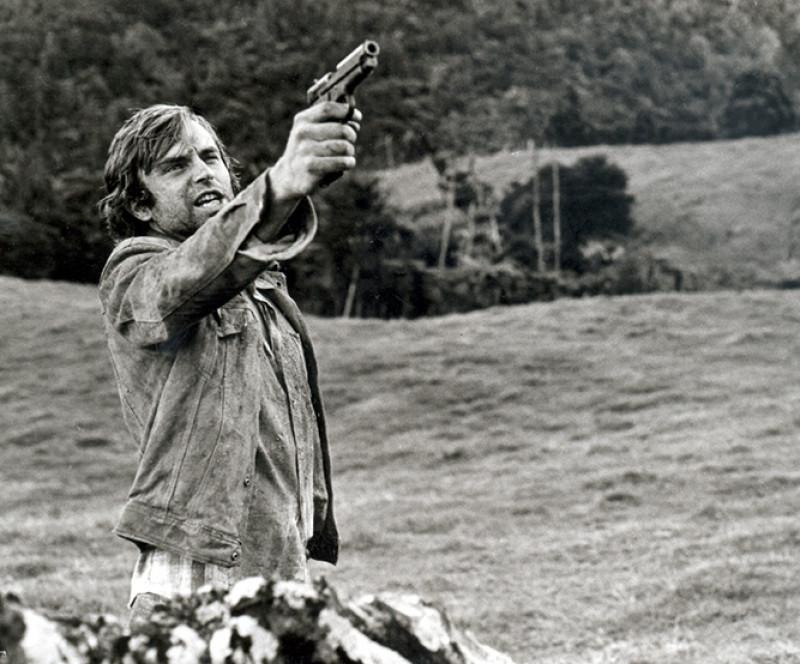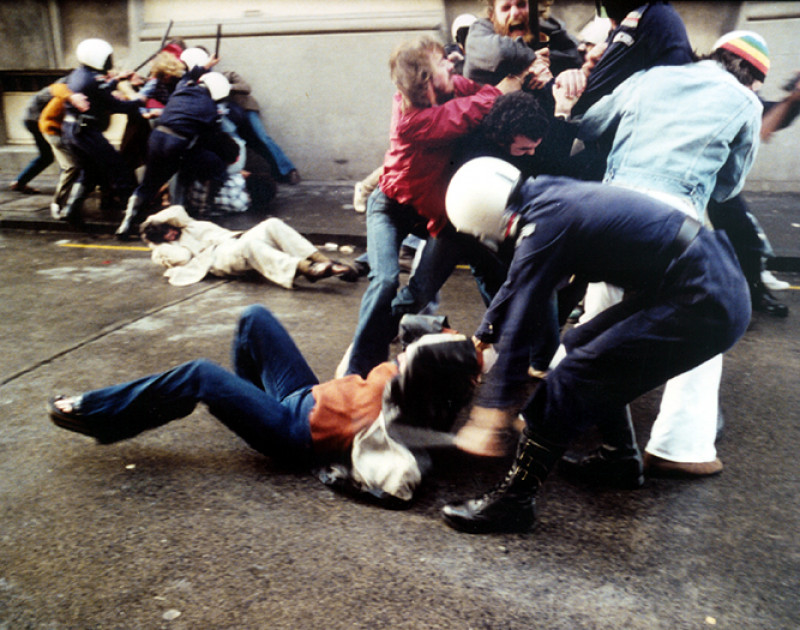 Aotearoa at the movies: Sleeping Dogs by Sam Hollis
In the late 1970s, the sensibilities of mainstream cinema were rapidly changing. French New Wave had made its mark, the dismantling of the Motion Picture Production Code allowed a new crop of Hollywood directors to develop darker, increasingly experimental films, and, perhaps most importantly, the aftermath of the Vietnam War was still being digested.
In the midst of this, Roger Donaldson attended the Cannes Film Festival in support of Winners and Losers (1975), a series of short-story adaptations he had produced and directed with Ian Mune. After watching a lot of movies he thought were "a load of crap", he returned to New Zealand and set about making his first feature.
"We came back, particularly me, with a real belief that we could do something," Donaldson says. "We could do something in the world of feature films and make our mark."
Donaldson gave himself six months to get Sleeping Dogs (1977), his adaptation of C. K. Stead's dystopian novel Smith's Dream, off the ground. With the New Zealand Film Commission not yet established, he had to get creative, contributing his own seed money through his production house Aardvark Films, along with funding from the Broadbank Corporation, the Development Finance Corporation of New Zealand, Television One, and others. It sounds simple enough, until you take a look at Sleeping Dogs, a film unlike any that had been produced in New Zealand.
The story throws the country into a state of political unrest and social rebellion fuelled by an energy crisis and a totalitarian Government. Sam Neill makes his feature debut as Smith, an isolated man who wants nothing more than to reside quietly on his island ignoring the civil war erupting around him. When he is dragged into the scuffle, he has no choice but to embrace the fight.
It was years before Jurassic Park (1993) would make Neill a bona fide movie star, but Donaldson happened to catch him in Ashes, a 1975 made-for-television short directed by Barry Barclay.
"Sam was playing a priest… He was so convincing, it was like a documentary about a real priest. I tracked him down and, without even really meeting him, I asked, 'please do this film.'"
This left Warren Oates, an American actor known for The Wild Bunch (1969), as the closest thing the film had to star power. Although, Donaldson says he initially had another actor in mind for his role as the hardnosed US commander.
"I had my idea that it was going to be Jack Nicholson. I managed to get Jack's agent's contact details and I phoned him up and said, 'I'm making this film in New Zealand and I'd love Jack Nicholson to be in it'. I remember the agent saying, 'How much have you got in the budget for Jack?' I said, 'Oh, we can probably run to $5000 NZD', and he goes, 'I don't think Jack's coming.'"
Persuaded by the quality of the script and the promise of unrivalled trout fishing in New Zealand, Oates signed on, despite receiving a fraction of his usual salary. Another crucial creative collaborator was director of photography Michael Seresin, who returned from London to shoot the film. Seresin had the most professional experience of the crew, having captured Bugsy Malone the year prior.
"I can't underestimate what a contribution he made," Donaldson says. "I had a look at the film again, and I was surprised at how well shot it is. It really stands up."
Donaldson directed Sleeping Dogs from a script co-written by Arthur Baysting and Mune, who also stars as Bullen, Smith's wife-snatching enemy who turns out to be a leader among the resistance. Though it was delivered on a small budget, the scale and atmosphere reached new heights for a Kiwi production.
Shot primarily in the Coromandel on 35-millimetre film (a first for a New Zealand production), Sleeping Dogs looks, feels, and sounds like Aotearoa, despite its proven international appeal. There is an entire conversation in Te Reo Māori, and even a scene where Smith and his ex-wife Gloria, portrayed by Nevan Rowe, sing our National Anthem as they cycle along the countryside.
Sounds sweet, right? But Donaldson wasn't afraid to linger in the shadows. In another instance, Smith, while cringing on the floor of his dingy prison chamber, reads a message on the cold concrete wall beside him: "Any poor bastard reading this through you're up shit creek in a barbwire canoe". Stark and darkly humorous moments like this are prevalent throughout the film, teasing the cinema of unease it would come to influence. Of course, the scenes depicting political distrust, mass hysteria, and violent protest would come to fruition a few years later during the 1981 Springbok Tour. Portraying this mood convincingly on screen, however, was no easy feat.
"The hardest part was props, the weapons. Things like handguns and machine guns, they just didn't exist in the country out of the hands of the military," Donaldson says.
All weapons had to made in-house. Explosions were sparked using match heads. The New Zealand Defence Force loaned military vehicles. It was, for the most part, a DIY operation, and this was reflected in the attitude on set. While shooting an intense car chase sequence, Mune's stunt double crashed and wound up with blood on his face. "Give us a look at your mouth. Oh, you're alright," Donaldson said, to which the double responded, "Of course I'm alright, let's play pool now, yeah?"
Sleeping Dogs premiered at Auckland's Civic Wintergarden Cinema on the 6th of October 1977 and became the first New Zealand film to gain international recognition and be distributed in the US. Its success led to the establishment of the New Zealand Film Commission in 1978 and legitimised the New Zealand New Wave. Neill went on to an illustrious international career, as did Donaldson, who later directed such films as The Bounty (1984), Cocktail (1988), and Dante's Peak (1997), working with such talents as Anthony Hopkins, Mel Gibson, Tom Cruise, and Robin Williams. Sleeping Dogs is often cited as one of the greatest Kiwi films ever made. Most recently, Arrow Academy, a boutique Blu Ray label based in the UK, released a restored HD version of the film for the first time (along with Donaldson's 1981 feature Smash Palace), further preserving its place as an important, influential, and timeless icon in our film canon.
"It obviously kicked off an enormously important film industry in New Zealand, and if you look at the credits, there's a lot of people who were credited in that film that went on to do their own movies," Donaldson says. "Considering the obstacles to making it and our lack of experience – even finding actors who had any experience at all – we did a pretty good job I think."