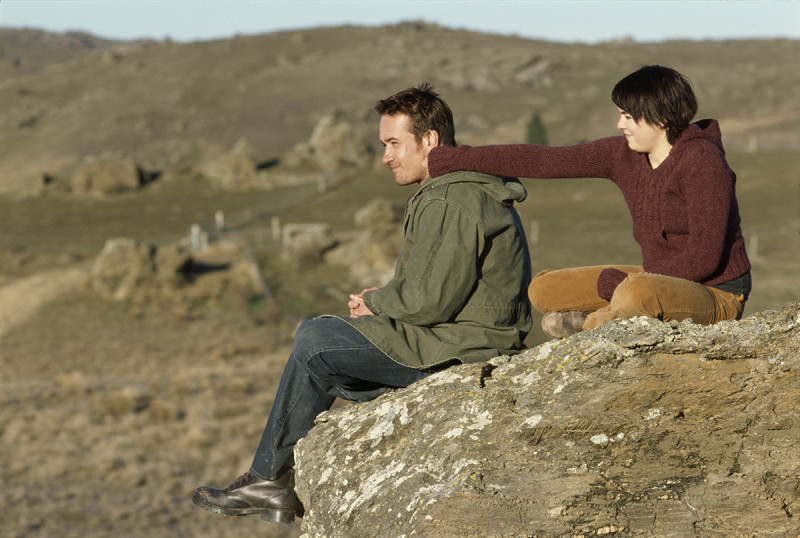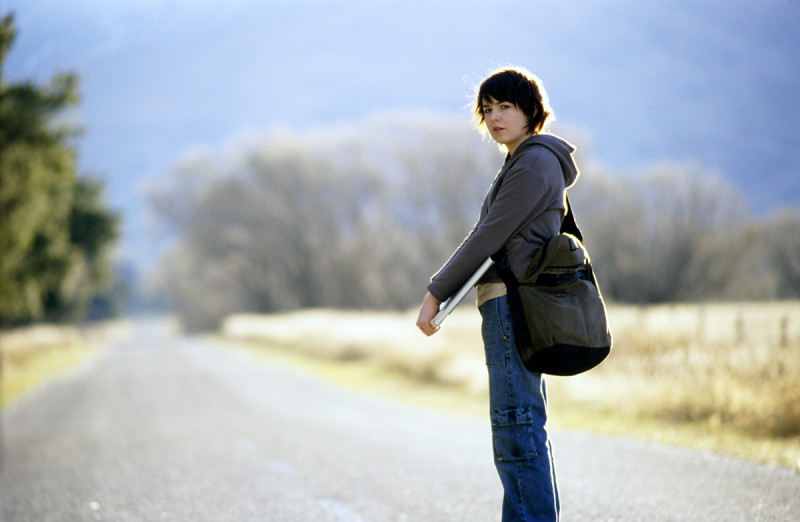 Aotearoa at the movies: In My Father's Den by Sam Hollis
In Aotearoa's oeuvre of films, 2004's In My Father's Den is a bittersweet entry. Sweet in that it is one of our most searing dramas. It crawls under your skin and leaves you in a state of unease, even horror, when the credits roll. Bitter in that it represents untapped potential, namely that of writer-director Brad McGann, who would succumb to cancer less than three years after its release. In My Father's Den would be his first and last feature.
Based on the novel by celebrated author Maurice Gee, In My Father's Den stars British actor Matthew Macfadyen as Paul Prior. Having ditched New Zealand at 17 to pursue a career in war photography, he returns to Otago for the first time upon hearing of his father Jeff's death, reuniting with his brother Andrew in the process. Shrouded in mystery, Paul's upbringing was, to put it lightly, complicated. His hyper-religious mother kept Jeff on a tight leash, so he constructed a den in their farmhouse. Paul was close with Dad and would often join him in his haven, while Andrew sided with Mum and followed in her religious footsteps. When Paul takes up work at the local school, 16-year-old Celia (Emily Barclay), the daughter of his high school sweetheart, is immediately drawn to him, admiring his worldview. The two develop a friendship, and Paul soon suspects their bond may not be pure chance.
Prior to In My Father's Den, McGann developed skill and style with several short films, including the award-winning Possum (1997). That was the first time he worked with producer Trevor Haysom, who introduced him to Gee's novel. McGann didn't take to it at first. He'd envisioned something sleeker, more modern for his feature debut, but clearly, something about it stuck with him.
"He came back to me some months later and said, 'I'd like to have a go at writing up Maurice's story,'" Haysom says. "The first draft was just really a translation, an adaptation of the book verbatim, and it didn't work, so Brad wanted to make a number of changes. He'd been doing a lot of thinking about structure, et cetera, and he wanted to make it a more modern tale set in present day."
McGann chose to relocate the story from Auckland to Central Otago to take advantage of its landscape. He liked the juxtaposition of telling an intimate story under the backdrop of broad rolling hills and far-reaching fields. The duo continued to develop the script over a four-year period with funding from the New Zealand Film Commission. Haysom sent Gee the drafts to gauge his enthusiasm, receiving the note, "Brad has put his flesh on the bones".
In search of further funding, Haysom attended CineMart, a co-production market that runs parallel to the International Film Festival Rotterdam. There he met former Edinburgh International Film Festival director Lizzie Francke, who had joined production house Little Bird. She suggested he pass the script onto her colleague Dixie Linder, who immediately took a shine to it.
"It started evolving as a co-production. Dixie brought in the UK Film Council and a lot of tax money, and the structure was that it was a New Zealand-led co-production with quite a reasonable amount of funding out of the UK," Haysom says.
While this left them with an unusually high budget for a first-time director, $7.2 million, it meant there were new opinions to consider, largely centred around casting. Macfadyen was an established TV actor, and the UK Film Council wanted him to stay in his lane.
"Brad put his foot down with Matthew. Eventually they came around. There was a couple of other people that we were looking at, but Matthew was on the top of our list."
Similarly, they wanted a more established actress for Celia, and Barclay had only appeared in one theatrical film prior, the 2001 thriller No One Can Hear You. But her audition had been so strong, Haysom and McGann had no plan B for the casting.
"Brad literally had to say, 'I'm not doing the film unless Emily Barclay is in the role'. He spat the dummy on that one," Haysom says.
Thankfully, attracting the actors they wanted wasn't an obstacle. Haysom had met with UK casting director Leo Davis, who asked, "'Do you want A-grade actors to come in for the casting?"
"I said, 'Well, of course, if we can get them'. And she said – and this was the first time we had any comment like this about the script – 'With a script this strong you will easily attract A-list actors.'"
Even with a decent budget, the production couldn't afford to spend the entirety of its required 40-day shoot in Otago. Three weeks were spent down south, followed by five in Auckland, where interiors were shot. This made scheduling difficult. As the film takes place over a wide timespan, the weather had to reflect winter, spring, and summer. This meant one of the film's pivotal scenes, in which Celia confronts Paul about whether he knew he may in fact be her father, was shot on day three.
"You normally leave the big emotional scenes further down the schedule if you can, because the actors need to warm up and get into their characters and become more acclimatised," Haysom says. "When we shot it, the first take, everyone was just completely gobsmacked by Emily's performance. The whole crew were really, really emotional. I looked at Dixie and we knew it was something special."
This was made possible by the preparation McGann had done with Barclay.
"With Emily, in the two weeks of pre-production, he got her to write up a daily diary about Celia and what she was thinking. So when you got onto set, Brad's direction was just fine tuning."
Given each character's emotional complexity – each one filled to the brim with secrets and rage – the actors were required to give a lot to the film and its director. McGann managed to capture a tone that swayed like a pendulum. As an audience, we can feel doom looming, yet scenes comfortably loiter between serenity and chaos, darkness and peace. When Celia disappears and the locals begin to suspect Paul's involvement, even we doubt him, until the shocking reveal surges in like a bullet train.
Part of this tonal success is also down to the experienced crew McGann had by his side, Haysom says, which included veteran cinematographer Stuart Dryburgh. He'd been behind the camera for some of our most lauded flicks – An Angel At My Table, The Piano, Once Were Warriors – but hadn't worked in New Zealand for 10 years, instead contributing to major international productions like Bridget Jones's Diary and Analyze This. He'd aimed his lens at the likes of Robert De Niro, Al Pacino, Helen Mirren, and John Malkovich, but was drawn back to this relatively small Kiwi film by McGann's "spectacular script", later telling the Sunday Star-Times, "I'm certainly very proud of [In My Father's Den], and it's a shame we never got to see what Brad might have done next. It's one of the best projects I've ever been involved with, and Once Were Warriors comes a pretty close second."
McGann was first diagnosed with second-stage bowel cancer in 1998, soon after completing work on Possum. It was successfully removed. Little did Haysom know, a month before entering production on In My Father's Den, the time had come for his five-year check-up.
"He'd been clean for four years. Brad was pretty wound up in pre-production, and I thought, you know, it's his first feature. But what I didn't realise was that he was also wound up about this check-up, which he didn't have. He just went on; it was too much for him."
The film was the first from New Zealand to open the Sydney Film Festival, a milestone for McGann and the country. Sadly, the celebrations didn't last long, as a vomiting bout encouraged him to finally get tested. The doctors found a shadow on his liver, which left him unable to travel.
"It was crushing. He couldn't enjoy the fruits of his work. It was very hard for him," Haysom says. "I had to accept his award up at Toronto. It was really, really tough."
Titans of the New Zealand film industry came in droves to support McGann in his treatment. Figureheads including Sam Neill, Peter Jackson, Roger Donaldson, Ian Mune, and Vincent Ward contributed memorabilia to an auction that raised $75,000 to pay for medication he couldn't afford. He made use of about half of it before passing on the 2nd of May 2007. The remaining funds were used to establish a writing scholarship at Victoria University of Wellington Te Herenga Waka in his name.
"We will never know what Brad could have contributed, but if that was his first feature, he could have only gone on to bigger and better things," Haysom says. "He became a recognised New Zealand filmmaker after one feature."
"The situation would have been that if he had taken the test there probably would have been the shadow on his liver. We would not have been able to make the film because he wouldn't have been able to be insured… I said to him, 'At least you're going to leave this incredible legacy behind', which he did."
In My Father's Den was a box office success at home and a critical smash abroad. It raked in awards at many a festival, including the 2005 New Zealand Screen Awards, British Independent Film Awards, Seattle International Film Festival, and most notably, the FIPRESCI International Critics' Award at the 2004 Toronto International Film Festival. Find it online at NZ Film On Demand.