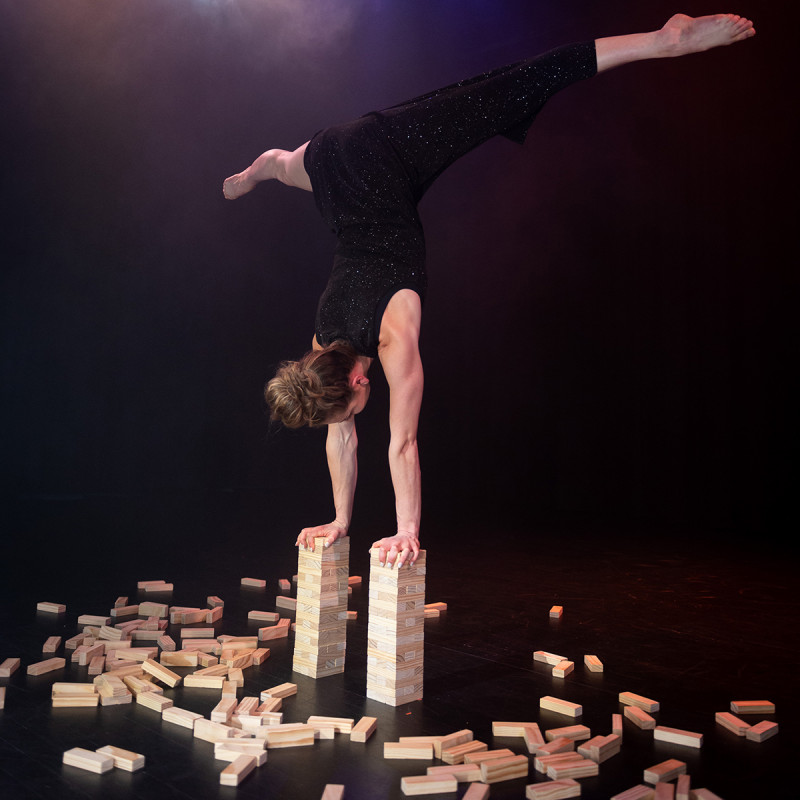 And the olive keeps rising by Madelaine Empson
Fresh from their turn on TVNZ's 60 Seconds, sketch-circus trio Laser Kiwi will celebrate the humble olive at Te Auaha from the 30th of June until the 2nd of July. Catch variety superstars Imogen Stone and brothers Zane and Degge Jarvie before they bring their world-class, brilliantly bizarre antics to lucky audiences overseas.
Laser Kiwi: Rise of the Olive features a whole bunch of high-calibre left-field skills and comedy, including the bounce juggling and Jenga stunts seen on 60 Seconds. Laser Kiwi quips their time on the show went by so fast… after all, 60 seconds really isn't long!
Zane says the experience was a mixture of fun and stress – they certainly didn't make it easy for themselves.
"Some of those skills are high-stakes and impossible to guarantee a 100 percent success rate… We risked it for the biscuit."
"And the biscuit tastes good", Degge adds.
While Laser Kiwi hasn't been able to perform internationally for two years, Imogen says being grounded had a lot of positives.
"As performers we've got deeper roots, we know how to create opportunities and put together tours closer to home. It's been special to share more of our work with Aotearoa audiences."
But as doors and borders open up, the world's only unabashed, olive-fuelled, award-winning circus power trio is planning an Australian tour for early 2023.
"Then the plan for winter is a UK tour with a month-long stint at the Edinburgh Fringe. We were there in 2019 before the world collapsed and would love to go back", Degge says.
In the meantime, you just can't miss the wildly inventive rollercoaster that is a Laser Kiwi show: the perfect balance of joy, hilarity, talent, and existential olives.
Why the olive, I have to ask.
"That is a profound question", Degge says.
Imogen simply responds with a number of dots – nine, to be precise – before Zane concludes:
"Our lips are sealed."