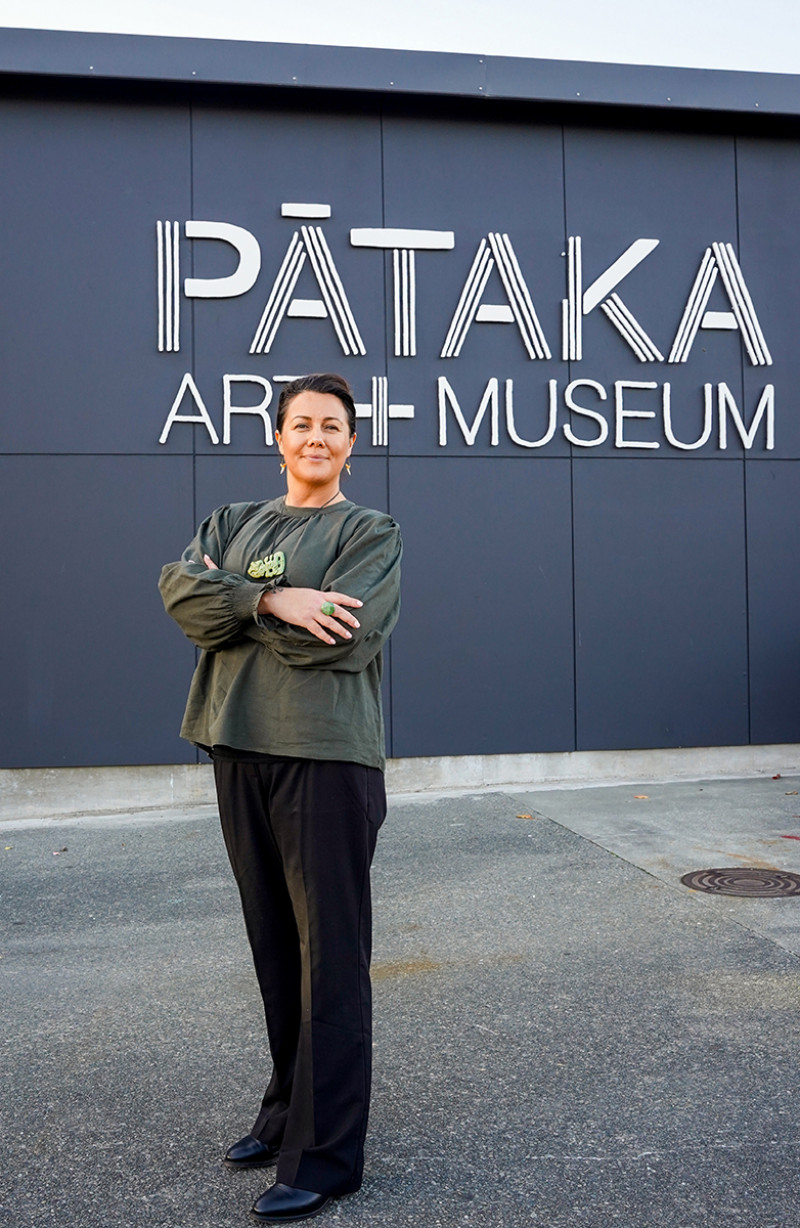 Ana Sciascia is Porirua proud by Harry Bartle
Ana Sciascia (Ngāti Kahungunu, Ngāi Tahu, and Ngāti Raukawa) is extremely proud of her home. Born and raised in Porirua, there is no place in the world she would rather be than this vibrant city. In what seems like the perfect fit, Ana was delighted when she was recently appointed the newest director of Pātaka Art + Museum, the heart of creativity in the local region.
Ana comes to Pātaka from Parliament, where she was a senior advisor in the Prime Minister's office for four years. Before that, Ana worked at Creative New Zealand as an international advisor. Her role was to connect the best New Zealand arts and artists with global markets and audiences.
As experienced as it gets when it comes to the arts in Aotearoa, I sat down with Ana to discuss her new role, the power of creativity, travel, her passions, and the world-renowned challenge of remembering names when starting a new job.
Let's start at the beginning. Where did your deep connection with the arts spark from?
I was really fortunate to be brought up in a family with a deep value and contribution to the arts. Both my parents were involved in that world. My mother was a performing artist, she kind of helped set up contemporary dance here in the 1970s. She also helped choreograph for the Royal New Zealand Ballet and then went on to set up Whitireia Performing Arts which was actually based here in Pātaka for over 18 years. My father is a composer and an orator, and he's always been heavily involved with Māori performing arts. Art and performing were always around me growing up.
Congratulations on your new role as director of Pātaka. How do you plan on bringing your own flavour to this position?
That's a good question. I'm still figuring that out a little bit! I believe that protecting the foundations of Pātaka is very important so those won't change. However, how we interpret and reflect these foundations may be different. I think particularly as we are still navigating our way out of COVID we are living in a new normal, so just looking into what that might look like for the future of Pātaka.
Pātaka has been a hub of creativity for over forty years, what sets it apart from other galleries in Pōneke and Aotearoa?
I think it's definitely the vibrancy. The vibrancy of the people and the work we display. Pātaka's contribution and impressive legacy has always been focused on Māori and Pacific arts. This is what makes Pātaka special on both a local and national scale, our artistic identity through Māori and Pacific works.
What do you personally want people to get out of their experience when they visit?
I hope that anyone who comes to Pātaka walks away feeling uplifted. It's the creative hub for Porirua, so along with some leading exhibitions in the gallery space, we want to showcase our performing arts studio, amazing library, wonderful toy store, and sports arena. We often host wonderful artist talks and school programmes. This combined with the people of Pātaka creates vibrancy, it brings the space alive! It's not just the art on the wall, the gallery is connected to its people and environment.
What's been the most challenging part of your new role so far?
Hmmm the biggest challenge? I'm actually not sure, can I come back to you on that?
Of course! Let's talk some more about you. You grew up in Whitby and you're now based in Tītahi Bay. What is it about the region you love so much?
I'm definitely Porirua proud. It's the people and the environment that I love so much. We have such diverse communities here and we all get on so well. I keep going back to it, but vibrancy is the best word I can use to explain it. And of course, our beautiful landscape, the whenua. It's just amazing. The Pāuatahanui Inlet, the beaches, the wetlands, the rolling hills.
You obviously have a special passion for the arts, but have you tried your hand at any yourself?
Yes, I've had a dabble! Well, actually I've tried a few different things [laughs]. I did a pottery course at the Woolshed Potters here in Porirua, I've done some weaving and painting, but primarily I'm a performing artist. I'm heavily involved with kapa haka group Tamatea Arikinui, my biggest creative outlet.
You previously worked as a senior advisor in the Prime Minister's Office and for Creative New Zealand. Did you get to travel much during these roles?
Yes, quite a bit! Throughout Europe, Canada, the Pacific Islands, and Australia. I was lucky enough to go to events such as Schmuck Jewellery Week in Munich. New Zealand has some fantastic jewellers so going there and helping them expand their market and networks was amazing. Also, I helped set up the First Nations programme between Canada, Australia, and Aotearoa. That was fantastic. I worked with producers and curators from around the world while setting it up, so there was a bunch of travel involved with that. I had a great time, but that was all pre-COVID of course. Now that the borders have begun to open up, I'm hoping to reignite some of those networks.
You're one step ahead! My next question was about your First Nations Programme. You must be so proud?
I am! Māori have always produced amazing art so First Nations in New Zealand was about growing their authorship and exploring that next layer. It was about helping Māori do more than just producing art, we wanted them to become part of the curation as well. First Nations puts them at the decision table so they can be involved throughout the artistic process.
That's amazing. Anything for that biggest challenge question yet?
Hmmm… It's very simple but if I'm honest, just remembering people's names!
I think we can all agree on that!
I'm almost tempted to say "hey, should we all wear name tags for a month? No? Nobody's keen?" [Laughs]. But really, it's a fantastic team I work with. We are connected to Porirua City Council so my learning, induction, and interactions are with both them and Pātaka. It's about how we connect together, but it's also the reason why there are so many names to remember!
Just a fun one I like to ask, where do you see yourself in 10 years?
Ooh 10 years?... You know if I'm still in Porirua, I'd be very very happy. I love it here and my four children are here. My whānau is originally from a small coastal settlement in Hawke's Bay called Pōrangahau. So somewhere between Porirua and Pōrangahau is where I'll be in 10 years.
There's no place like home. Finally, with the world still navigating plenty of difficulties, how important is it that Kiwis go out and support Aotearoa's artistic community?
I think it's twofold. It's great for New Zealand to go out and support the arts but I really truly believe that the arts play a significant role in helping us as well. They bring us together, inspire us, make us reflect, extend our thinking. I think art helps us grow and learn both individually and collectively. So, I would encourage people to go out and support Kiwi artists because they can help us as much as we can help them.