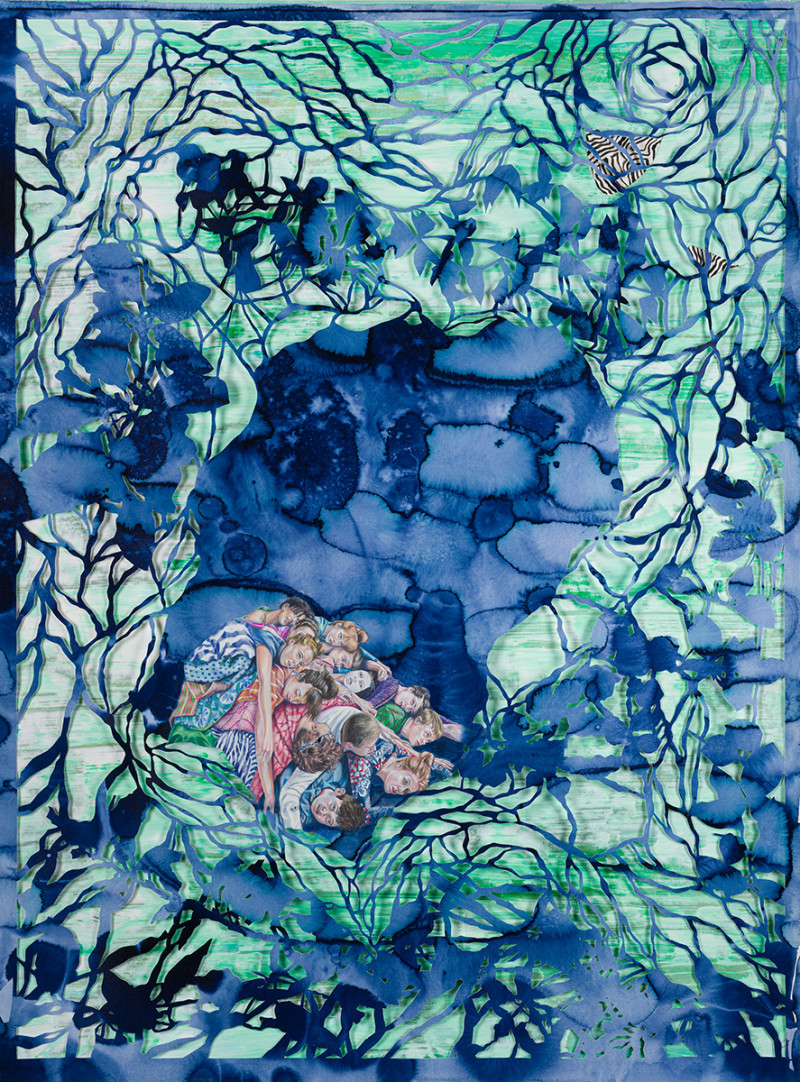 A woman's perspective by Alessia Belsito-Riera
New Zealand painter Susanne Kerr presents her solo exhibition Remnants at Porirua's Pātaka Art + Museum until the 11th of February 2024. Overflowing with burgeoning abundance, Kerr's artworks repurpose pre-existing paintings. This process and the subject combine to examine the relationship between humans and the environments they inhabit and create.
Why is the female figure a recurring image in your work?
Women continue to be a strong presence in my art as it reflects my gendered experience and interest in the male gaze where men act and women appear. Most of my artworks involve strong female characters who direct the narrative of the artwork from a woman's perspective. These artworks explore the intricacies of social conformity, the competition between individual desires and collective need, and delve into the unresolved disquieting moments of being a woman, countering the male gaze so dominant in many artforms and showing women to be strong protagonists even when they are wrangling their inner demons.
Opposites are often engaged and contrasted; the powerful and disempowered, the innocuous and sinister, the hidden and revealed, fragility and strength – laying bare the bittersweet moments of life. These moments are accentuated using luscious ribbon-forms reminiscent of flower bouquets and gifts. They reflect human intent, exerting power and control over female subjects and weave through nature like a predator. Like detritus caught in branches, the ribbons bind all that is caught in their path. They represent not only human emotions and actions, but our slow remorseless destruction of the natural environment that our urban environment borders.
How would you describe your style?
My art comes from a state of reflection to find a balance point between space, paint, subject, movement, and energy. Throughout the last 25 years as a practising artist, my works have progressively moved towards a state of duality; beautiful environments with a sense of discord and unease.
While figuration has been a consistent thread, I am finding a reality somewhere between figuration and abstraction a more equitable state of being. More recently the visual structure and style of my paintings has been informed by my interest in Eastern philosophy, Oriental art, Chinoiserie, Ikebana, and Western aesthetics. Resolving these competing energies along with issues of complexity and simplicity, layering, multimedia, and varied mark-making in a single work has been a captivating artistic exploration.
What do you hope visitors take away from the exhibition?
The underlying narrative thread of the Remnants exhibition is the manipulation of the natural environment by humans. It has enabled humans to thrive but is now a behaviour that is rapidly undermining and threatening the environment which sustains us. I would love to think that the works might capture and engage the viewer with an appreciation for our native green spaces, imparting a desire to preserve their biodiversity for future generations, but I think it is a romantic and unrealistic notion, and too much to expect from a show of my artwork! Maybe it will stimulate an appreciation of the native green spaces that surround us in the Wellington Region and inspire viewers to explore and search for some of the endemic plant and bird species I have incorporated in the works.