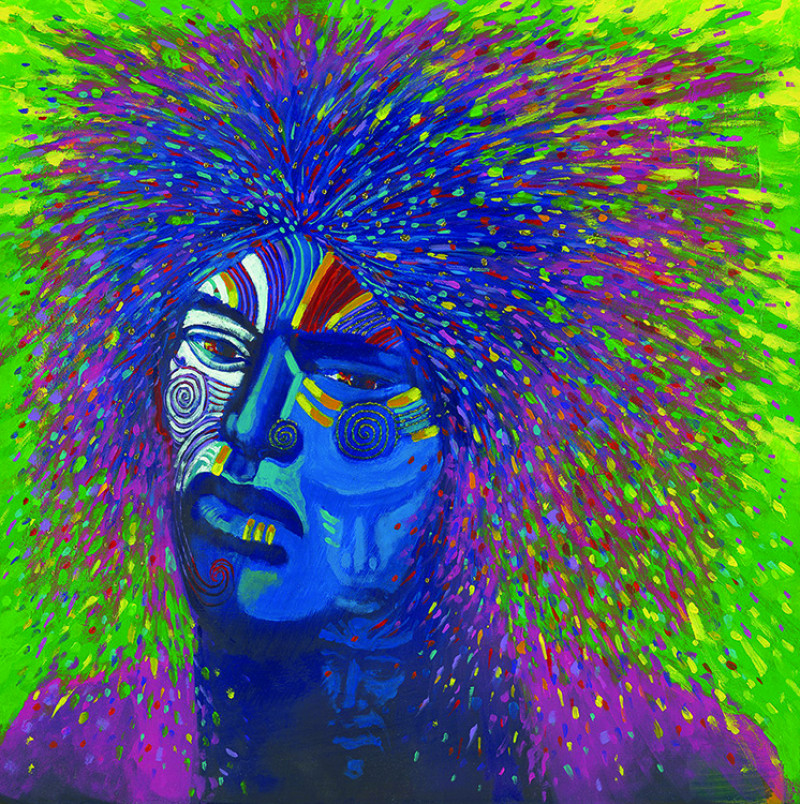 A unique language by Alessia Belsito-Riera
Though they are from different generations, the works of renowned contemporary Māori artist Darcy Nicholas and emerging Māori artist Pēkere Fruean share a universal message. Exhibiting together at Pātaka Art + Museum in what is Fruean's first exhibition, their art will be on display until the 3rd of September.
Nicholas is an award-winning artist who has exhibited and collaborated worldwide with international artists and directed major touring shows representing Māori art around the globe.
"Great art is like great music, each chord plays an important part in the whole," Nicholas says. "In painting it is uniquely personal and embraces line, composition, colour, and the universality of a message that embraces and inspires people."
Nicholas first came across Fruean's work at a hui in the Hutt Valley. After noticing a drawing on a woman's cast, he enquired who the artist was. When he learned it was the woman's daughter, he asked to see more of her work. Nicholas says that he has worked with artists from around the world, "but this is the first time I have been blown away by the work of a young untrained artist".
The pair have been working together for 12 months now, and Nicholas believes Fruean has the "intelligence, work ethic, and uniqueness to become an important New Zealand artist".
A personal journey and her unique language, Nicholas says Fruean's work "embraces the richness of her individuality, family, and personal history in an urban environment. Her art is her unique language".
"I am privileged to be sharing this first exhibition with her," Nicholas says.
A self-taught artist who grew up in Wainuiomata and Waitara, Fruean completed high school in 2019 and moved to Australia where she began her creative journey.
"Verbal communication has never been my strong suit, but art has helped me find my voice," Fruean says. "It has allowed me to express things that I usually cannot find the words for. I find myself being influenced by every single moment that I exist within – whether consciously or subconsciously."
Nicholas, who was part of the main drive of contemporary Māori artists formed in the mid-60s, was brought up differently to Fruean in a country environment by elders whose first language was te reo Māori. He says his art expresses the physical and spiritual side of his culture and the universal relationship to Papatūānuku.
"This series of my artworks is about the richness of my Māori culture as learned from my elders and the many great contemporary Māori and international artists whom I have worked with over many years," Nicholas says.
Though the artists are very different, their art has a lot in common. "Our art contains history, knowledge, humour, creativity, passion, and the expression of a rich and changing culture that is an important part of this country," Nicholas says. "We hope to unite our people and our country so that we build a better future for generations to follow."