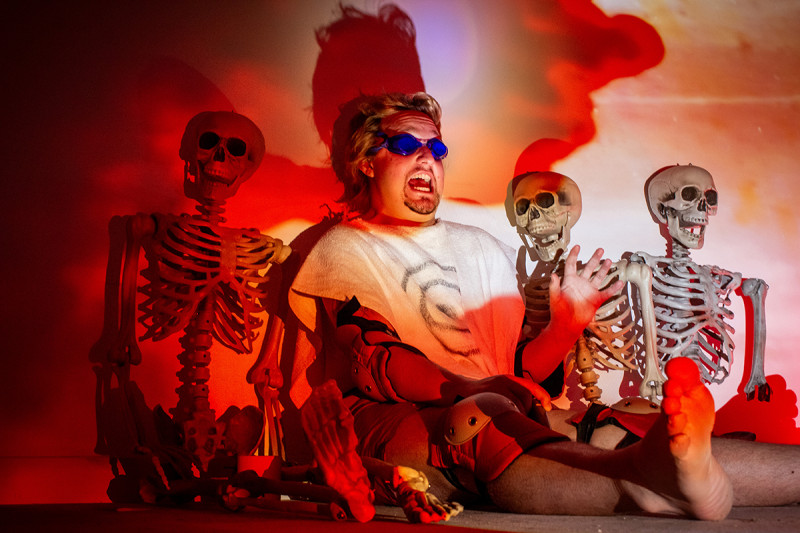 A milk-curdling scream by Madelaine Empson
Are you ready to face your milkiest fears this Halloween? Ruff as Gutz is about to present the latest instalment of the MILK theatrical universe, and this one will be the spookiest, soggiest yet.
From the 25th to the 28th of October, quick-witted improvisors clad in swimming goggles, wrist braces, and kneepads will slip 'n' slide into BATS Theatre to spin a scary tale in real time. You, the audience, will be loaded up with water balloons that you can throw at the performers whenever you want something onstage to change. Tuck your pants into your socks, because this milk-curdling spectacle breaks all the rules.
The MILKyverse was dreamed up by Wellington-based clown and theatre practitioner Sean Burnett Dugdale-Martin in 2020. No, really. It came to them in a dream.
"I think unconsciously my mind borrowed the balloon throwing from much older forms of theatre where audiences could throw fruit and veggies at the performers?"
Quickly amassing a cult following after its 2021 NZ Fringe Festival debut, the MILKYverse expanded with MILK OF THE GODS in 2022, which was nominated for the NZ Fringe Spectacular Organised Chaos Award, and A MILKMAS CAROL in December of the same year.
For MILKOWEEN, Sean encourages audiences to dress up spooky and get into the silly, milky spirit. We reckon it's only right to milk this time of year.
"How often do you see Linda Belcher and a Demon coming together to play twister?"