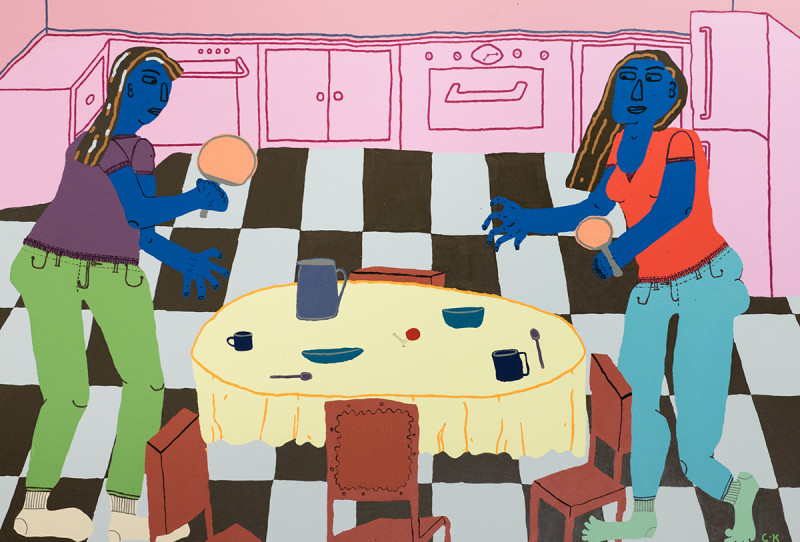 A different kind of family portrait by Sam Hollis
Nothing symbolises our competitive nature better than sports. They invite moments of pure elation and intense disappointment, much like our relationships in life. This is the seed for Claudia Kogachi's There's No I In Team, opening at The Dowse Art Museum on the 29th of May as part of the Face to Face Portrait Festival and running until the 3rd of October.
Here Kogachi offers a fresh perspective on themes she has touched on before, namely, her relationship with her mother. Where her earlier works depicted the pair in fierce competition in a range of sporting contexts, these new large-scale panel paintings shed light on friendlier interactions.
Kogachi has chosen to portray sports popular in Hawai'i, her mother's birthplace, speaking to the way our upbringing, values, culture, and identity shape our family experiences. Brightly coloured and cartoon-like, these warm portraits invite viewers to consider the differing dynamics within a mother-daughter bond. Curator Dr Chelsea Nichols says they are insightful, relatable, and very funny.
"These paintings certainly don't resemble the blissful, airbrushed family portraits that come in store-bought picture frames. The wonky blue figures are deliciously awkward yet totally compelling in the way they wobble through the world of competitive sports at each other's side."
"Playing and watching sports is something that brings many families together – bringing out both the best and worst in our codes of conduct," Nichols says.
There's No I In Team also includes a hand-painted wall mural by Kogachi, which viewers will be invited to colour or watch others colour from ball-shaped furniture.