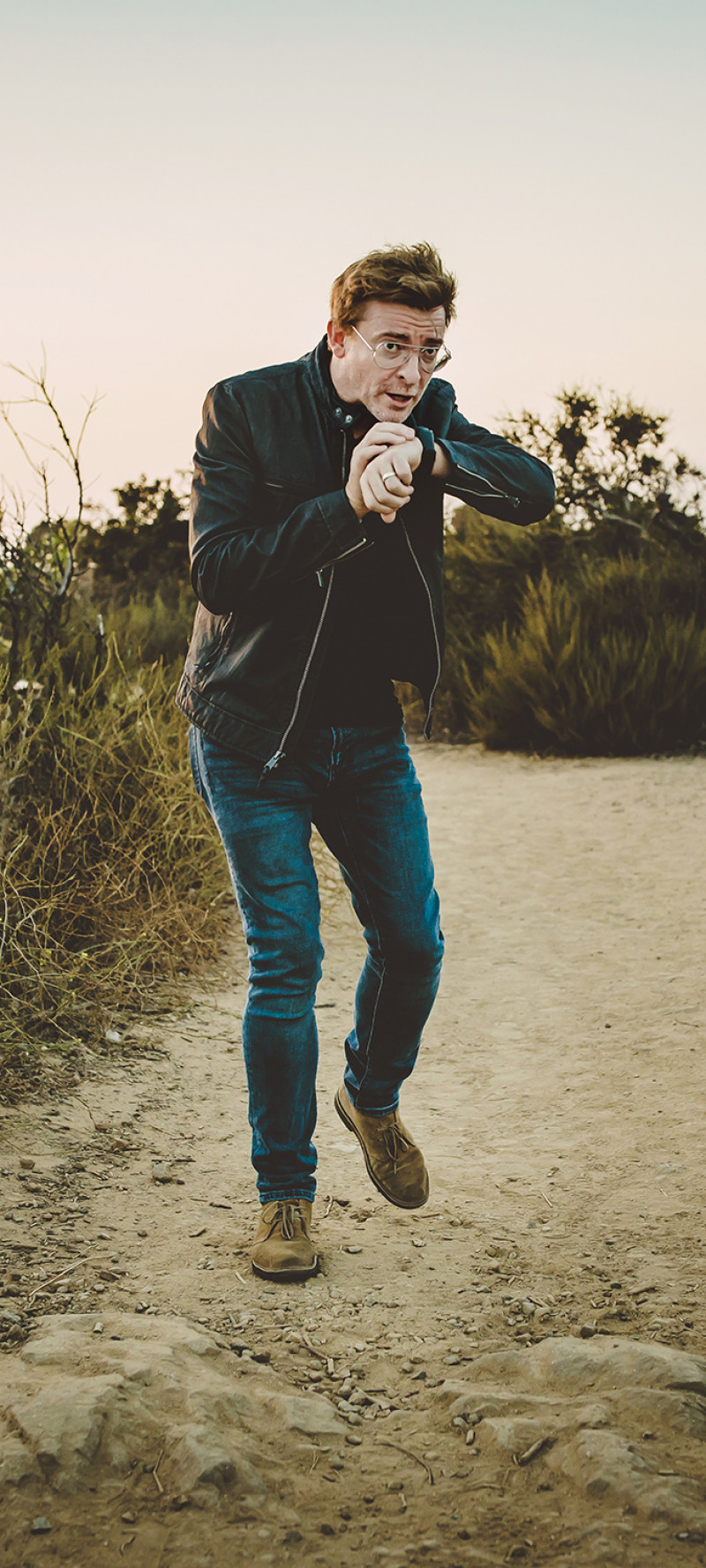 25 years of standout storytelling and stand-up by Madelaine Empson
Rhys Darby is one of New Zealand's most successful comedy exports. It all started with stand-up for the world-famous comedian and actor, who set out on the scene in Christchurch in the 90s. In 2004 after his move to the UK, Darby landed the BBC radio series Flight of the Conchords with Bret McKenzie and Jemaine Clement. He returned to the role of band manager Brian-now-Murray in the 2007 HBO American television series that jumpstarted a phenomenal career in the entertainment industry and helped fulfil his long-standing dream of becoming a comedy actor.
"I guess all my stand-up was building up to that moment of being able to act and thankfully with my friends", Darby tells me. "We had a good laugh and we created a really, really cool show. Everything else kind of came after that."
There's a lot to cover in that "everything else", including starring alongside Jim Carrey in Yes Man (2008), joining the star-studded cast of Jumanji: Welcome to the Jungle (2017) and Jumanji: The Next Level (2018), moving to LA, and scoring something he always wanted: "to be a lead in a comedy series and getting to dress up in historical outfits" in Our Flag Means Death (2022).
Through it all, Darby never strayed far from his stand-up roots. He's performed his distinctive brand of physical comedy, zany storytelling, and obscure observations all around the world and now returns to New Zealand with a retrospective show featuring the best bits of his five specials almost in order – from early robot and dinosaur impressions right through to material from Mystic Time Bird (2017).
"You've seen my stand-up, now see it again!"
Darby invites Wellington fans old and new to The Opera House on the 19th of August to join the 25-Year Celebration Club, which he just came up with on our Zoom call.
"Yes, I'm just starting that now."
How does it feel to be celebrating your silver jubilee in stand-up?
It's really bizarre. My last special Mystic Time Bird was about my mother's passing. My own therapy was to create that show, to see the lighter side of everything and to think about how we may live again, what our spirits really are, and who we are as beings on this planet. Once I'd done that, I felt like the world had gone in such a transformed and a very positive way, but also a bizarre way whereby I found that I was less relevant – as a comic, as a performer, as just a middle-aged white guy. I felt like, and rightfully so, it's not about me anymore so I would take a step back. I felt like [Mystic Time Bird] was a good one to end on.
When it comes to stand-up, I only realised this year that it has been 25 years. All these new fans that have watched Our Flag Means Death hadn't seen my stand-up and started looking at it online. I was just inundated with comments and people retweeting stuff, a lot of TikTok stuff, people discovering me for the first time. It gave me a rebirth in a way, made me feel like my stuff must still be relevant. I looked at it and it really is just pure happiness. There's nothing offensive to anyone. It's just about laughter for laughter's sake, me taking the piss out of myself in awkward situations, me as a human, and me being confident enough, without realising it, over time, to just put my weirdness out there and be proud of it. I think that resonated with a lot of people, especially the LGBTQ-plus community. They really started loving my stuff, and I felt like I was becoming a captain in a way.
So I spoke to my wife – let's do some gigs. Let's celebrate 25 years, set something up and just see if people come. This is in the States, where I haven't done much stand-up because I wasn't famous enough over there. It was an experiment of sorts. Anyway, experiment goes really well. They all sold out. There was an army of mostly queer, but all absolutely stoked to see me, fans, and with gifts. I was just in tears most of the nights. I felt good that I was sort of championing them, and amazing that they had discovered me and were wanting to see me live.
Looking back over those 25 years to your very first stand-up gig, were you always putting that weirdness out there?
I've always been honest with myself and have performed what I think is funny. I'm definitely quirky. I'm not for everyone, and I understand that, but it does frustrate me because I think it should be for everyone! Some people do want darker stuff or something different. I have always had stuff that is unique in some ways. I'm a massive fan of Monty Python, surreal comedy from Rowan Atkinson and Spike Milligan and those guys from the 70s – alternative comedy that was definitely weird, and there's probably a bit of that in there. My stuff was original, New Zealand-based, I talked a lot about things in this country that I found really silly and baffling after going overseas and coming back. It's kind of a celebration of how weird I think we are. I think that's what made the comedy that me and The Conchords and Taika [Waititi] do become world-famous, because we have a different take on life. It is positive. We don't belittle anyone. We just like to take the mickey out of who we are, because I think we're confident that we live in a country that we're blessed with, because it is a good place.
At the start, did you imagine what might be on the cards for you?
I honestly believed that I was gonna go all the way, because I just had the passion and the drive for it. When I got to the UK, it was the best training ground ever. There are over 300 comedy clubs in London alone. I was working five nights a week, two or three gigs a night. You've got to train yourself to be able to repeat things. The UK, they are the most experienced audience in the world, and because they're British, if they don't like something they'll just heckle you straight away. They're smart and they're drunk. I had to learn to be quick. And if something didn't work, you drop it and change it. I had the novelty of being from here, so I had a different voice. But the main thing I had going for me was that my style, my impressions of jet aeroplanes, stories, music, sound effects, bizarre monsters, different characters and things was I think something they hadn't seen before. What's this guy doing? He's not just telling jokes.
I was headlining some clubs, I'd done six, maybe seven Edinburgh Festivals, I'd done This Way to Spaceship, which was my most successful show internationally. But my main goal was to get onto television, onto a sketch show. I wanted desperately to act. The comedy acting side of things didn't happen for me in the UK. Getting The Conchords radio show with Bret and Jemaine, while we were in Edinburgh, and then turning it into a TV show, and that opening the doors to me coming to America was something I didn't foresee happening. But it opened up everything and I could be the comedy actor I always thought I'd end up being. I thought it would be England, but they were still like, 'Who are you, you're from some colony down the other end of the world?' The US has been so good to me. They open their arms up to everyone. I've never looked back.
You've worked with some huge names. Do you get starstruck yourself?
With actors, yeah! I don't know how it's happened, but my first movie was with Jim Carrey. I just had to suck it up and meet the guy. The scenes we did together were so special because I got to act alongside my idol and do some pretty zany stuff. Watching his physicality was just something that I was in awe of. He did one scene at this bar where he had a tray of drinks, and he knows exactly where the cameras are and how to manipulate them as an actor. He would come in and he did something where he fell over with the tray of drinks. He fell out of shot and back into shot and fell out and back in again, some sort of weird physical moment, which looked amazing on screen. And then he told me he broke a rib doing that scene like two weeks later. What!
Then it was The Boat That Rocked [2009]. Emma Thompson, Bill Nighy, pretty much anyone in that cast. Philip Seymour Hoffman, that was a big one. Rest in peace. Meeting him and knowing that he was one of the best actors in the world, and he had no idea who I was... I just felt like I had won a competition. 'Hi I'm the guy that won the competition to be in the movie with you!' He ended up going and watching Conchords. I think Richard Curtis gave him the DVD and all of a sudden he was like, 'Oh yeah, I'll act with you!' It was a rite of passage.
I'm okay with meeting my heroes. But The Rock. I mean, guys, come on, ridiculous. Can I do a movie where there aren't the most famous people in the world? Dwayne was lovely. Jack Black as well, just very open to having a chat. But I've been prepared for meeting those people. I think it's part of being an actor, when you meet someone you're absolutely starstruck by, you just pretend you're not. And then you go home and cry. I went to Monty Python live in 2014, I was very, very lucky. I was just sitting there crying. Oh my god. I felt like those were my dads, you know? I've met one or two of those guys briefly, but they would be the ones where I would probably struggle the most to act as though I'm not excited to see them.
'This is fine, this is absolutely fine.'
I'm fine, I'm absolutely fine! Here, I'll quickly share a selfie! And then I'll run away and you won't see me crying!
What are you most looking forward to about bringing the 'new-old show' back to New Zealand, particularly Wellington?
I'm excited to bring it to New Zealand because this is where it all began, where my biggest audiences always were. In this day and age in time, where everyone seems to be down because the world's imploding on many levels, hopefully they can forget about everything for an hour and a half and just laugh at the silly guy on stage.
The Opera House is, in my opinion, the best room in the country. Welly has a real heart for theatre and a heart for performance. It's magical to be able to return there and just take it all in.