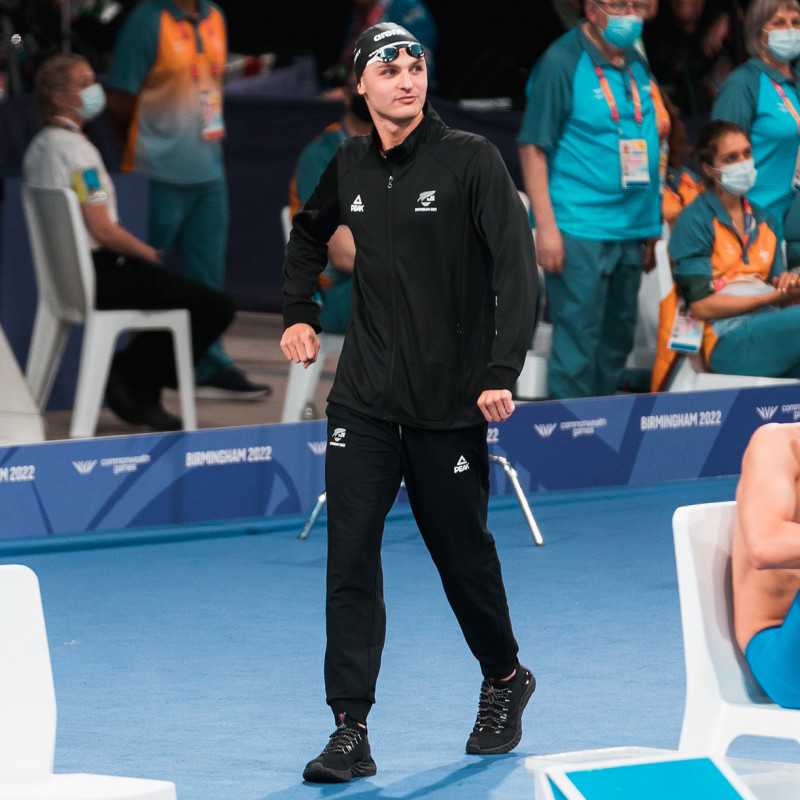 Swim for the stars by Harry Bartle
At just 23, Lewis Clareburt has already established himself as one of New Zealand's most successful swimmers and one of the sport's rising stars. The proud Wellingtonian swept up four silvers and three golds at the 2017 Commonwealth Youth Games before claiming his first major medal at the Commonwealth Games on the Gold Coast a year later. A specialist in the medley, Clareburt qualified for Tokyo 2020 and set Aotearoa alight when he swam his way into the 200 and 400 metre individual medley finals.
The recent 2022 Commonwealth Games in Birmingham proved Clareburt is only getting started. He blew the competition out of the water on his way to two golds (400m medley, 200m butterfly) and one bronze (200m medley). With a bunch of New Zealand swimming records also under his belt, it was a pleasure to catch up with the local swimming star for the latest instalment of our Wellington Sportspeople series.
How did you get into swimming?
My two older sisters and I all swam growing up. The reason Mum and Dad got us into swimming was because they wanted us to be good at surf lifesaving. Dad was quite good at surf lifesaving, but he always said his biggest weakness was the swimming side while Mum was never really allowed to swim growing up because she came from quite a poor family. They wanted to give us every opportunity to have swimming lessons. Also, in the summer we often went to a hot place with a beach and they wanted us to be able to stay safe in the water.
Was there a specific moment when you decided you wanted to pursue swimming?
I guess when I was watching the 2008 Olympics in Beijing, in particular Moss Burmester, I remember thinking, 'Wow, that'd be pretty cool'. To be able to go to the Olympics and represent your country and make a final just like Moss. Even though I was young I said to myself, 'Why not?' But to be honest I didn't really think I could ever do it or even have the motivation do to it until 2016 when I made my first junior New Zealand team and went to Hawai'i to compete. That's when I decided I had a pretty cool opportunity to actually do it properly. Even though I wasn't very fast at the time my coach Gary Hollywood said, 'If you want to do it, I can take you there, I can get you to the Olympics', and from that moment I was under his guidance.
Trainings from then on must have been intense. Did you have to make many sacrifices?
Yeah I mean it was a grind at times. Swimming is a low-impact sport, so the recovery time is less than say, rugby or something like that, meaning the best in the world can train a lot because you recover much faster. I used to say when people would ask me this question, 'Yeah it sucks, I miss social events and hanging out with mates', but now I think I've got to the point where I am happy to miss out on that stuff sometimes because I'm trying to achieve something great. I'm searching for that ultimate goal to be the best in the world. If I have to miss out on a few parties here and there in order to achieve my goal it's really nothing to me anymore. And I still have a really enjoyable life outside swimming.
You made your first Commonwealth Games in 2018 where you picked up a bronze medal. Was any of that expected?
To be honest no [laughs]. I was selected for the team very late and more for development, so I was told to just try and give it a go. I wasn't even named in the original team in 2017 but because I chose to continue training hard over the summer and not live the 'normal' student life, I still got the opportunity to compete. I guess it paid off because I managed to snag a medal in the 400m medley that I most definitely didn't think I was going to win. That was a crucial moment in my career because I became even more hungry from that moment.
How did you feel when you qualified for your first Olympics?
I qualified for Tokyo during the 2019 World Championships. I actually didn't even realise I had done so until I was walking back from my race. I've never really told anyone this before, but we had to do this massive walk around the whole pool to get back to where the teams are based and during that walk I just started crying. I was so proud of what I had done. I also found out I made my first final in the World Championships a few moments later. It was this sudden huge wave of emotion when I realised I had qualified for both my first Olympics and my first final. Everything just came together at that moment. The whole team was congratulating me, it was such a cool feeling.
I can imagine! Tokyo 2020 finally rolled around a year later than scheduled and you made two finals. How would you rate your first Olympic games?
I mean it really was a life dream come true. Like I said before, I remember watching Moss Burmester in the final in Beijing when I was literally nine years old, I pretty much remember watching the entire race in class. So to make two finals, I sort of look back and think there was probably some nine-year-old kid watching my races in school, in the same situation as me in 2008, and all I can hope is that I inspired them to maybe want to do it too. Knowing people are watching you and are invested in your race is pretty special. Obviously the finals didn't go my way, but I think sometimes it's not about the outcome it's about the journey. Now that I look back it's pretty cool to think I went from that young kid in 2008 to an Olympic finalist.
You did more than just make the finals in Birmingham earlier this year… did you expect to do so well?
I knew my ranking going in and I knew that I wanted to win at least one gold. But you can really only dream about that sort of stuff beforehand because a lot of it is out of your control. You have to do your best and just hope no one else swims faster [laughs]. But I put myself in a good position with my training and I went into Birmingham with the intention of winning my medley events. I definitely didn't expect to win gold in the 200m butterfly though, that was a nice surprise!
What would you say to a young Kiwi kid who's been inspired by you?
I would say if you want it enough, you will figure out a way to make it happen. But even more importantly, don't forget to have fun because I feel like if you're not having fun, then what's the point!