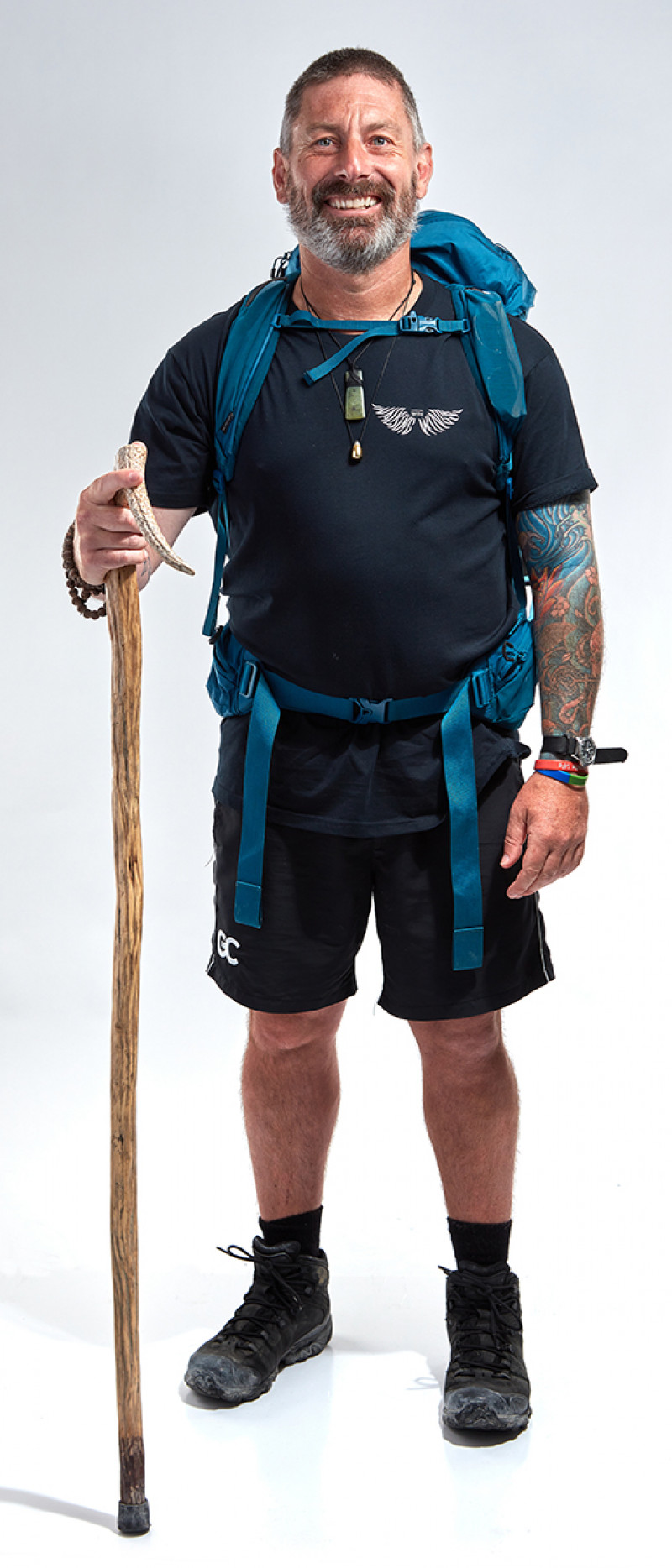 Shane Kidby is Walking With Wings by Madelaine Empson
Shane Kidby always had adventure in his heart – and so did his little brother Daniel. The two would pretend to be explorers, dreaming of discovering treasures along the coast of New Zealand. When Shane was nine, he lost his brother to cystic fibrosis. Daniel was just six.
Now a father of two, 48-year-old Shane has started an epic mission. He's attempting to traverse the entire 15,000-kilometre coastline of Aotearoa in honour of his brother and Mum. Shane set out to raise funds for cystic fibrosis and mental health (check out www.walkingwithwings.nz to donate), but quickly realised the journey was one of self-discovery, too.
At 661 kilometres over 40 walking days into his hīkoi, which he guesses will take him a couple of years to complete, Shane walked from New Plymouth to my office in Wellington to talk about the road so far.
What made you go for your dream of walking the NZ coastline?
About three years ago, after 20 years of my marriage, my wife left me and the girls. All of a sudden I was a solo dad to two teenage girls. I got to know a lady called Sonia, who [now] looks after the Walking With Wings Facebook Page. Her eldest daughter is 15 and has cystic fibrosis. We became really close friends, and I made the mistake one day of mentioning it. She started going, 'Why don't you do it?' It built up even more in my mind then.
During lockdown Mum got diagnosed with cancer and then I lost my job during COVID. My girls and I, we're very close to Mum and were living with Mum and Dad in New Plymouth. I got talking to them about my dream of doing this. Mum battling cancer, she was very positive about making the most of life, that you didn't have any regrets. One of her dreams was to see me start at Cape Reinga, but unfortunately she passed away about four months ago.
I was single, I had no job, I'd just lost Mum, the girls were at that age where they're off doing their own thing, didn't really need Dad around – unless they needed money [laughs]. And I thought, I'm not getting any younger, the time is right. I started a month or two later. I didn't think anybody would come on board because I'm a nobody, I'm an old broken guy; I was really surprised and humbled about how many sponsors did.
You started in Cape Reinga and walked about 140 kilometres to Ahipara before lockdown sent you back to New Plymouth. What was that initial period like?
My pack was too heavy, it was much harder than I thought mentally and physically, and looking back on it now, it was too soon after Mum had passed. I thought I was okay but the sheer isolation up there – no phone coverage, no baches, nobody, no nothing. The second or third day I remember sitting on the beach just sobbing, thinking about Mum.
To have that break, to have some more time with Dad and my girls at home after Mum had passed, was a good thing. I started again from New Plymouth and I've walked around the coastline to here.
Wow. What have been some of the craziest things that have happened along the way?
I was walking the South Taranaki Coast at low tide and there was part of the cliff that was going out into the sea. The waves were about waist height. As I got to the point of no return, there were two freak waves that came in. The first one smashed me against the cliff and I heard my knee crack when I hit a rock. And then it dragged me out. The second one picked me up, hit me against the cliff, and dragged me out again. My pack started filling up with water. I was getting hit round on boulders like a pinball machine. I battled and battled and I was that knackered, I actually thought, this is it, this is how I'm going out. But I managed to grab a rock and pull myself up. I was still about chest deep in water, about 20 metres from the beach. I let go and got hit by a couple of rocks but made it to the beach. I just sat there for about 20 minutes shaking.
I couldn't go back, so I had to carry on walking. I came to the point where it went out into the sea again, and the waves were twice the size. There were 20-metre cliffs all around me, and the tidemark was about head height. There was an old, derelict concrete building just above the tidemark. In the bottom corner there was a little black hole, no light coming out of it, that was just big enough for me and my pack. I was that desperate that I crawled in and saw that it went straight up through the middle of this 20-metre cliff. I could see sunlight up the top, and I thought, this is my only way out. I got about four metres up and there was a real thick rope right down the middle of this tunnel. I climbed to the top and fell onto the farmland. I thought, thanks Mum, thanks bro. Someone was looking after me.
Then I walked to the nearest farm. I must have looked beaten up, battered, and bruised. I walked up to these people I'd never met before, and one lady took one look at me and goes, 'I'll get you a beer, ae?' She kicked the kids out of their spa, got me a beer and a packet of Gingernut biscuits, and said 'Just chill out'. When I hopped out she'd washed and dried all my clothes for me. The people I've met have been like that the whole way along. It's reinstated my faith in humanity.
How did nearly drowning change your perspective?
I remember waking up at some silly hour the next morning and going, I'm really lucky to be here. That was the closest I've come to – I would say death. Before that I was very much like, I'll wing it. Sonia has spent hundreds of hours doing my plotting. Rightly so, she gave me a big serve after I told her about it. Ever since then I've been very safety-conscious – almost to the point of nervousness. Got home and gave Dad a big hug, gave my girls a big hug.
So – lighten the pack, check the tides, follow Sonia's plotting… What else have you learned along the way?
People can track me live, follow me minute by minute, with a company called TrackMe. It's called Walking With Wings Follow My Challenge. I put a lot of pressure on myself because I knew people were watching. If I didn't cover enough Ks in a day or I wasn't going fast enough I'd be like, what will people think? You're being lazy? Absolutely no one gave me a hard time, but I was putting that mental pressure on myself. I've learned to not be so hard on myself, not to get too frustrated, that things like Mother Nature aren't going to change for me. You have to be adaptable. I'm learning. Finding myself after losing my brother, being diagnosed with a hip disease, having a hip replacement about four years ago, losing my mum, 20 years of marriage… it's been a journey of self-discovery.
If you could say one thing to your brother and mother, what would it be?
I hope I'm doing you proud. And I miss ya.
I constantly think about them. When I fell on a metal fencing stake and sliced my ribs open, I bounced off and fell back-first into a swampy stream on my pack, which got stuck. I was like a stuck turtle. I just started laughing. Jeez, if anyone could see me now… I looked up at Mum and my bro and was like, 'Yeah. This guy's supposed to be walking around New Zealand?'