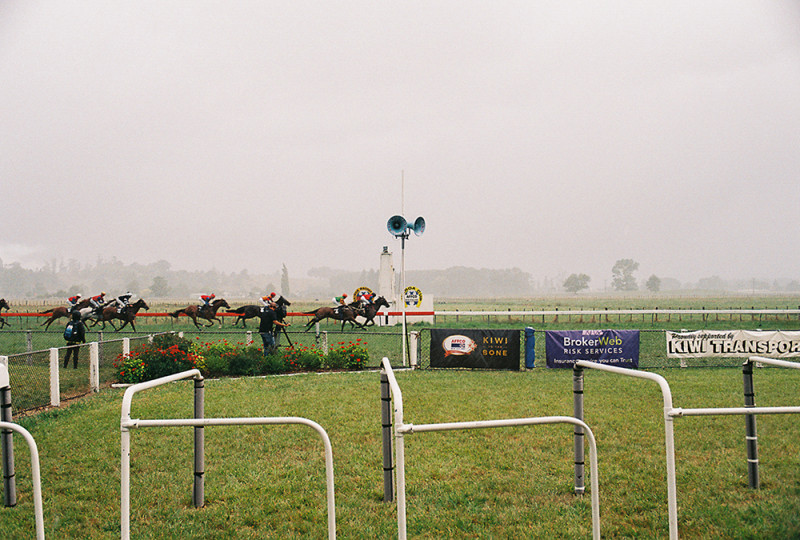 One last ride by Sam Hollis
The first of four exhibitions Photography Aotearoa will host at Photospace Gallery this year, The Last Race is a visual ode to the sense of community and competitive spirit that lives at provincial horse racing courses. With courses closing rapidly, Dylan Owen and Seán McMahon refuse to let them be forgotten.
The concept behind The Last Race was born when then-Minister of Racing Winston Peters spoke on the dire state of the thoroughbred horse racing industry in New Zealand and proceeded to recommend the closure of 20 provincial racecourses. While these closures look to bring financial stability to the sport, they also sacrifice a way of life.
66 photographs feature in the exhibition, including analogue and digital photographs in both black-and-white and colour. Owen and McMahon want it remembered that these venues and events were not only for enthusiasts, but were once a major source of family entertainment.
"The excitement of a day at the races – family picnics, children's activities, fashion, horses, trainers, jockeys, stewards, and of course, the races – all these combine to create a collective dynamic that is becoming increasingly rarer in rural areas," the artists say.
The photos span major city racecourses like Trentham in Auckland and Riccarton in Christchurch to provincial tracks in Waimate, Wairoa, and Dargaville. They even capture long-since demolished tracks such as Dannevirke.
"The industry has to restructure to build again for its long-term future," Owen and McMahon say. "In a way we are helping document a rapidly disappearing way of provincial life and historic architecture."
The Last Race runs until the 21st of August.