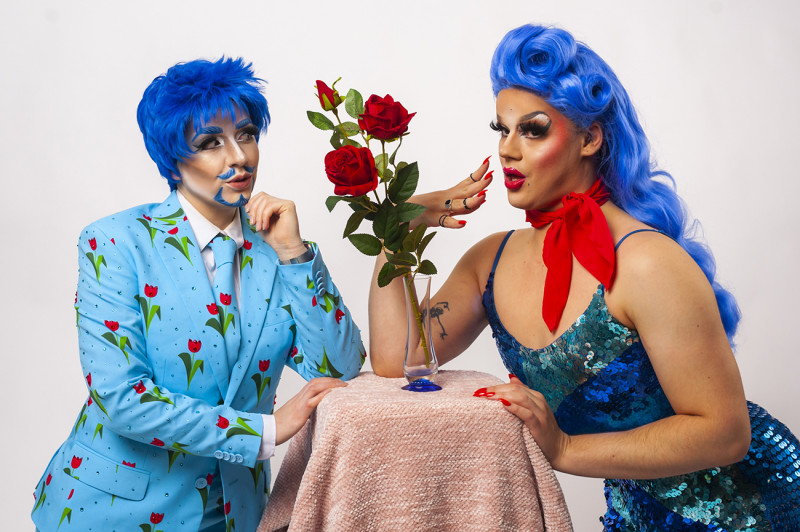 Mr, Mrs, or Mx Right by Madelaine Empson
Wellington drag icons Homer Neurotic and Selina Simone have been working on an exciting project for more than two years, and now, after having to postpone twice due to COVID, they're thrilled to announce Dating's a Drag is finally happening.
Homer and Selina were inspired to create this fabulous queer speed dating and drag show combo because, as Rainbow people in Te Whanganui-a-Tara, they found it hard to meet new people – let alone that special someone.
"Dating apps and hook-up culture is great fun, but we felt there was a clear need for Rainbow people to have space to mix and mingle in a romantic and platonic way", Selina says.
"We figure putting on a fun show and getting everyone in the same room with similar intentions helps take some of the pressure off of meeting new people, plus you'll walk away having been entertained by two very fun, sparkly people", Homer adds.
With games, performances, and great prizes (not to mention hearts) to be won, Dating's a Drag will feature a nifty colour-coded bracelet system so participants can easily indicate what they're looking for. As Homer puts it, this unique series is your chance to meet "Mr, Mrs, or Mx Right… or even Right-For-Now".
The first of four events will take place on the 30th of March at Ivy Bar. Dating's a Drag: She 4 Her is for those who identify on and are attracted to people on the feminine side of the gender spectrum.