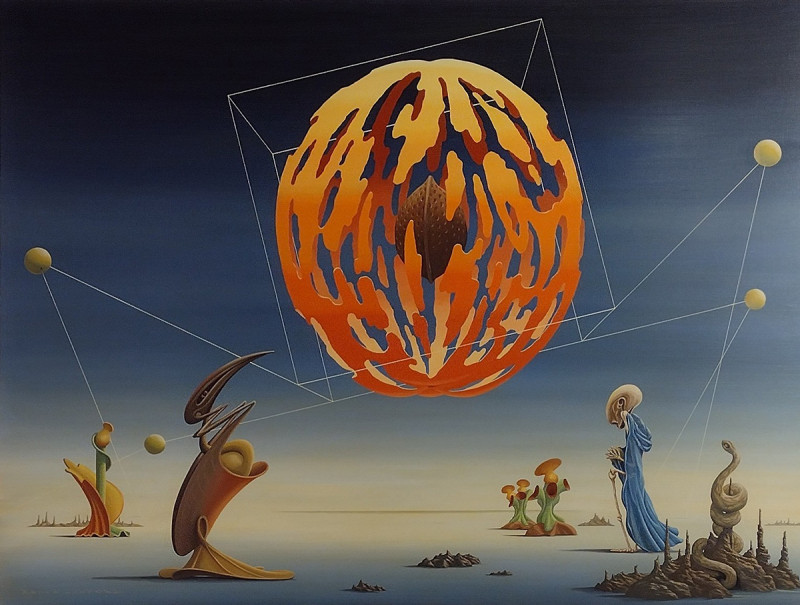 Local Surrealist gets in on the action by Sam Hollis
Surrealism is having a moment in Wellington, and to coincide with the popular Surrealist Art exhibition currently running at Museum of New Zealand Te Papa Tongarewa, The Kiwi Art House Gallery is drawing attention to one of our own contemporary Surrealists.
Wellington Surrealist features the work of Bruce Luxford and will be on display at The Kiwi Art House Gallery until the 28th of July. A retrospective show, the 16 works in the exhibition span the painter's 20-year career, with the majority completed between 2004 and 2018.
Luxford enjoyed a three-decade career as a graphic designer, starting out as a freelancer in 1970. Working for a number of agencies, he gradually developed his artistic skills, as the world of graphic design at the time was inherently analogue.
"All of the visual art – composition and assembly – was done on the drawing board", Luxford says. "This was how I made a living, but I always had the desire in the back of my mind to create visual art for myself, focusing on subjects that were of interest to me personally."
His paintings are rich, detailed, and colourful, often "triggered by a current event, debate, or conversation". Witness [pictured], for example, explores shifts in our biodiversity brought about by climate change, with a suspended peach in the centre representing the dissolution of a desirable object.
Luxford notes Giorgio De Chirico, Max Ernst, Yves Tanguy, René Magritte, and Salvador Dalí as influences, but expresses disappointment that the latter is the only Surrealist considered a household name. Wellington Surrealist offers a fresh, uniquely Kiwi perspective on the much-loved artistic movement.