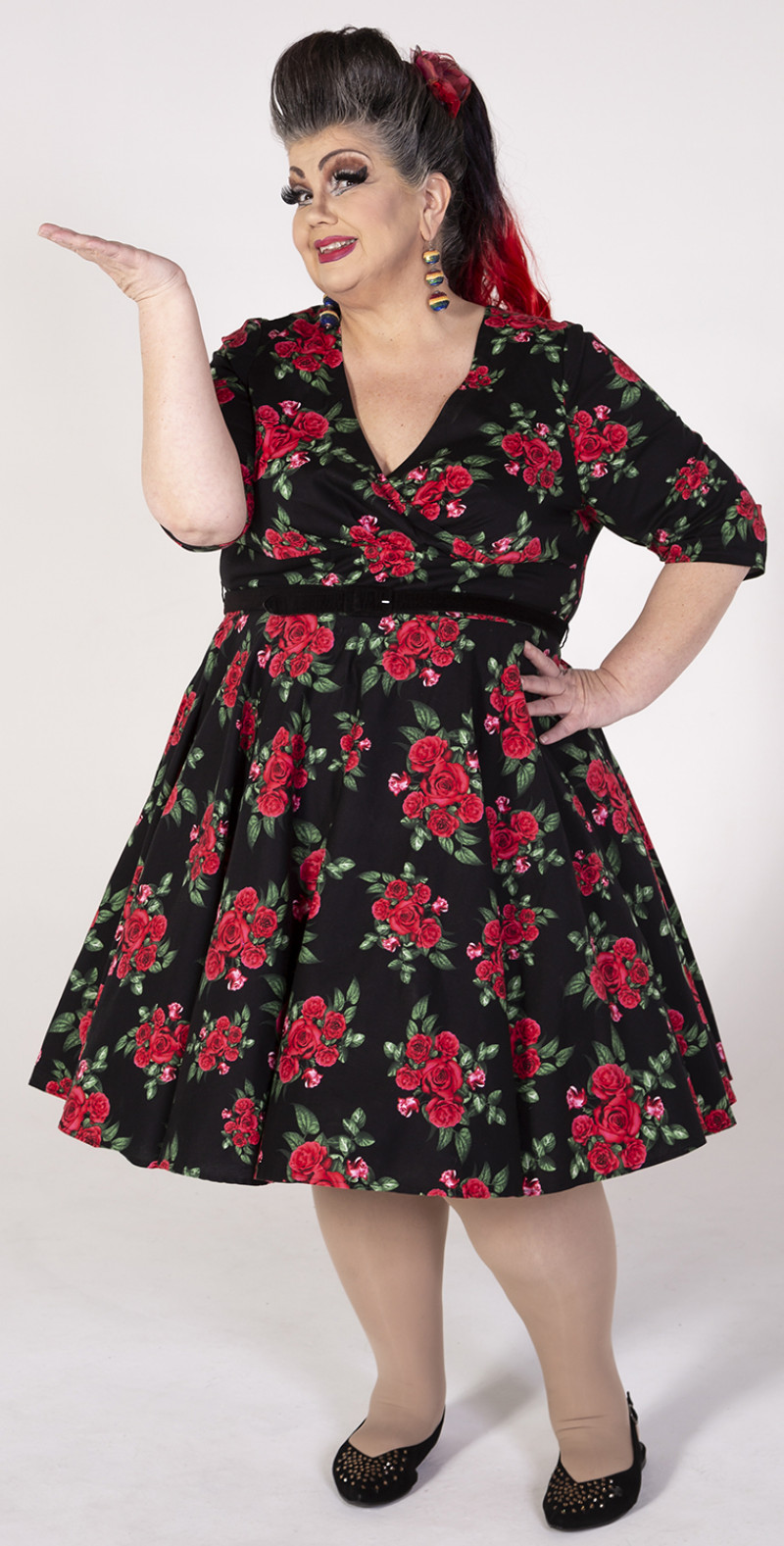 Girl put your lashes on by Madelaine Empson
Maryanne Cathro is a business analyst and the owner of Made Marion Craft, a hub of creativity on Cuba Street. When she puts her eyelashes on, she transforms into comic chanteuse Constance Craving.
Constance loves the nightlife. She has been performing musical comedy and emceeing in Wellington since 2014, sometimes sharing the stage with her long-time collaborators Clever Hansel and Leo Lennox. You can catch her in action when she hosts the next Caburlesque on the 10th of April at The Fringe Bar. This time inspired by the signs of the zodiac, this vibrant variety show features burlesque and boylesque, pole dance and more.
How was your alter-ego Constance Craving born?
I've always loved singing but never felt I had a 'legitimate voice', as Julie Andrews said in Victor/Victoria. I was helping my friends at Te Herā Vineyard over in Martinborough. They were running the Meandering Vineyard Lunch and I was setting tables. John Harter was playing a blues riff on guitar, and I started singing the blues, just making it up, which is one of my favourite things to do. He said, 'you've got a really great voice, you should come and sing for the people'. I've been in that situation so many times and I've always gone 'oh no no'. So this time, I said okay. I went and sang for five busloads of drunken people as well as doing the dishes. I came back to Wellington and rang my friend Michael Nicholas Williams [a composer and pianist] and he said, 'oh god I need to do this.' On Waitangi Day in 2014 we organised a concert in the back of Made Marion and held a pretend nightclub evening. Some friends came in and we recorded a video, about 20 minutes of songs. I put that video out to a couple of producers, got a couple of gigs, and that's how it started.
What was the first official show?
My first proper gig at The Fringe Bar was a Madonna tribute show. I got the microphone off the stand and wrapped the cord around my legs and kept moving the mic too far away into feedback, and the sound technician said to the producer, who's his wife, 'don't you ever hire that stupid woman ever again'. Except that's not what he said, he's very sweary. So of course she said, 'well she's going to be in everything!' Because that's how marriage works, right?
I sang two songs, one was a rewrite of Don't Cry for Me Argentina, I call it Madonna's lament and it's Don't Copy Me, Lady Gaga. It was a huge hit and I still sing it, I've sung it all around the world.
Where have you performed around the world?
At the Royal Vauxhall Tavern in London, a bucket list moment for any queer performer. In Tucson Arizona, Sydney, Glasgow, in Saskatoon [Canada] – I got onstage in Saskatoon and said to them, 'before I agreed to do this, I literally had to check to see this is a real place and not something Dr Seuss invented!'
When did you realise you wanted to host as well as perform?
When I saw my very dear friend Sadie von Scrumptious, who I've known from way before either of us ever saw a garter, hosting a show. I thought, 'that's my jam'. I'm rather misquoting John Gray when I say that if the show is a piece of jewellery, the MC is the setting and the performers are the stones. They're the precious gems, and our job is to set them so they're shown off to their best. Even though I sing and am quite a show pony myself, I really am there to make sure they get the best possible framing they can.
How have the scenes you frequent changed since you first started performing?
The drag scene in Wellington just exploded. That young, crazy, 'anything goes' club drag is just absolutely huge. The thing about drag is that for a lot of queer kids in particular, it's about identity expression – they're not just doing it to perform. I'm probably doing it 80 percent to perform and 20 percent for identity, and I didn't know about that 20 percent until I started to do it. I identify as a drag artist, but I do not use the term bio-queen because I think it sounds like a cleaning product. Bio-queen is a term that's used to describe a woman presenting as a woman, so hyper femme.
The burlesque scene has been simmering for a long time. One of the things I love about burlesque is it's 100 percent women. Women empowering women, coaching women, training women, supporting women, hiring women. Men do burlesque, but they're on our terms, which is very unusual.
What would you like to see more of on both scenes?
I would like to see less surprise that women are as entertaining as men. I'd like to see more letting women into the corporate space, letting women be funny and be amazing, because we are.
You have a corporate job, a creative craft store, and an extensive performance schedule. How do you juggle these pursuits and how do they feed your soul?
I have a very understanding husband! The BA work I like because it uses my brain, and it pays well. We love Made Marion and while it loses money really, it provides something more than an income. It's a community hub and a place to be, and it's right next door to Duck Island…
I thought the creative thing was going to be the shop, but performing is. I'd be quite happy to just be a performer, but I couldn't live on the money I make doing that. It costs me a fortune, I spend so much on costumes. Maryanne makes all of Constance's costumes, and Constance is often quite rude about her dressmaker!
Why should audiences come to Caburlesque, or any show for that matter?
It's so much fun, it's such a great night, and it's so empowering. The number of times I've had women come up to me at halftime or after a show basically crying on my shoulder – but happy tears. One night I was kittening – it's a long story – and I stood there in my leopard-print underwear in my full enormity, and there was a whole table of middle-aged people sitting there in their pretty floral tops. And I looked at them and a couple went 'eurghhhhhh'. But by the end of the show, whatever is going on, they're over it. Some of my KPIs are if they go home and think 'I can relate to that', if they go home and feel sexy. It's so rarely that middle-aged women, older women, larger women, get to see themselves at all. And I'm all of those things. I keep doing it because I love it, and because I'm representing something that's not well represented. Because I'm kind of intersectionally a bit of a wreck!