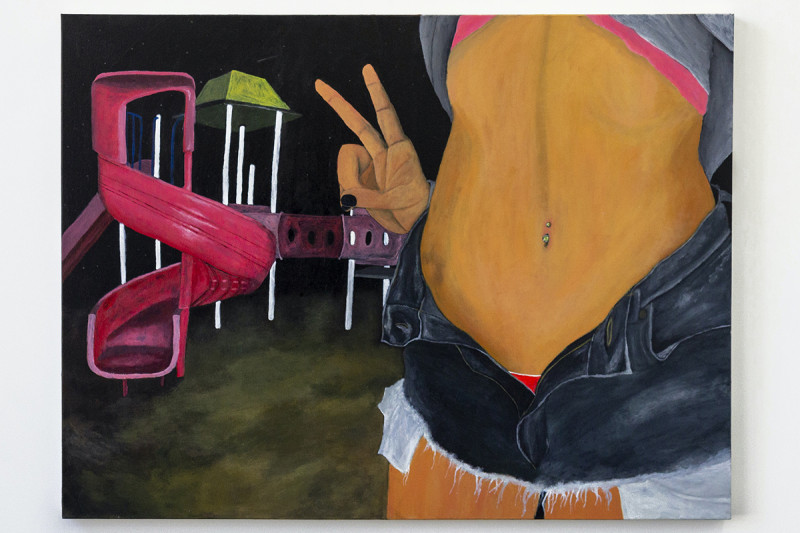 Figures of the night by Sam Hollis
Opened in June, Envy6011 is a new gallery space located on Garrett Street in Wellington Central. It was established by Billy Bartley-Nees as a curated art space, or "a mix between an artist-run and commercial dealer gallery", he says. Their fourth effort, Nightcore, is a group exhibition that will run from the 12th of November until the 18th of December.
Bartley-Nees is the sole director and curator of Envy6011, hand-picking each and every artist who graces its walls.
"I just show the art I want to show," he says. "I'm hoping to exhibit art that is slightly more challenging perhaps and including international artists who would not otherwise be seen here alongside Kiwis, as well as mixing it up between emerging and established artists."
Nightcore follows this mission statement to a tee. It collides the work of Tāmaki Makaurau-based artist Pippi Nola with her international peers: American artists Catherine Mulligan and Michelle Uckotter, and Australian Victoria Todorov. Their figurative works, while distinctive, are linked by nods to club culture, pop culture, and a "shared grungy/raw aesthetic and sensibility", Bartley-Nees says.
"I was introduced to Pippi's work and liked it, she's fun and funny. I thought it would be a great show pairing all these artists together and luckily enough, when I approached everyone, they were all super keen and excited."