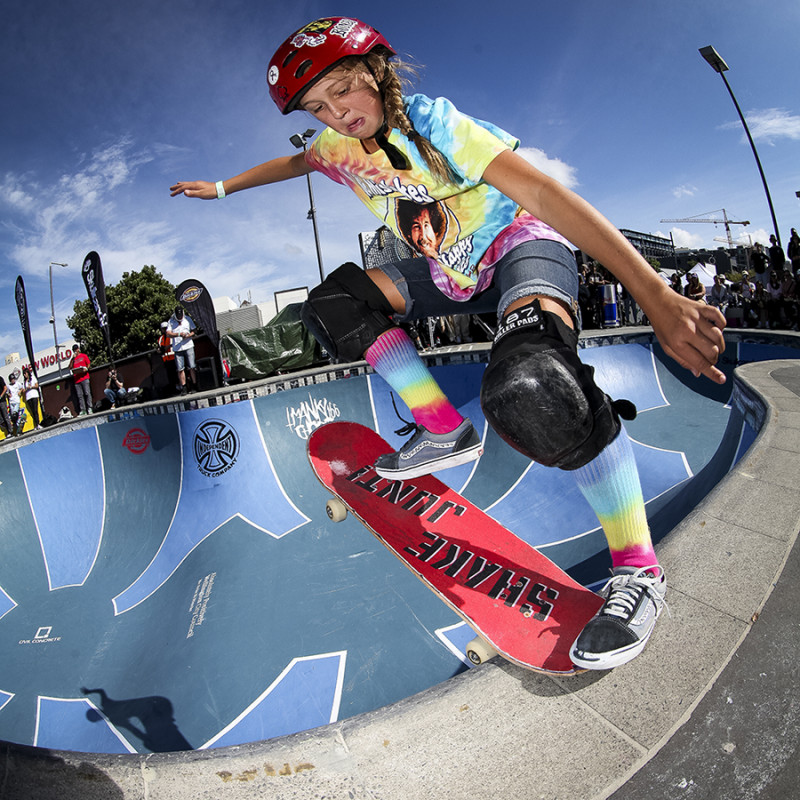 Enough talk, let's skate by Harry Bartle
Wellington will once again transform into the capital of skateboarding when BOWLZILLA takes over the city for the last week of October. After two years of postponements due to COVID, the biggest gathering of skaters in New Zealand will be a celebration like no other. Along with the main event on the 29th, it will include parties, music, art shows, industry catch-ups, barbecues, ramp jams, skating classes, and more.
BOWLZILLA will kickflip off with a free Women's Learn to Ride Clinic at Waitangi Park Skatepark on the 26th where experienced locals will inspire the next generation of women skaters. A welcome party at the Cambridge Hotel on the 27th will be followed by ARTZILLA – an epic combination of art, music, and skate – on the 28th.
Then it's time for the nation's best skaters to take over Waitangi Park Skatepark for the official BOWLZILLA Wellington National Bowl Skating Championships. This event is split into several divisions: Tech Deck 16 & Unders, Yeah Gnar Women, Masters, and Santa Cruz Open. Legends from both the NZ and international skating world will get their chance to show off their best tricks and flips before champions are crowned in all their glory. Adding to the fun, Protec Solutions are offering a new prize for the most spectacular slam of the day.
Even Mayor Andy Foster can't wait to get things started.
"Wellington City Council is excited to welcome back the annual BOWLZILLA Wellington event. Following the debut and success of so many incredible skaters at the Olympics, we look forward to seeing these athletes in action at the National Championships in the capital. An incredible opportunity for our community to witness the skill of these skaters, we look forward to seeing them in action," he says.
Topped off with an official after party on the 29th and a Karori Vert Jam on the 30th, everyone is invited to join in and be part of this awesome skateboarding celebration.