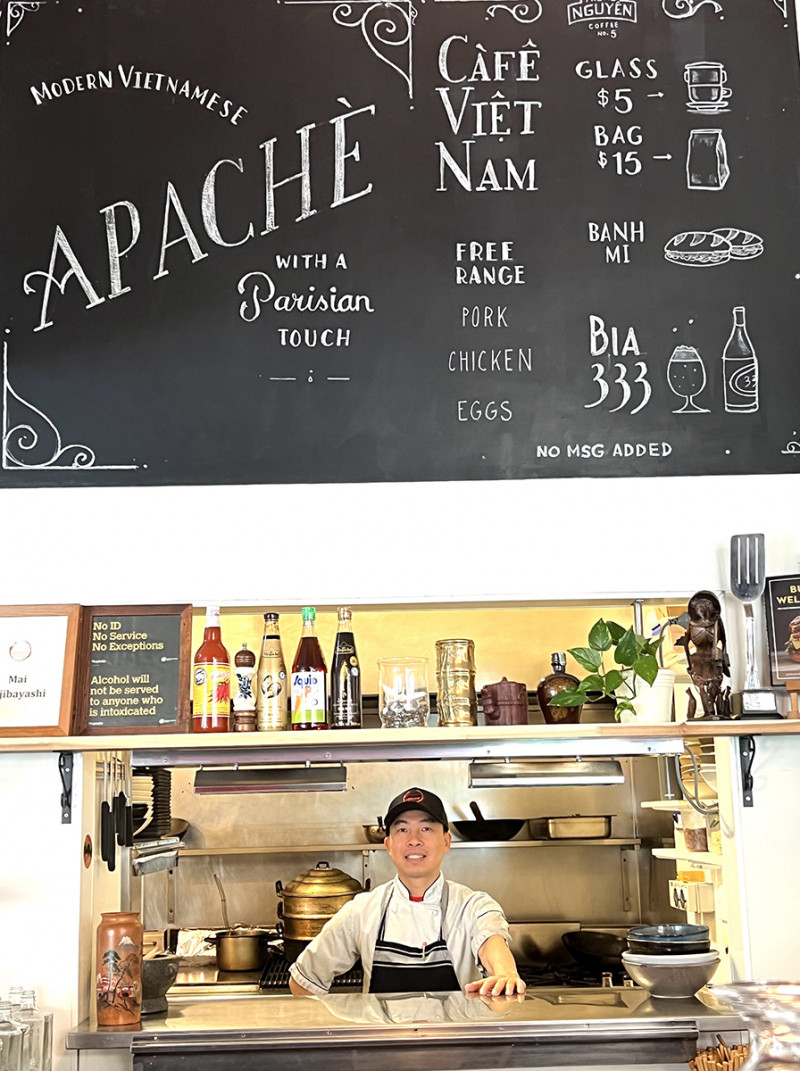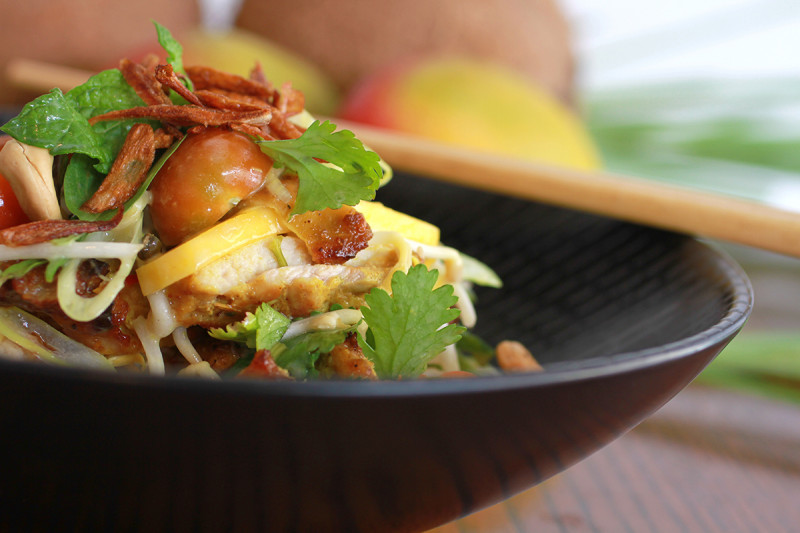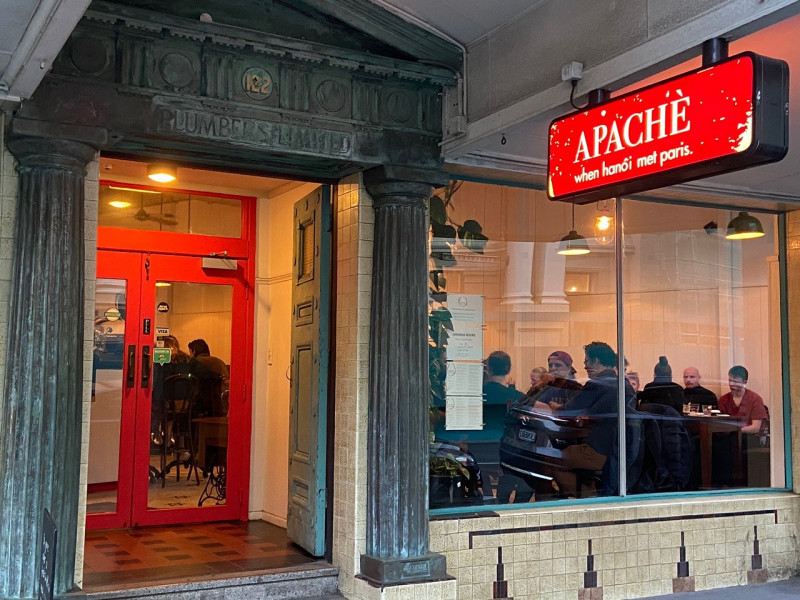 Chefs of Wellington: Minh Le by Sam Hollis
Can you tell me a bit about your upbringing and how you developed an interest in food?
I grew up in Vietnam, and the place that I grew up was the very first occupied French part in the north of Vietnam, Nam Dihn, which is famous for pho and banh mi. I grew up with quite a wealthy family. Mum is a teacher and Dad was a doctor at one of the local hospitals. Asian dads work a lot, so myself and my brother ended up looking after my little sister and cooking for Mum and Dad when they came home.
So you were surrounded by food from a very early age?
Yeah. It very much just started with how we ate and what we had to do when we were little. But also, the French influence really connects with everything around us, when Mum was cooking caramelised pork belly or caramelised fish in the kitchen. So very early on, I had a lot of that flavour going on when we ate.
How did it transition from home cooking into a professional craft?
I came to New Zealand early 1996. I think I was 19. We knew nothing about New Zealand. Mum and Dad just basically said, 'Hey son, we're going to send you to New Zealand to study English, you will get jobs there and you'll be happy there'. So I came to New Zealand with like $500 in my pocket, didn't speak a word of English.
We ran out of money really quickly and I had to live with 14 others in a two-bedroom apartment, we just put mattresses on the floor. And also we had to find somewhere to actually make some money to live. So I got a kitchen-hand job – actually, Apache was my very first kitchen-hand job in New Zealand. How funny is that? It's destiny. I started here as a kitchen hand for a Greek family, it was a café called City Limits back in 1996. I was helping out with a little bit of prepping and then I moved around a little bit. I got a job as a kitchen hand and junior prep hand at The White House back in the day when they were still on Willis Street. So I just learned my way up from peeling potatoes and pot wash in all the different kitchens and cafés and restaurants. And then I got a job at Café Astoria.
My Asian contemporary cooking only started when Sue [Dempsey] and Janice [Kirkwood] from Café Astoria opened an early contemporary Thai dining restaurant on Cuba Street, where Floriditas is now. I learned so much from the executive chef who came over from Australia. That's when I was like, 'Actually, that's my background and that's what I want to do. Contemporary fusion Asian'. [That restaurant] didn't last very long, I think only a year – I don't think people got it.
That's when I got a job as a senior chef at Chow. The Chow menu really interested me with how they do a Pan-Asian fusion menu, matching food and cocktails and tapas. I got promoted to become head chef, so I ran the Chow kitchen for a few years until Paul Ryan, the owner, thought of expanding. They opened Chow in Auckland, Chow on Woodward Street, and also the one on Jackson Street. I helped him. I became the executive chef for the group and I worked there onsite training the head chefs. I'd been doing that for Chow for about eight years and then I was thinking, 'Okay, it might be time for me to do something for myself'.
I left and worked for a couple of other people for a short term, and then I found a really nice, beautiful venue on the waterfront called Soi, owned by Brent [Wong] and Tania [Siladi]. I worked for them a couple of years, and Brent and Tania and I, we talked a lot about Asian food – Chinese food, Vietnamese food, and Thai food – and we were thinking we should do a restaurant together. I was supposed to have some shares and help them open Dragonfly, but then a few things happened with my personal life, so I could not put any shares in, but I still kept my promise. I opened Dragonfly for Brent and Tania on Courtenay Place. That's where I did all my Asian contemporary things. I worked for them for about four years until my family and my partner moved to New Zealand and that's when I decided to do something for myself.
I saw Apache on the market, I think it was a café or something. And I thought, 'Wow, that was my first ever job in New Zealand!' So I bought that café and then I opened Apache [in 2015].
When you took over the café you rebranded the whole place. What was your idea for Apache that you hoped would make it stand out?
I learned a lot from working with Brent and Tania at Dragonfly, but also what I really wanted to do for a long time was put Vietnamese cooking and Vietnamese food on the map with a twist, rather than just doing traditional pho and bahn mi, cabbage salads, and things like that. Why do something that everyone else does? Why not do something extraordinary? I used all my background in Vietnamese and knowledge of Vietnamese influenced with French cooking and put it into Apache.
As you mentioned, Apache is known for its French influence. Can you explain how you combine those two cuisines?
Well, a lot of Vietnam and south Vietnam, it's quite different. In the north of Vietnam, we use more fresh, sweet, spicy, sour, and refreshing [flavours] than south Vietnam, which occupies a lot of influence from Chinese cooking. It's a little bit richer in terms of cooking and a bit more sticky, a bit more sweet, whereas the north and centre of Vietnam have a lot more influence from Thai. Tshat's my knowledge of Vietnamese; something really, really fresh. Where I grew up, where I ate, I was brought up with caramelisation, the pork belly, the caramel catfish that was all around the streets of Nam Dihn. So I was thinking, why not get those two married together? So Apache is not really traditional Vietnamese or traditional French. I use a lot of French cooking techniques and put those into Vietnamese flavours, so basically, we're doing Vietnamese flavour – fresh, flavoursome food – with a lot of French cooking techniques. I kind of put those two elements together and bring out the best in them.
How would you describe the way you work in the kitchen and your leadership style?
I've been trained around Wellington by a lot of old school English and French chefs. Back in those days, there was a lot of swearing in the kitchen, a lot of flying pans and things like that. So I was thinking, 'One day, if I have a restaurant, I will change the style of cheffing and the style of managing the kitchen'. So even at Chow or Dragonfly, where I was the head chef in the kitchen, the culture in the kitchen that I brought in was very different from other restaurants. I really like all my staff, my chefs, working together. We spend 50 hours a week together, 10 hours a day. So for me, as little stress as possible, everyone works together, and we just give them the opportunity to do their best.
What is your most popular dish?
Everyone knows Apache for a few dishes that we will not ever take off the menu, like the bang bang chicken salad and the shaking beef. The bang bang chicken salad is inspired by a Chinese Sichuan cuisine dish. It's a really spicy dish made from shredded chicken and jellyfish. The 'bang bang' literally comes from how they use a cleaver to chop the chicken on a big chopping board and it makes the 'bang bang' sound. It reminded me of the Vietnamese traditional chicken and Vietnamese mint salad. So I was thinking, 'Why not just come up with something for ourselves with the bang bang chicken flavour and the Vietnamese chicken?' And we do actually have a really big, massive cleaver and a big chopping board in our kitchen, and we actually chop the chicken every day to make the bang bang chicken. That's where the name comes from and how the dish was influenced.
Since opening, Apache has become a local favourite. What do you think it is that keeps people coming back time and time again?
I think Apache stands for quality in everything we use. All the cuts of meat that we use, the herbs are handpicked, all the sauces are made onsite; we make everything here. We've been top five in Wellington for six years in a row. Everything that we're doing here all concentrates on quality and consistency.