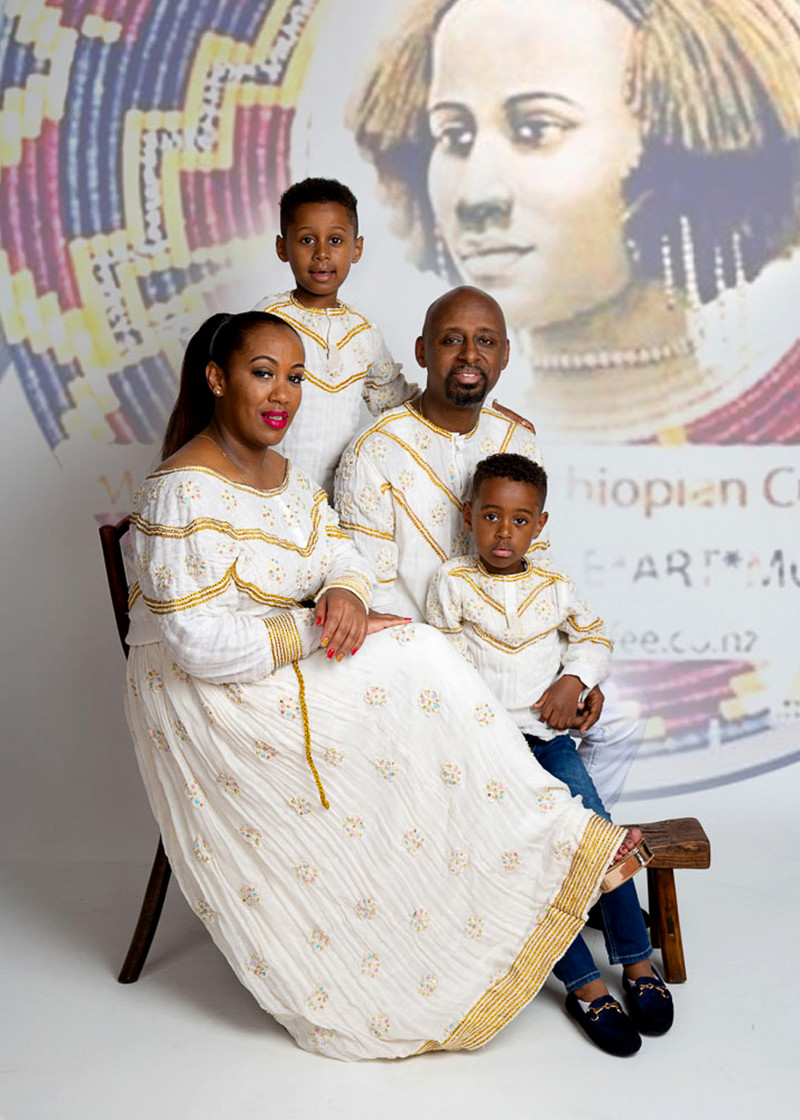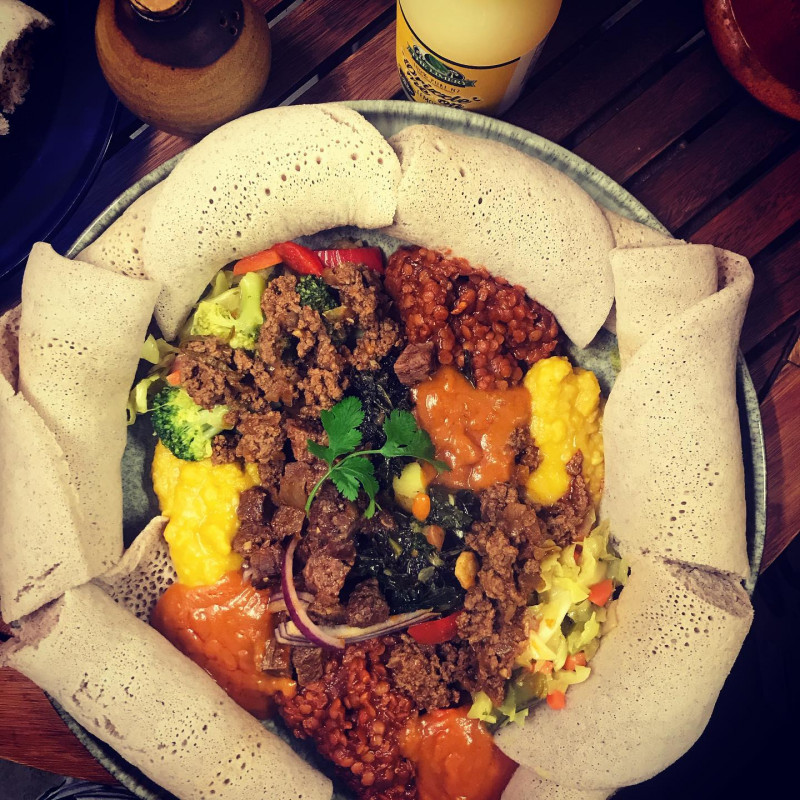 Chefs of Wellington: Joel Teka by Alessia Belsito-Riera
In our Chefs of Wellington series, we talk to the chefs behind some of our favourite local restaurants. Alessia Belsito-Riera chats to Joel Teka, the head chef of Ethiopian restaurant Mother of Coffee on Left Bank.
Can you tell me about your upbringing?
My dad came first to New Zealand in 1995 to a refugee camp. But I grew up in Ethiopia. My mum and dad split when I was young and I grew up with my aunty around a lot of cultural close family members. Then I came here when I was 15, 16 [for] an educational purpose. My dad applied for me to come here so I went to high school here and then I got to know the country more.
How did you develop an interest in food?
Everyone's gotta eat! I never had the intention to be in the chef and hospitality world; our intention was to start a studio in Newtown. In 2015 we started a small space with some computers, some space for photography, things like that. We were doing printing, scanning, posters, as I learned graphic design at WelTec. I graduated in 2011 [and] it was really hard to find a job so we ended up setting up the studio.
We love our coffee because we come from coffee culture. Ethiopia is very deep into coffee. It's our engine: we start with coffee, in the middle there is coffee, after dinner there's a little bit of coffee maybe. So there is that love for coffee and then one day we were actually making coffee for ourselves and people were in the shop who noticed it, tried it, we offered it for free a few times, and people seemed to love it. We started with traditional coffee, boiling the coffee in a clay pot and then serving it in traditional form with the traditional leaf and then one of my friends offered me a coffee machine. We ended up setting up the barista type of coffee. Slowly developed the process. My profession is still graphic design but I've learned through experience that whatever you learn from the past, you can actually apply it to existing experiences you have. We love colours, art structures, designs, patterns, so what we learned from the graphic design world, now we apply that to the business.
What ended up [making me] grow the food business and love it more was people's interest in the food, the culture of Ethiopian food. At the Newtown Festival in 2016 we set up a gazebo. The response at that festival actually kicked off the food business. The response was big. We didn't expect to sell out but we sold out almost right after lunchtime. So I said, 'Maybe we should do this on the side as well'. We started bringing the gazebo to the night markets, the Newtown market, the lower Cuba Street market, Left Bank… we used to be just right there, selling Ethiopian food. And then I think that increased the knowledge of the food as well. That's how we got into the food business.
What about the cooking excites you? You mentioned you love the colours?
Colours, the taste of the ingredients. The more I learn about the food, the more I love to cook and be creative with it. The whole spice around the food. There is something about it, especially when you hear the response from people as encouragement. I don't want to do this the rest of my life, but that has encouraged me to teach others. So our next step is to bring in partner chefs from Ethiopia and teach classes. The next stage is passing it down.
Is food a very important part of Ethiopian culture and tradition?
Yes it's very traditional. Most of our [idioms] even are about food. There are two sides; the vegan side usually comes in the fasting seasons. The Orthodox faith is very strong in Ethiopia. It's called vegan food in English but we call it fasting food, because it doesn't contain meat, butter, none of those ingredients that have meat in them. One of the keys of Ethiopian food is that it has many options for vegetarians, plus the spices as well. And then meat is optional. We haven't actually even done maybe 50 percent of it. There's still more menus we could create but we don't want to stretch ourselves and burn out. So we just stick to this menu at the moment.
What characterises Ethiopian food and what makes it so different from other cuisines?
The bread and the other stuff you are able to cook it with. The bread traditionally is fermented and contains an ingredient called teff. We have to mix it with rice flour and corn flour, because teff is very expensive as it doesn't come from New Zealand, it comes from overseas. So that's the main ingredient, it's high in iron and it's gluten free. Everyone loves it. They call it fluffy bread and pancakes. It's actually kind of funny. Another one is how we are able to use seeds like lentils, chickpeas, split peas, and brown lentils. If you don't know how to cook it could be very bad, so we learned how to master cooking it properly with the right amount of spices.
Could you tell me a bit more about how you use spices in your dishes?
[A spice mixture called] berbere is used for the red lentils and some other meat dishes. And there's korerima, which is like dried coriander. These things are sundried back home. You can find them in Indian shops, but not the real berbere. I can't do it myself and I don't know anyone who can [make berbere] in Wellington. The real one comes from [Ethiopia]. It is very perfect with the perfect amount of pepper and the perfect amount of the other spices.
You're supposed to eat the injera bread dishes with your hands, right? How is that received?
Not how we want it to be received. We always talk about creating some sort of template for people to know how to eat it. But in this [COVID] situation, it is better now actually that you sit in one place. We don't want to risk getting up again to go wash your hands and then after you eat, coming back out, doing a lot of movements, just to contain the spread. But we use our hands – washing your hands before you eat, then afterwards washing hands, that's how we eat it. But it's just a matter of learning how to tear the injera. Then you can actually keep your hands clean if you know how to grab it without messing it up.
I'm sure there's a very specific technique! What is your favourite dish and why?
There are a couple of them. One of them is misir wot. That's nice. That contains lots of pepper and more berbere than others. Shiro wot, which is ground chickpeas that come from Ethiopia. That's vegetarian. And then gomen, which is the kale dish. I'm vegetarian so those three are my favourite.
You've named your restaurant Mother of Coffee. Where does the name come from?
The name comes from the lady from Ethiopia that founded the coffee beans. I don't know if you've heard of the happy goat story? A goat that was being shepherded, he went out to a specific tree, then he ate a leaf, and he got really excited after eating it. He didn't know that he had coffee or anything, but the lady [shepherd] thought, 'Okay, this is medicine'. She did some experimental things with the leaf first, and then afterwards with the fruit. So that's how coffee was discovered. We believe Ethiopia is the discovery place or the birthplace of coffee. So [our name] comes from that idea. Mother of coffee, birthplace of coffee.
That's such a cool story. Is making food from Ethiopia important to you as a migrant living away from your birthplace?
Yeah, it is important because we are proud of our culture. We are one of the two countries in Africa, if I'm not mistaken, that hasn't been colonised by the Europeans. So we have made a lot of sacrifices, a lot of people have died through wars to keep the heritage, to keep the culture intact. That is why we are proud of it in some ways, but at the same time we are sharing it, we'll be able to present our culture and bring it together with this country's culture as well. Our staff are not all Ethiopian. Maybe one or two Ethiopians, there are Kiwis, there are Somalians, there are Māori who work here. And so we believe in two cultural things. Not just specifically Ethiopian, and that it has to be the Ethiopian way. That's why I love sharing it.
Is there anything else that you would like to add?
I would like to say thank you. Thank you for giving us the chance to share. I'd like to say to all those who read this or hear about it, welcome! Welcome and come try.